Ryan Nugent-Hopkins had an outstanding rookie season at 18 years old. He is not Superman, but there are some very nice things about this player. Talented passer, outstanding vision and he shows glimpses of ability away from the puck. What should we expect from year two?
Historically, RNH was very good as a rookie. Here's a look at the 18 and 19-year old kids since the lockout who played 50 or more games and delivered 40 or more points.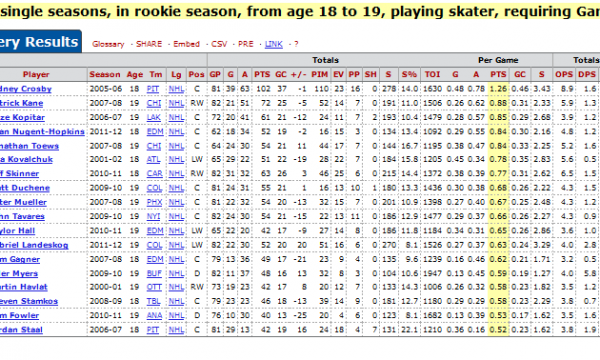 Sorry it isn't a good photo, if you click it then things come nicely into view. Basically there's not a poor player in the group, Mueller has struggled due to injury and Gagner is the devil (actually, its probably a misprint–should be Wellwood there) but the Nuge is in a very nice location on the map. Agreed?
I keep coming back to the Ken Hitchcock line where he thought the Nuge was "My opinion on Nugent-Hopkins has changed … last summer I thought he reminded me of Joe Sakic, but it's Pavel Datsyuk now. He strips people of the puck, he's crafty in high-traffic areas, he dishes well, he's got great patience with the puck."
In our mind's eye, Datsyuk was such a slick, finished product on arrival but we need to remember NA fans didn't see him until age 23. Those who don't remember Sakic in his youth should be advised that while extremely gifted, he was not a capable player without the puck. Chaos reigned often in those days.
I'll take either, of course. A lot has been made about the boy's zone starts and that's a consideration, but if he ends up being either a:
offensive zone start killer or
a complete player
who's to worry? We would be happy with either right? I know I would. That chart is pretty dreamy.
NATION RADIO
Kicks off at noon MDT on Team 1260, emails welcome at nationradio@theteam1260.com and you can also touch base in the comments section. I'm a twitter addict, @Lowetide_ or @ItsNationRadio.
Scheduled to appear: