The expansion draft of 1967 allowed 6 American cities to gain entry into the NHL. However, the final rules were punishing for the new clubs.
Sam Pollock was General Manager of the Montreal Canadiens on expansion draft day. The 1967 NHL Expansion Draft was a thing of beauty, rigged not only for the original 6 clubs but designed specifically for the Montreal Canadiens in order to protect their very best young players.
The first modern NHL Expansion Draft consisted of 20 rounds, and took place on June 6, 1967. Pollock was the man in charge of putting together the draft rules and set about putting together a plan that would be approved by the board of governors and allow Montreal to retain all of the top flight talent procured over years of painstaking procurement.
At first each of the established teams were going to be permitted to protect 8 skaters and 1 goalie, but the original 6 teams felt it was too harsh and they moved the bar to 11 skaters, 1 goalie, and any junior aged players signed the previous season. ALL of the NHL teams benefited from the junior age rule, Boston didn't need to protect Derek Sanderson or Bobby Orr, Toronto had no need to protect Jim McKenny, New York didn't have to find a slot for Billy Fairbairn or Walt Tkaczuk. A full list (or close to) is available in volume one of this series.
Montreal was still very vulnerable though, owing to the rich junior and minor league system they had built up over time (the Habs had two AHL teams and a couple in the old WHL they would send extra prospects to like the Seattle Totems) and Pollock came up with a plan that went like this (courtesy Montreal Gazette, June 5, 1967): those who played pro hockey for the first time in 66-67 are exempt from being drafted until the eastern (established) clubs have 2 goalies and 18 other players on their list. Hence the Canadiens do not have to protect rookie Rogie Vachon until they've lost a goalie, or players such as Bob Lemieux, Carol Vadnais, Serge Savard and Danny Grant until they are nearing completion of the 18-man roster. This may be one of the smartest moves by a General Manager in the game's history, and here's why:
Because the Habs had such a deep and rich system, they were losing more than one player per round. So, whereas a team like Boston was unable to protect a HHOF goalie like Bernie Parent because the rules made it so, and Chicago was unable to pull back any of their kids because no one was drafting any of their players, Montreal was able to protect all of their veterans and all but one of their first year pro's.
| | | | | |
| --- | --- | --- | --- | --- |
| | GOALIES | ROUND | ONE |   |
| 6 | Oakland | Charlie Hodge | MON (1) | Rogie Vachon (2) |
| | GOALIES | ROUND | TWO | |
| 8 | Minnesota | Gary Bauman | MON (2) | No pullback |
| | SKATERS | ROUND | THREE | |
| 13 | Minnesota | Dave Balon | MON (3) | Claude Larose (12) |
| 16 | Los Angeles | Gord Labossiere | MON (4) | No pullback |
| 18 | St. Louis | Jimmy Roberts | MON (5) | Claude Provost (13) |
| | SKATERS | ROUND | FOUR | |
| 24 | Minnesota | Noel Picard | MON (6) | Dick Duff (14) |
|   | SKATERS | ROUND | SIX | |
| 32 | Minnesota | Jean Guy Talbot | MON (7) | No pullback |
|   | SKATERS | ROUND | SEVEN | |
| 39 | Philadelphia | Leon Rochefort | MON (8) | No pullback |
| | SKATERS | ROUND | NINE | |
| 52 | Pittsburgh | Keith McCreary | MON (9) | No pullback |
| 53 | Oakland | Joe Szura | MON (10) | Carol Vadnais (15) |
| | SKATERS | ROUND | TEN | |
| 57 | Philadelphia | Garry Peters | MON (11) | Serge Savard (16) |
| 59 | Oakland | Bob Lemieux | MON (12) | Danny Grant (17) |
| | SKATERS | ROUND | ELEVEN | |
| 61 | Los Angeles | Howie Hughes | MON (13) | Jacques Lemaire (18) |
It took me years–over a decade to figure this out. It was not until newspapers like the Montreal Gazette came available online that I could piece it all together.
Some of the very best players available in the expansion draft were in this little corridor of talent and were on the Habs list. The Pollock rule allowed Montreal to protect all of their blue chip prospects before they were exposed to the draft after selecting 18 skaters and 2 goalies (specifically designed to keep Vachon).
Did other teams benefit? Yes. I'll give you the list for each team as we look at their draft strategy. However, no team benefited like Montreal, the team Sam Pollock represented in the draft transaction.
I don't believe there's a reasonable argument against the following statement: faced with the prospect of losing some of his quality NHL veterans (Provost, Duff) and exceptional youth (Larose, Vachon, Vadnais, Savard, Grant, Lemaire), Pollock created a scenario where he could keep most or all and stay within the rules by making his own rules. NONE of the other NHL teams needed that kind of protection–none of them had the same level of talent available from the first year pro's.
The NHL–through its entire history–has left itself open to this kind of criticism simply because there are no checks and balances. Pollock was given the job of creating the expansion rules because the 6 original six owners agreed he was the best man available. Not a board of six men–one from each team–but someone who could benefit directly from tinkering with the original framework (1 goalie and 8 skaters) and steer the course of the league from the desk in his office.
Pollock had effectively hijacked the expansion draft via filthy rules placed by him, but he further cooked the books by trading with the Minnesota North Stars on draft day. Pollock had suggested to the NHL board of governors (basically Clarence Campbell and a few other grey hairs) that the expansion teams be restricted from trading their future draft picks. Pollock–in a rare moment of generosity–told the board that each new team would need to use the universal draft and trading picks would be a disaster. The owners balked, and then Pollock moved in.
Before the draft, Pollock identified Minnesota's Wren Blair as someone he could do business with to get what he wanted that day. Blair agreed to take a player not named Claude Larose (they took a veteran journeyman winger named Dave Balon) in exchange for various minor league and fringe NHL players.
A visual aid may be in order here. The list clipped from the Regina Leader Post (June 7, 1967) shows the pullbacks in order (man, that's a helluva list) and then a large number of pullbacks with 'x's' to denote they had been traded.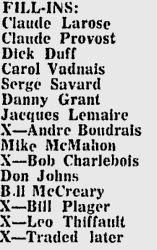 The trade by Montreal and Minnesota–in order to stay away from Larose and choose a player the Habs were willing to offload, went like this:
Montreal trades C Andre Boudrias, L Bob Charlebois and Bernard Cote to the North Stars for Minnesota's 1st rd pick in 1971 (it was #7 overall).
Boudrias was an undersized but skilled C who ended up having a solid career but was not long for Minnesota.
Pollock's opinion of the expansion teams is perhaps best expressed by this quote from Frank Selke Jr (at the time GM of the Oakland Seals) in the book BEHIND THE MOVES:
Selke Jr: Sam Pollock offered me Carol Vadnais before the 1968 Intra-League draft (note: this was one year after the expansion draft we're discussing here). He was playing for Sam in the minor leagues. Sam said "I can leave him off the protected list on the proviso that when I want him back, whether it is next year or two years or what, I get him." Bill Torrey and I were together at this time and we figured 'how can we lose?' So we said "sure, we'll take him, Sam." So we got Carol and he played like gangbusters. Sam comes to us at the end of the year and says "I can use him now." I said "well Sam, we can't just return him. We've got to get something for him. He's our best player, he's what we're selling in Oakland."
Selke Jr continues: Well Sam was in our suite at the annual meetings and he's……chewing on his tie……"well, what would you want?" "We'd need someone like Bobby Rousseau" "You can't have Rousseau" "Well, we need somebody like this" "You can't have that." So then I said to Sam "Well I guess that being the case  you can't have Carol." Sam said "You made a deal!" I said "would you like me to go to Mr. Campbell and tell him that we colluded with you to hide a player?" He (Sam) said "you wouldn't do that" and I said "well, I'd do it before I'd lose Vadnais."
Selke Jr concludes: He got up and walked out and that was it, but those were the kinds of things Sam did.
Sam Pollock was a ruthless administrator who would stop at nothing to protect his empire: can anyone really argue with that? And further, would Sam Pollock argue with that? I think he'd be proud of it.
The culprit here is the NHL, who have time and again approached the game itself with little care and respect in terms of keeping things credible and fair. Giving Sam Pollock a pen and blank pages to fill in for the expansion rule book contributed directly to massive problems with expansion in many cities. It created the desperation that caused teams like the Oakland Seals to send away their first round draft picks for Norm Ferguson and Ernie Hicke.
And it doomed 5 of the original 6 to watching a 15-year romp to the Stanley by the Montreal Canadiens.
Up next: Punch Imlach belly flops the expansion draft and kills the farm system, with a giant assist to Stafford Smythe. Stay tuned.