In ranking Colten Teubert #17, it is with the acknowledgement that he is extremely likely to play more NHL games than some of the prospects ranked ahead of him. This top 20 values a wide range of skills over one dimensional types, and guys like Teubert get squeezed. The ranking should not be taken as reflecting a downturn in value or future. Colten Teubert is on the verge of an NHL career and it could be a long one.

When we saw Colten Teubert in the NHL last season, it was pretty clear he was not ready for prime time. Understanding he'll spend much of his time on the 5-6 pairing and in an enforcer role (similar to Theo Peckham's current job), Teubert has to close the gap between himself and a replacement 5-6D/enforcer to make the grade–and he has to stay healthy. With Andy Sutton looking like he's wrapping up his career with an injury, and Peckham coming off a season of struggle, the time could be now for Colten Teubert. As for what he is as a player, I go back to a quote from his AHL coach when Teubert was an LA King prospect:
Mark Morris:"Like most guys who enter the American Hockey League, the biggest challenge is making the reads. He is a strong skater, so if he makes a poor read he has the ability to eat up ground and shut people down. What I like about him is that he seems to get a piece of somebody every time he is on the ice, and he is a hard guy to play against. At times when he handles the puck, he might not make the best choice, but he keeps the game fairly simple. He is an old school defenceman in my books; the type of guy that everybody will appreciate over the course of time.He's not going to wow you in the beginning, but I think over time he will prove that he is a force to be reckoned with and he can be a reliable, dependable defender."
Morey Gare after his trade to Edmonton: "We like a lot of things about his game that we're kind of lacking with our organization. He has good size and strength, good mobility, we like his physical game and his toughness. Most importantly, his willingness to be involved physically in the game and to be hard to play against. We see him as more of a defensive defenceman who will be able to contribute some offence. He moves the puck well, too. We're really drawn to the whole package."

The Hockey News: Teubert is a classic defensive defenseman who excels in the shutdown aspect of the game and plays with a pretty wide mean streak. "He's not as polished as [Luke] Schenn, but he's meaner than Schenn," one scout said. "He's a nasty guy to play against." One scout said Teubert might tumble on draft day because he can be a little erratic and compared him to Bryan Marchment. Another scout wonders what all the fuss is about with Teubert. "I think he's a little overrated," the scout said. "He has pretty average hockey sense. He has good size and mobility and he competes, but I think his hockey sense keeps him from being a top pick."

NHL Director of Central Scouting EJ McGuire: "Colten is a smooth skating defenseman, who can skate the puck out of trouble and can jump up the ice with the puck. I like Colten for a lot of reasons, but most of all for his ability to take charge of the game. He projects as a support three or four defenseman, at least initially in the NHL, with a good offensive upside who won't hurt you on defense."
SUMMER 2012: #16
WINTER 2012: #17

There has always been a place for tough defenders like Colten Teubert. The problem is that many of these player types lose their careers to injury before they can mature and play NHL defense well, and others never learn–its the difference between 5 years experience and 1 year's experience 5 times. Teubert has a lot of scouts in his corner, and now two AHL coaches who sing his praises. Whatever the gap between promise and delivery, that's the timeline for Colten Teubert's arrival.
#17 ranked prospects on December lists:
December 2004: L Alexei Mikhnov
December 2005: L Alexei Mikhnov
December 2006: C Jonas Almtorp
December 2007: G Jeff Deslauriers
December 2008: D Johan Motin
December 2009: D Cody Wild
December 2010: L Teemu Hartikainen
December 2011: D Dillon Simpson
December 2012: D Colten Teubert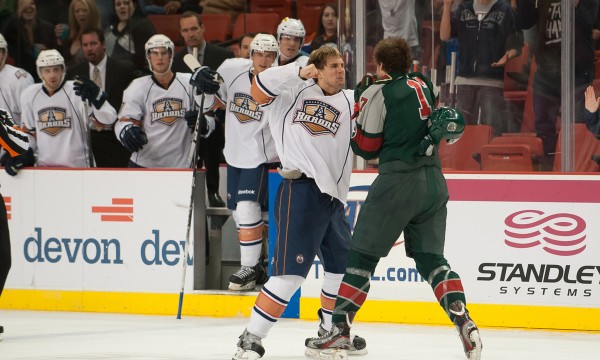 Photo by Rob Ferguson, all rights reserved.
Sometimes this player type ends up as Jason Smith, other times Matt Greene and still more often Sean Brown. I think Colten Teubert has a very good chance to play a long time in the NHL, but how far he moves up the depth chart depends a lot on his ability to stay healthy and learn the game at the NHL level. I'm not aware of any system that allows us insight into which one he'll be, that's for the future. As it is, the fact that he's #17 on the current top 20 suggests the Oilers have been swinging for the fences in other areas–possibly because they have a few one dimensional "sure things" like Colten Teubert. I don't think its a question about Teubert making the NHL, the question is how many useful jobs will he be assigned when he arrives.