It is much too early to call it, and the early months of 2013 will tell the story. However, there is at least a shot at redemption for 3 Oiler prospects in the second half of 2012-13.
DANIIL ZHARKOV: 23 goals as a 17-year old in the OHL is a good total, and Zharkov's size (6.04, 212) and tools suggested Edmonton was getting a solid prospect in the 2013 drafts third round. He has been very poor in the OHL this season (8 goals before the break) but was surprisingly named to the Russian WJ team. He has been slowly moving up the depth chart over the last couple of weeks and scored a nice goal (from Yakupov) on a skill line for the Russians today. Corey Pronman: Daniil Zharkov (EDM) started off on the fourth line but with a solid performance he ended up taking some shifts here and there on a scoring line. He showed a quality amount of skill making some flashy plays on top of some good defense too. He's a weird prospect as every time I see him he always is really impressive but he just never produces.
Photo by Rob Ferguson. All rights reserved.
ANTON LANDER: For a long time this season Lander looked like he was lost, especially offensively. Coach Nelson placed him between Magnus Paajarvi and Teemu Hartikainen a few weeks back and the trio is finding the range. Lander is now getting regular ice time (I think that's a big part of the OKC problem–the guys on the 3 and 4 lines aren't playing much unless they PK) and is recovering. In his last 10 games with the Barons, Lander is 1-4-5 +3; that's no screaming hell but he doesn't get PP time and is never going to be a big time offensive player. In the previous 16 games, Lander was 1-0-1, even. There's still time to salvage the season and in the case of Lander its important that his arrows start going in a good direction.
TRAVIS EWANYK: This blog hasn't talked about Ewanyk much, mostly because he was injured for much of last season and he's not an offensive player in junior (which means he is not a prospect of note–it's the truth). However, Ewanyk was drafted as a crash and banger and the Oilers clearly want that player type as part of their NHL roster makeup. Ewanyk has been out of the lineup quite a bit this fall and early winter, but of late the offense has reached acceptable levels (in his last 9 games: 9, 3-4-7 +8) and he has some interesting verbal going on out on the worldwide web: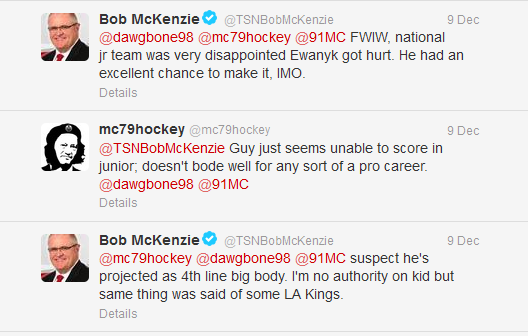 That's a twitter conversation between our friends Tyler Dellow, dawgbone and icon Bob McKenzie (along with Michael, who I do not know but his parents are wise because they chose an excellent name for their son). McKenzie is certainly connected, so if he says Team Canada was disappointed then we should at least consider the possibility. It also clearly points out the gap between how the math people would structure a roster/draft for their team and how some NHL teams actually go about their business. Come the spring this blog will have a fun debate about the merits of signing Ewanyk, but I doubt the organization has any worries beyond injury.