The Edmonton Oilers may not pick first in the coming draft, but they're going to get another outstanding player. The top 4 selections in this year's draft are cornerstone prospects, and there's plenty of quality and depth deep into round one. Here's my first look at the 20 best players for the 2013 NHL entry draft.
D Seth Jones, Portland (WHL). Big, strong, skilled, massive wingspan, tough, physical, can do it all.
L Jonathan Drouin (QMJHL). There's just too much here to keep him at #3. Stunning offensive season, elite skills.
C Nathan MacKinnon, Halifax (QMJHL). Excellent skater, quick hands, great shot. Natural center, can play a physical style.
C Sasha Barkov, Tappara (SM-Liiga). Big, strong Finn with terrific offensive skills across the board. 6.02, 205.
C Elias Lindholm, Brynas (SEL). Cerebral player in the Sam Gagner mold, he's had an impressive couple of weeks.
C Sean Monahan, Ottawa (OHL). Outstanding skills, complete player. A little shy offensively in this company.
L Anthony Mantha, V'al Dor (QMJHL). LOVE this player. Pronman: "Mantha is an intriguing package of tools as he is 6'4" with good speed, a heavy shot, and offensive instincts.
D Darnell Nurse, Sault Ste. Marie (OHL). Big strong defensemen with good speed and a developing offensive game.
L Valeri Nichushkin, Traktor (KHL). 6.04, 196 fast and skilled. Emerging since World Junior's.
D Rasmus Ristolainen TPS (SM-Liiga). 6.03, 207, has a wide range of skills and is playing in SML. Strong, 2-way defender.
C Hunter Shinkaruk, Medicine Hat (WHL). Skill forward with terrific speed and hands, strong on the puck. Sightly undersized.
C Curtis Lazar, Edmonton (WHL). Tough skill C. Pronman: Lazar is a plus skater with a similar amount of two-way work ethic.
L Kerby Rychel, Windsor (OHL). A trending player, he's skilled and mean. Button: He will play nasty and physical, which makes it very uncomfortable for opponents. Skating is below the others around him in the draft.
L Alexander Wennberg, Djurgarden (Allsvenskan). Lanky skill center with speed and quickness; playing in Swe2 league.
D Ryan Pulock, Brandon (WHL). Liked this kid from the start. Good offense from the blueline and a good size/speed combination for the blue (6.01, 211)
D Nikita Zadorov, London (OHL). 6.05, 230, strong defenseman with a big shot and a massive wingspan.
L Adam Erne, Quebec (QMJHL). Another exceptionally skilled winger, he's also rugged and has average NHL size.
D Josh Morrissey, Prince Albert (WHL). Highly ranked because of his skating and puck moving ability. Morrissey is a great example of the "new NHL" defenseman: good speed, excellent at moving the puck and solid defensively.
L Max Domi, London (OHL). Skilled W with speed and his Dad's low center of gravity. He's really coming on.
C Fredrik Gauthier, Rimouski (QMJHL). 6.05, 210 C with skill, intimidating size and he'll likely play on a skill line.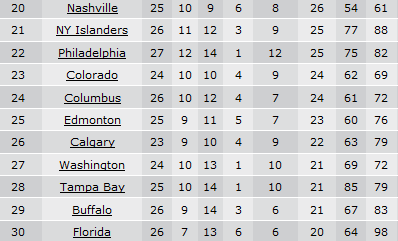 If the season ended today, the Oilers would pick 4th according to sportsclubstats.com. Let's say the top 3 go like this:
Florida: D Seth Jones
Buffalo: C Nathan MacKinnon
Tampa Bay: L Jonathan Drouin
Edmonton?
I think the Oilers race to the podium in order to select Barkov. What say you?
Note: This post was done before last night's game. The post is not meant as a commentary on the state of the Oilers, although the playoffs are a faraway echo. One of the things I wanted to do this weekend after talking to Corey Pronman and Kirk Luedeke two weeks in a row is to post a top 20 to see how the quality goes 1-20:
The top 4 are a scream. Cornerstone, foundation, franchise-altering.

Numbers 5-8 are top flight prospects, just a little below elite level.
The prospects 9-13 are going to be very good NHL regulars based on resume and performance.
The top 20 has quality and variety. Something for everyone.
It's my feeling that the Oilers will get an outstanding player if they choose anywhere inside the top 12. The standings suggest there's no way to avoid it.