The long road trip is over, Horcoff is back to being Horcoff, Chance has found an extra gear and Samwise is streaking. And your Edmonton   Oilers are in a playoff race. Swear to God.
The western conference of the NHL is a study in hope, despair, dismay and impossibles as we sit shoveling our driveways: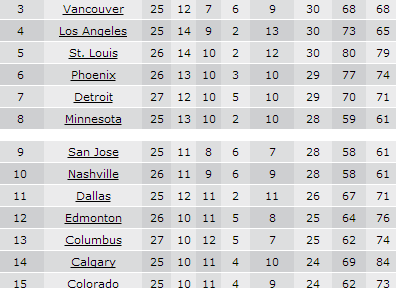 There's only a six point gap between third and 15, which is incredible. Someone is going to rip off a brilliant winning streak in the next three weeks, might as well be the Oilers. The long road trip is finished, Horcoff is healthy and the team finished the road trip with two solid victories in must win games.
Are the Oilers starting to play better because they have that talk the other day, or do you think they're going to fall back on Friday? I don't know, but have seen young teams (young Oiler teams, and recently) put it all together in stretches and this Oiler club has enormous advantages (three #1's, more home games than road games, a shooting percentage that needs to catch up).
—
Ben Eager is on waivers, I think he'll get picked up on reputation. Based on his quality of play since arriving in Edmonton, I don't think he's an NHL player at this point. However, he's a first round pick with a Stanley Cup ring and those guys get more opportunities than the Stones in the 1970's. I won't do a sail on, because he didn't qualify. Wish him best of luck though, and sincerely hope he retires before those concussions do damage to the rest of his life.
—
Trade deadline is coming up, here's my predictions based on how likely they'll be dealt:
D Ryan Whitney 90%: Kevin Allen joins other msm in naming Whitney, who has been performing well of late. It's kind of a tough item for Oiler fans, as he's clearly a top pairing option when healthy. However, I think there are teams–like Boston–who could employ him on the third pairing and #1PP, something Edmonton can't afford to do (they need six guys who can play elevated minutes on any given night because they don't have an impact pairing). 
D Ladislav Smid 75%: Reading online last night looks like many of the msm think this thing gets done. I hope so, but we're a little over two weeks from the deadline and there's been crickets. I suspect each side might have an idea about the other's position, and the gap is very wide. Smid's side might be asking for well over $4, Oilers may be offering low 3's. If they come up to $4M does that get it done? Smid might get more in free agency, he'll be an attractive free agent if he gets there.
R Ryan Jones 50%. Veteran is in a little trouble here, as it appears the coach has had him sit a few times and the kids are emerging. I can see the Oilers offloading him if the offer is strong enough.
R Ales Hemsky 30%: I think he's in play because other NHL teams feel a need to add offense and a healthy Hemsky is instant offense. St. Louis has been rumored and that makes a ton of sense from their end, I'm not sure what the Oilers could get in return to make the deal equal. Chris Stewart has been mentioned, but is that fair value? I'd prefer Hemsky.
G Nikolai Khabibulin 25%: The problem for Khabibulin is health, I don't think a team can trust that the veteran will be able to answer the bell through the post-season.
C Eric Belanger 20%. I think he has value, but in a very specific role. The deadline is about expiring contracts, and Belanger has another year which could kill his trade value.
—
I am encouraged by Steve Tambellini's words about not giving up youth for a quick fix, but am also mindful of the fact that he has said one thing and done another during free agency and trade deadlines.
—
We wait.