This is where I came in. By the time I collected hockey cards and knew all the names, the top line in hockey was Esposito-Cashman-Hodge. It was a huge line for its time, with Esposito impossible to move and possessing the hands of a surgeon and the heart of a lion; Cashman the worker and passer, a throwback Ryan Smyth and the best corner man this side of Angelo Dundee; and Hodge: big, skilled and an enigma before and after his time on one of hockey's most famous lines.
TRIPLE H LINE
Ralph Krueger put this line together on the road trip and they appear to have some major league chemistry. The best of the old and the best of the new are a chance machine and can create against good and bad opposition. Last night's first period goal saw all three take part in the scoring, I think they'll be key to the stretch run.
THE NUGE LINE
It's terrific to see Nuge and Eberle work together and Hartikainen is a bull driving toward the net. I don't know if this line will make it–the coach really wanted them to score based on situation last night and they didn't–but this line has some real promise.
THE GAGS LINE
This is the second line based on opps (to my eye), Gagner is such a wizard with the puck and Yakupov is an amazing passer already. Paajarvi seems to have been told to drive to the net and good lord is he doing it. For many reasons, this line has the best chance to hang together over a long period.
TEAMS WITH 3 SCORING LINES ARE RARE
Trust me on this one. My Bruins from 70-71 were among the greatest offensive teams in history, and they had two scoring lines and one checking line.  However, because the 2line housed a large portion of the 1PP, and because the 3line was such an outstanding PK line, they became one of the few teams in history with three scoring lines.
1970-71 Bruins top 3 lines
Esposito-Cashman-Hodge: 140 goals, 33 PP, 1 PK
Stanfield-Bucyk-McKenzie: 106 goals, 41 PP, 0 PK
Sanderson-Carleton-Westfall: 76 goals, 1 PP, 13 PK
1984-85 Edmonton Oilers
Gretzky-Krushelnyski-Kurri: 188 goals, 34 PP, 14 PK
Messier-Lindstrom-Anderson: 77 goals, 17 PP, 6 PK
McClelland-Hunter-Hughes: 37 goals, 2 PP, 2 PK
I picked the early years to look at, but from my memory the golden era of the Oilers featured  Gretzky-Kurri, Messier-Anderson and a third line that could never be mistaken for a scoring line. If the team did have a checking line player who could jump up to the skill line, he might for a time or two (Oilers led the league in LWers for Gretzky-Kurri most years: Pouzar, Semenko, Krushelnsyki, Summanen all would have played during this season) but I don't recall an outstanding offensive 9 during the 99 years, and 1990 also had the two big scoring lines and then the Kid Line got hot late.
Do you agree? Disagree? Teams with three scoring lines are like unicorns, topless girls and rich uncles who leave everything to you: VERY rare.
Lowetide at High Noon is on Team 1260 today (noon to 2pm Edmonton time) featuring:
Rob Vollman from ESPN and Hockey Prospectus. We'll talk about his brilliant player usage charts and specifically look at the Oilers. Their big blue bubbles (good) are in the "two way sector" and are youngsters, and their big red bubbles (bad) are in the less sheltered sector and are older, more mature players.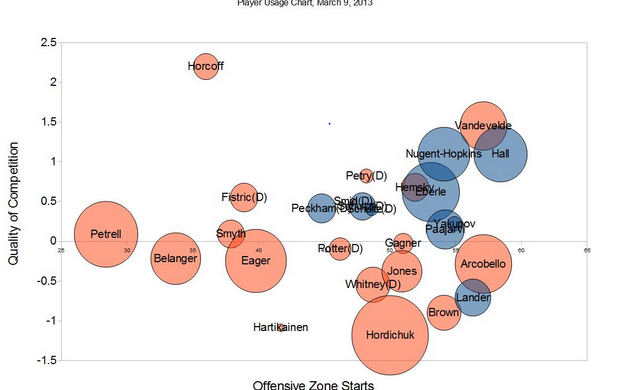 Hope you can join me, should be fun.