The Oilers lost in Vancouver to a Canucks team that looked much better than the Saturday night club we saw at Rexall. Oilers have a 27.4% chance of making the playoffs and Sports club stats does a nice job of identifying the team Edmonton needs to be chasing:
SPORTS CLUB STATS CHANCES OF MAKING THE PLAYOFFS
Chicago 100

Anaheim 100
Los Angeles 98.5
Vancouver 97.5
San Jose 93.4
Minnesota 91.5
St. Louis 83.0
Detroit 62.0
Edmonton 27.4
Columbus 19.0
Phoenix 17.0
Nashville 6.9
Dallas 3.2
Calgary 0.1
Colorado 0.0
It looks like Edmonton will finish somewhere 8-11 based on these numbers. I don't think anyone catches St. Louis, and from Nashville back they look done. The Oilers are two points behind Detroit, same number of GP. I think they need to win one of the games on the coast this weekend. However, if you're thinking of jumping off the bandwagon, I suggest you hang on for another week.
The Edmonton Oilers have a real chance to win the second season. Seriously.
—
Michael Parkatti's doohickey has Ryan Jones as the most effective Oiler last night, and that's about right. Here, let's run down the forwards:
Jones 14-2

Horcoff 11-2
Yakupov 13-4
Smyth 9-8
Nugent-Hopkins 14-13
Hall 13-13
Petrell 6-6
Eberle 13-16
Hemsky 3-11
Paajarvi 4-14
Brown 3-8
Gagner 3-16
Good job by the Horcoff line and I'll suggest the Hall line had some chances but nothing rhymed. I don't really have a quarrel with the 4line–but the Gagner line continues to baffle. I know Paajarvi wasn't himself and Gagner took some lumber to the jaw late, but there's something about Gagner-Hemsky that just isn't clicking. I know we've looked and looked and looked at it, and brighter minds than mine like Tyler Dellow have sifted through the wreckage, but at some point I'm of a mind to trash the experiment and move on.
Gagner-Paajarvi-Yakupov?
I think this is the reason one of Gagner or Hemsky won't be back. I'm not trying to me melodramatic–I love Hemsky and Gagner as players–but they should be doing better.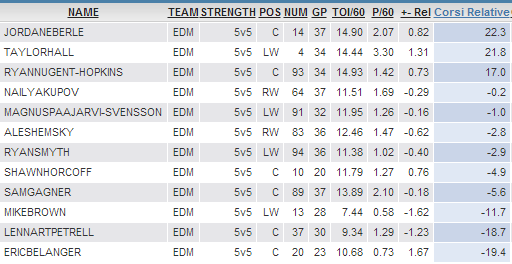 Gagner's 5×5/60 is fine (2.10), Hemsky's less so (1.47). I don't have an answer, but at some point I think the Oilers will stop asking the question. As an aside, look at that top line!
—
I wrote a Nation Profile on Ryan Smyth, it's up this morning.  I don't know if this is his last season–it might be–but looking back on his career is an extreme pleasure for this Oiler fan. I'm glad he's part of this young team for a time, and I'm going to miss him for a long, long time when he's done.
—
Why haven't the Oilers signed Martin Gernat?