Last night, in the shadow of the land of Buzz and Woody, the Edmonton Oilers let go the rope and fell into the ocean. Draft talk and 'next year' are waiting. This cannot be happening again. And yet, it is here.
Yesterday was the coldest April 8th in 130 years, but that was nothing compared to the loss in Anaheim by our beloved Oilers. The Parkatti numbers look familiar:
Forwards Shot Differential
Nuge +14

Hall +14

Eberle +7
Mike Brown 0
Lennart Petrell -1
Jerred Smithson -3
Nail Yakupov -7
Magnus Paajarvi -7
Ryan Jones -8
Shawn Horcoff -9
Sam Gagner -9
Ryan Smyth -14
That 2line problem remains a season long story, and I suspect we're beyond wondering if Sam Gagner gets moved and entering into what they'll get for him at the draft. The Oilers would pick 10th if the season ended today, I'll list my top 10 for the 2013 draft tonight.
Defense Shot Differential
Jeff Petry +3

Ladislav Smid -2
Nick Schultz -3
Ryan Whitney -4
Justin Schultz -4
Mark Fistric -9
By eye the top pairing had a very good night, but in fact the blue is really all lumped together outside Petry (who had a very nice game, including engaging offensively in a timely fashion). Schultz the younger had his chances too, including a late 5 bell I thought was a sure goal.
The chances I remember are thrice: Hall early missed the ocean, Nuge did his patented couldn't hit the broad side of the barn door late on a 2-on-1, and then Schultz with that stunning chance late. The Oilers didn't deserve to win the game, but they had enough chances of the outstanding variety that it isn't impossible to create a scenario where they walk away with a point or two.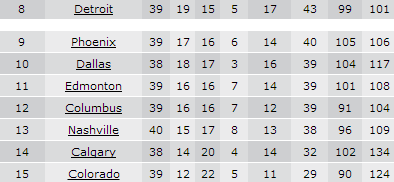 Oilers have 9 games left, no games in hand on Detroit and trail by 4 points and three victories. If by some miracle they catch Detroit, it likely doesn't matter because they've let everyone else into the race save Calgary and Colorado. Not to be a downer on a crappy morning, but the Oilers could easily be 13th in the conference by the weekend.
This road trip needed to be 2-2, it was 1-3. If they win last night, things are looking up. 2 winnable games this week, and they're two points out and in 9th. Giant opportunity missed.
I HEARD IT THROUGH THE GRAPEVINE
New Oiler fans this morning will be mulling over front office changes, flushing veterans by the dozen and looking over the available summer free agents.
Old Oiler fans? Schooled to search their inner hell for possible summer disasters, they imagine a "Nail Yakupov and 1st rd pick for Shea Weber" or "an actual mountain for Milan Lucic" type of deal, and a "Khabibulin is back for 4 more years" press conference instead of a rational approach to improving the bottom 6 forwards and the blueline.
I have four things that I think I think I know:
MacT is in the thinking room and has the ear of the high foreheads. 

Ralph Krueger will have one year of learning ("never start your 4line in the defensive zone if you don't have to") under his belt come the fall.
Stu MacGregor's team can draft hockey players.
Ryan Smyth has already said goodbye.