Craig MacTavish was on HNIC After Hours last night and gave us some insight into what he's looking to improve over the summer. Here's a sampling of what he told Scott Oake and Kelly Hrudey:
"There were some pretty key indicators that we weren't strong enough"
"We seldom control the momentum swings"
"we had great (negative) shot differential in most of the games, which is an generally a pretty good indicator of team strength"
"the positive part of that is that we didn't need a lot of chances to score."
"Our core guys have to learn to be better without the puck, to be more commited without the puck."
"There were a lot of guys on our team on any given night that were accepting of not being a positive factor."
"You can't go out there and not be involved in the game."
There's about 30 things we can tackle in there, but I'd like to focus on one this morning. The role players.
BOXCARS (forwards)
Ryan Smyth 47, 2-11-13 -5
Shawn Horcoff 31, 7-5-12 +8
Lennart Petrell 35, 3-6-9 -4
Ryan Jones 27, 2-5-7 E
Eric Belanger 26, 0-3-3 -1
Teemu Hartikainen 23, 1-2-3 -8
Ben Eager 14, 1-1-2 -4
Mike Brown 39, 1-1-2 -7
Anton Lander 11, 0-1-1 -4
Darcy Hordichuk 4, 0-0-0 -1
Chris VandeVelde 11, 0-0-0 -3
Mark Arcobello 1, 0-0-0 E
 CORSI REL forwards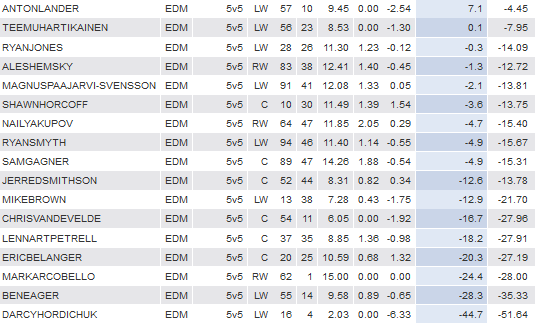 The CorsiRel suggests that Ryan Jones, Ryan Smyth, Shawn Horcoff and the kids Lander and Hartikainen are doing okay, but that Brown, VandeVelde, Petrell, Belanger, Eager and Hordichuk are poor. However, one would think the new GM will turn over more of the roster than the 4line; I think Horcoff and Brown return, that Hartikainen and Lander get a good chance to make the team.
Ryan Smyth: The CorsiRel (this is without last night's game) suggests that Smyth is still able to handle an NHL role. I'm wondering if he's maybe being tarred with the same brush due to the bunch he's hanging out with on the ice based on CorsiRel. I think the Oilers find a way to transition him away from the ice.
Ryan Jones: I don't think we should fret the offense–short season, recovering from injury–and his CorsiRel makes the CorsiOn number look much better. I've always felt the Oilers needed more of a Pisani (cheating for defense, not offense) type, and MacT certainly liked those player types as coach. I think he may not return.
Lennart Petrell: He never really got it done at even strength, and despite fine penalty-killing I don't see him returning. Of course, I said that last spring.
Eric Belanger: I think he's done as an Oiler.
Ben Eager: Concussion worries and ineffective play have him on the outside looking in.
Darcy Hordichuk: Gone.
So, if we count Hall-Nuge-Eberle and Gagner-Yakupov-Paajarvi-Hemsky as the top 6, the bottom 6F might use the following as the foundation for 13-14:
C Shawn Horcoff
R Mike Brown
C Anton Lander
L Teemu Hartikainen
One of Paajarvi or Hemsky
That means MacT is shopping for:
A Pisani type left winger for the Horcoff line (which will also likely include either Hemsky or Paajarvi)
A center to push Lander down the depth chart
A better Petrell who can PK, be an effective 4line option and move up the depth chart if needed
Is that about right?