News making the rounds today that Ryan Johansen was ineffective during the AHL playoffs for Springfield. No big deal, except the GM (Jarmo Kekelainen) has gone on record so now it's a full blown story and suggests there may be an opportunity.
First, the point has to be made that the Oilers were very interested in Johansen during his draft year. Second, although he's been no screaming hell in the NHL, he is playing a tougher minutes role at a young age and surviving.
VOLLMAN SLEDGEHAMMER–COLUMBUS C'S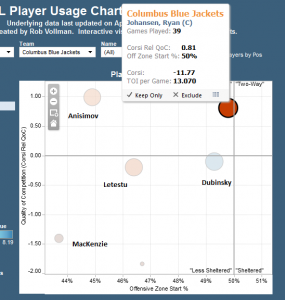 You can click to enlarge, basically he's playing some reasonably tough competition and it isn't killing him (based on the Vollman).
He won 51.4% of his faceoffs, he's 6.03, 203 and has played just over 100 NHL games (he'll turn 21 at the end of July).
Boxcars: 40, 5-7-12 -7 84 SOG
3rd toughest qual comp, 3rd best qual team
Corsi Rel -5.4, that was 11 of 15 CBJ forwards
Raw Corsi On -11.36, 12 of 15
1.26 5×5/60, right at the end of the offense
Interesting player.
—
And now the news.
The Springfield center was (along with his team) having a terrible playoff series against Syracuse and the performance was so bad he was benched in game 4. The story is here, and the money quotes come from Jarmo Kekalainen.
"If you don't earn it, you're going to sit. The coaching staff didn't think he earned his spot on the team, so he sat. This should be a good wake-up call for him. I think this is probably going to be a disappointment to say the least, maybe even a bit embarrassing. Hopefully he takes it the right way, gets to work this summer and shows us in the fall that he's taken it to heart and he's ready to earn a spot on the (Blue Jackets)."
Maybe this is a problem player, but maybe this is a reflection of the previous admin and they'll flush him for less than 100 cents on the dollar. Worth watching.