Bruce Garrioch has an article out today that runs through trade rumors and one of them involves the Oilers and Nail Yakupov. As noxious as the idea may be, this is the second time it's been in the national media.
Garrioch this morning: "Been told Oilers GM Craig MacTavish has been busy working the phones. He wants to get help immediately, which means he could use some of the club's young assets to see if he can find the right piece to get Edmonton to the playoffs. There is talk the Oilers may move right winger Nail Yakupov to bring back a package."
Before we go off half-cocked, let's review exactly what Garrioch is saying here. "There is talk" and "may move" are not strong, powerful words, and that suggests that it's an idea as opposed to a plan–something that could have come from anyone. Also, there's a vague mention of return, again suggesting that any discussions are in the  early stages.
This marches in lock step with an Elliotte Friedman item earlier this spring, in which he talked about the Oilers, Gagner, Yakupov and others. I wrote a post about it over at Oilers Nation (here) and wanted to grab a couple of quotes:
Friedman on Yakupov: This is purely my opinion, but I think Edmonton would listen to a massive offer. It's nothing against the player, it's more about circumstance. To get quality, you have to give up quality. If MacTavish really wants to make a bold, aggressive move, this is the name on the roster that fits. But the trade would have to be spectacular.
So, the idea has been out there for awhile. Now, these items have to be set against the backdrop of MacT's words and actions. Early in the process he talked about the kids and basically said trading any of them was highly unlikely–in other words it would have to be a spectacular return. Is that return available and out there? Would it involve the number 1 or 2 overall selection this year (and Nathan MacKinnon)?
For me, I don't make any kind of deal for Yakupov, Nuge or Hall. However, MacT would be a fool not to listen and if there's a spectacular offer that involves the sun, the moon and the stars well he'll take that call and listen. After that, I don't think anything comes of it. The optics of a failed trade of Yakupov (which could come through injury, performance or perception) would stay with the new GM forever.
Budding under all of this: the rumors we heard at the draft last summer. Yakupov was not the organizational slam dunk that Hall/Nuge were in their draft seasons.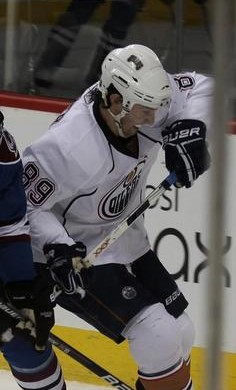 The problem for MacT that involves Yakupov also involves Sam Gagner and Ales Hemsky (2line sinkhole). I do believe (and have for some time) that the Oilers want to sign Gagner, and the only thing standing in the way is dollar and term. Again from the Spring 30 thoughts:
Friedman on Gagner: My belief is the Oilers would like to sign Gagner, but their past reluctance to do it gives him the leverage. He's a talented centre one year away from unrestricted free agency at age 24. Here is what the Oilers could do, though. He becomes a restricted free agent this summer. Other teams can talk to him. If one can work out a new contract, is there a trade to be made? If not, Edmonton matches and controls him. Gagner's value provides incentive for a willing partner to work out something. What mix of players/picks/prospects would a team be interested in dealing for a signed Gagner?
This spring, the smoke has been around Yakupov, Gagner and Paajarvi. I think one of those three could go this summer. If it's Yakupov we can assume the new GM is going to rip this thing apart and that more than a half dozen jobs will change hands. A Yakupov trade would represent the biggest exit this team has seen in many years. The risk of losing the deal is enormous,  franchise altering and more than a little dangerous.
My bet is the Oilers address need in a less spectacular fashion.
This morning at 10, we'll talk Yak, the draft and more on the Lowdown with Lowetide (Team 1260). Scheduled to appear:
Bruce McCurdy from the Cult of Hockey. We'll talk Yakupov, Belov, draft and Anton Lander. 
Aaron Vickers from Future Considerations. Their draft guide is out! and we'll preview and discuss the suddenly fluid top 10.
Rob Soria from Oil Drop. We'll talk Scott Hartnell, coaching options and goaltending.
Eric Rodgers will preview tonight's OKC-Grand Rapids G6.
Hope you can tune in.