There are many subtle changes we're seeing in regard to the Edmonton Oilers. Excitement is building toward draft day–but this time there's a sense that constructive additions will happen. MacT's already signed a free agent,  and it wasn't a veteran for too much and too long, it was a reasonable bet on a guy we'll either love or forget. That's all good, all day.
However, the main difference for me is in the verbal, the clarity, the confidence in idea delivery. Here are two quotes from two different men:
Male 1:  "People know the position we have and the depth of skill we have in our organizational chart. Managers know that if they present something that helps us in a lot of different ways, we have the ability to make a deal.  That may not happen, but we have the ability to do it."
Male 2: 

"We're definitely going to look at doing something with that pick. I think we'd be very receptive to moving back and picking up another pick potentially. 

It's a very deep draft in my mind. There are tons of players out there who excite me. Or possibly we could pick up somebody that could help us immediately and another pick."
Male 1 couldn't sell sleep to an insomniac, and the second guy is MacTavish. Words like "receptive" and "excite" and "help us immediately" charge the verbal, give us a sense of action. The other guy sounds like he's waiting for a phone call.  It's a small item, but framing the issue in a positive way is a major part of any endeavor that involves the exchange of money or goods. I'll take MacT in a room where ideas are exchanged and deals are made 10 times out of 10.
Here's hoping he has the right ideas. 🙂
The Lowdown with Lowetide hits the air at 10 this morning, hope you can tune in (Team 1260, website has a listen live). Scheduled to appear:
Rob Vollman from Hockey Prospectus and ESPN. Today we're going to talk about the wisdom of signing Mark Streit, Sam Gagner's summer, and available RFA's (offer sheet, trades). With that in mind, here are the Vollman Sledgehammer's (Player Usage Charts) for RFA D & F.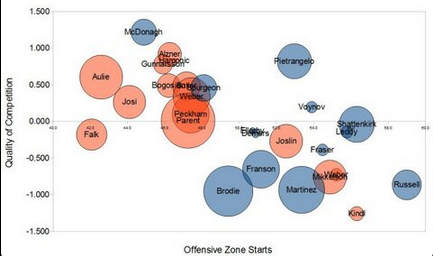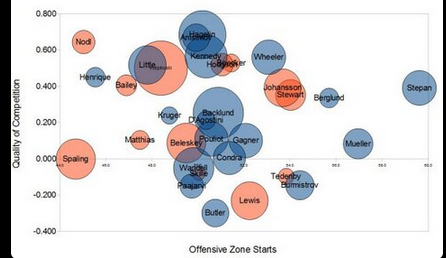 Wow. There's some stunning RFA blue this season.
Ryan Batty from Copper and Blue. We'll talk about addressing the Oilers needs at G, D and F, and how best to go about it (trade, free agency, offer sheet). We'll also tackle the list of Barons prospects and come up with a list of those likely to get a long look at training camp.
Jason Gregor from the Jason Gregor Show. We'll talk Eskimo training camp, and I'll ask about the O-line (Eskimo's are importing them 6 at a time right now). We'll also chat Oilers at the draft–trade up, down or out?
Jeff Krushell from Krush Performance. We'll talk baseball and PEDs–they're going to suspend players–what the hell? Jeff will have the answers.
Neal Livingston from Tend The Farm. Massive win for the Barons last night–and game 7 tonight? We'll discuss with Neal.
Hope you can tune in.