The Edmonton Oilers drafted 10 more players this weekend and they have a major impact on the new summer top 30. This list is now dominated by blueliners, and I'd suggest that the club is extremely likely to offload one or more in the next 12 months.
(NR) D Darnell Nurse: Pronman: He is a gifted physical player who has all the natural tools a scout could want from a defenseman. He has slowly begun to emerge as a two-way player, but his value comes from his high-end work in his own end. Nurse is a tall defender with an aggressive edge and the strength to consistently push his checks off pucks. He has above-average mobility, especially considering his larger size. With his wingspan, he is able to make a multitude of plays in the defensive end. I have heard previous concerns from scouts about his offensive upside, but he took a step forward in that element this season. He will not be a dynamic offensive threat, but he can move the puck at an above-average level, and join the rush on occasion. He projects as a point man on a second power play unit, while logging the tough defensive minutes. This is a quality 2-way defense prospect. Woodlief: is the most naturally physical defender (in the draft). He made good strides in his offensive game and has a heavy shot that is an asset on the power play. He likes to dish out punishment along the walls and easily separates his check from the puck. Nurse also scores off the charts in both his character and intelligence levels, and at a gangly 6-5, already has the footwork of a much smaller man. Finally, we have anecdotal evidence that he was playing  some tough opposition.
(3) D Oscar Klefbom: Impressive 2-way defender who fits the modern game. Good skater, physical and willing to jump into the play. Decision making has improved since draft day, injuries are a concern. Klefbom's SEL totals (67, 3-4-7) give us an NHLE (82, 3-4-7) that suggests stay-at-home type. However, Euro leagues throw around second assists as often as I buy lunch, so that's perhaps an unfair projection. Safe to say we should not expect a 20-point rookie season in the NHL. Based on MacT's quotes after taking over the big job we should expect him to make a push for the big league roster this fall and he could graduate this list by next summer.  Corey Pronman: "NHL GM on newly signed Oscar Klefbom. "Physically mature, great skater. Projects to play against best players and some offense."
(4) D Martin Marincin: It's been awhile since the Oilers had a defender play this well in the AHL debut. Marincin's arrows are strong now–he's healthy, has started to add weight for the pro game (AHL has him 6.05 196) and his boxcars (69, 7-23-30) and NHLE (82, 4-12-16) suggest he'll bring some offense to the show–although playing with Justin Schultz padded his numbers. However, his point total in the playoffs was on par with regular season point-per-game. Should be the second member of the maligned 2010 draft to make the NHL. Todd Nelson: "His body has to mature (187 at the time). As long as his body keeps maturing, he'll be able to sustain the game at the NHL level. He's rangy and green still, but there's tremendous upside. Everybody is looking for 6-foot-5 defencemen with offensive ability. I think he has great opportunity to see games in the NHL."
(NR) C Marc Olivier Roy: This is an outstanding pick. Redline: While thought of as a grinder who brings passion and intensity to each shift (which is accurate), that is short-changing his skill level. Good skater with speed and balance, and accelerates well. Wins a lot of races for loose pucks and is always 1st into corners. Works his bag off every shift and comes back hard on the backcheck. He's an absolute buzzsaw with a motor that never quits. Two great playoffs in a row and he has a wide range of skills. (Blainville-Boisbriand, QMJHL) 65, 29-38-67. NHLE 10-15-25. I give him a very slight edge over Slepyshev based on range of skills.
(6) D Martin Gernat: Overcame injury to have a nice season (WHL reg/playoffs combined: 45, 9-21-30, NHLE 82, 5-11-16) and is probably the most talented offensively of the 'big three' defenders who sit atop the prospect tree for the Oilers currently. Gernat has been a pleasure to watch as an Oil King, adding parts of his game as he matured. Fans in OKC will see a 'riverboat gambler' similar to Marincin (and with a similar mean streak that appears from time to time) and a player who will play in the NHL (should he make it) as a mobile 2-way defender. I spoke to an NHL scout about him (an eastern conference team) and he told me Gernat's game has developed well defensively, his footspeed and size will be his pro calling cards and we should not expect a lot his offense to come with him to pro hockey. Remains a possible late round gem.
(7) C Jujhar Khaira: An 'ultimate sleeper' pick by Redline before the draft, Khaira (according to Redline) "does the dirty work in the corners, bangs bodies and wins battles, and loves to initiate heavy contact. Powerful stride with great balance and gets leverage on his hits. Has surprisingly soft hands and puck skills with playmaking ability." His boxcars (37, 6-19-25) and NHLE (82, 5-18-23) show nice improvement year over year and his range of skills makes him the #2 forward  in the system. Khaira has gotten bigger (now listed at 6.03, 198–he was 182 at the combine) and his arrows are heading in a very good direction.
(NR) L Anton Slepyshev (UFA, KHL) 11, 4-2-6. NHLE 18-6-24. A very talented winger who appears to have enough skill to run with the really good players. Pronman: He is an above-average skater, with agility and free movement, as his shiftiness makes him hard to check. He has a plus shot and he knows it, as his mentality is often shoot-first, even from distance. He can still make plays, and he does not have tunnel vision, but his playmaking skills are not his best element. His physical game has progressed, and he has added strength since last season. He can protect pucks moderately well. He will display physical effort, although it could be better at times. He also needs to work on his defensive game. I'm not sure what the 'next step' is for him, would love to see him come over and play in the AHL next season. I may have him too high–we'll see–but there's not much doubt this guy can play. I wonder what he'd do on Yak's line during pre-season?
(NR) C Bogdan Yakimov: We're going to love this guy. (Nizhnekamsk Russian Jr). 11, 6-7-13. Pronman: He is a big center, measuring in at about 6'5″. He may not have the top-end tools of a typical top Russian prospect, but he is talented and he plays a good power game. His hands are above average, and while he can certainly make some moves and carry the puck into the opposing zone, he is not an overly creative forward. I love the line from Mckeen's about "a thickly constructed speicmen" and this guy is going to be unique. A player who will take some time to get there.
(26) L Toni Rajala: I don't recall moving a prospect up by 21 spots before, but then again Rajala's had a tremendous season. He's listed at 5.10, 163 which probably means he's 5.07, 150. His OKC boxcars (46, 17-28-45) and NHLE (82, 13-22-35) are so impressive (and his playoff was too, as we discussed yesterday) I just can't find a way to keep him outside the top 5. I have him behind Khaira because his road to the NHL is blocked and he is not guaranteed a second chance with another NHL organization (no draft pedigree). Cheering like hell for him, though.
(10) D Dillon Simpson: This is such a nice player. Now 6.02, 200 and is playing a feature role on a strong NCAA club at age 20. He has one more year with UND and then will turn pro, and I'm having a hard time keeping him out of the conversation with the top 3 D in the system (above). The skating issues are no longer mentioned, his size is certainly not going to be a problem and his offense (boxcars: 42, 5-19-24; NHLE: 82, 4-15-19) have him near the top of the Oilers D prospect table offensively. I'm going to go ahead and suggest that Simpson hurt his draft number in 2010-11 by playing in the NCAA. The skating issue looked more pronounced against older players and he didn't get the PP push he'd enjoyed in Spruce Grove. The Oilers got him in the 4th round in 2011, he's a much better prospect now.
(NR) D Anton Belov. Russian defender who can skate and move the puck. There are questions about his defensive ability so this ranking is a guess, but his KHL numbers (46, 9-17-26) and his NHLE (82, 13-25-38) suggest he could have a major impact on the offense this season. 26 years old and 6.04, 216.
(18) D Taylor Fedun: He played a feature role with the Barons this year and has been top 4D all down the line. I don't know where he fits long term, but he is certainly in the mix for immediate NHL employment (depending on how active the club is going to be this summer). He plays in all situations, has improved his footspeed from the fall and his boxcars (70, 8-19-27) and NHLE (82, 4-10-14) suggests he'll be able to contribute should he get an NHL job.
(NR) R Jackson Houck (Vancouver, WHL). 69, 23-34-57. NHLE 8-12-20. Interesting range of skills and as I read more about him last night I can see the appeal. Houck is physical and skilled, a nice combination, and he led his team in scoring so it isn't like the stats were being zoomed by a better player as we see every year at the NHL draft. A tough player to slot, his NHLE is encouraging (the NHLE's are much better this season) and there may be a player here. Cody Nickolet: an energy forward for the Giants.  He's quick, plays aggressively all over the ice and has a good shot.  His best asset is that he never takes a shift off, knows his role and fills it to a tee.  Put up a good year offensively, but he will need to continue to work hard on that part of his game if he wants to carve out a top 6 pro career.  Has some value towards the back half of the middle of the 2013 draft.
(12) L Mitchell Moroz: Big, tough winger who played on the shutdown line for the Oil Kings this past season with Travis Ewanyk (and Klarc Wilson, later Edgars Kulda). Moroz had few opportunities to move up the depth chart and play with skill, but showed well in those moments and I think we'll see his offensive production increase with so many Oil Kings heading out of town beginning this fall. His boxcars (69, 13-21-34) and his NHLE (82, 5-7-12) improved slightly but he's still tracking with Zack Stortini as an offensive player. At this point, he projects as a fast 4th liner with legit fighting ability and size (6.02, 208). A player to watch this fall, as of now he's in the 'enforcer' family of player types.
(8) D David Musil: It's all down to skating now. He provides reliable defense featuring an uncanny ability to defuse oncoming sorties, win battles along the wall and in front of the net, to calm the waters–and he delivers it consistently and effectively. However, when David Musil is tired or is matched up against a fleet winger, chaos often ensues.  The same scout who told me about Gernat feels it'll be an extreme test for Musil beginning this fall and he wondered if Musil would be an every game option. Interesting.
(21) D Brandon Davidson: One of the major surprises this season, has overcome everything in life so I can't imagine much on the ice will overwhelm him. Took a giant leap later in the season, ending the year on the top pairing for OKC in their playoff run. His boxcars (26, 2-3-5) and NHLE (82, 3-4-7) suggest pure stay at home, but Davidson had more offense in junior, and had a better run in the post-season so there could be more there as we move along. In a season of devastating prospect news on and off the ice, his story is a rainbow.
(25) C Mark Arcobello: Enjoyed an exceptional season, moved past several players and found himself playing with the NHL guys during the lockout. Even more impressive, he maintained the offense when they left, finishing in the top 3 in both regular season and playoff scoring in the entire AHL. Arcobello's signing a 2-way contract with the Oilers tells us he's arrived and is a part of the future in OKC, and maybe in Edmonton too. Impressive career progression. Boxcars are incredible (74, 22-46-68) and his NHLE (82, 10-23-33) tells us he's got enough of a bat to play in the NHL as a replacement level skill player. Best Yale prospect in the system, which didn't mean a thing until recently.
(NR) C Andrew Miller: Yale C signed as a college free agent this spring, 5.10, 180 and 24 years old, there is a player here. Corey Pronman: center is a classic small, skilled college player. Miller displays above-average qualities in terms of his speed, puck skills and overall offensive instincts. In his Senior season especially he showed the ability to consistently create scoring chances and keep the play flowing in the right direction." Boxcars at Yale (37, 18-23-41) and NHLE (82, 16-21-37) suggest he has enough offensively to play in the NHL. Interesting prospect.
(NR) C Greg Chase (Calgary, WHL). 69, 17-32-49. NHLE 6-11-17. I liked him before the draft, having seen him play well in the post-season against the Oil Kings. Pronman liked him (99) saying scouts praise his offensive mind and vision. He can slow the game down when he has the puck, hit targets through small lanes, and move the puck quickly when need be. He also has good hands, and when he is on, his offensive upside is apparent.
(NR) R Kyle Platzer (London, OHL). (London, OHL) 65, 5-17-22. NHLE 2-6-8. I had a hard time figuring this player out early on, his numbers are nothing much and he's no Coke machine. Some digging led me to this from OHL Prospects: did absolutely everything London's coaching staff asked him to do this year, including seeing some time on the blueline to cover for injuries. His numbers don't jump out at you, and they won't with the barely 10 minutes of ice time he saw a game. But you have to assess him based on what he was able to do with that ice time (similar to Remi Elie who's rated higher). Platzer may not be huge (pushing 5'11), but he's a skilled player who also can provide energy and persistence away from the puck. You might notice Platzer outworking opposing defenses along the boards, or beating them to loose pucks, but he's also clearly a very intelligent offensive player who is capable of putting up higher point totals. He did lead his Waterloo GOJHL team in scoring as a 16 year old in 2012. The one thing I admire about London is their ability to make younger players work hard to stay in the line-up. Ice time is earned, not given. And Platzer earned every second of time he received this year.
(20) L Daniil Zharkov: One of the more promising offensive players from last season's draft ran in place in the same league he'd played in at 17. It isn't catastrophic, but it isn't a great sign either. Off to Russia, who knows if we'll see him again. His boxcars from the OHL (59, 25-18-43) and his NHLE (82, 10-8-18) should have been better based on age and experience.
(30) D Erik Gustafsson: 49, 7-16-23 +12 in the Allsvenskan (league below SEL). Swedish puck mover had a terrific start and then fell off offensively. Then he caught fire again and went 22, 4-11-15 to end the year–Corey Pronman was impressed with him, saying "has a fair amount of skill and mobility. Several times he showed the ability to be an effective puck carrier who can make impressive plays and be a starting point for offense. He's a little undersized which won't help him, but considering that I thought he defended at an ok level as his reads were fine." Oilers haven't talked about him, so we have no idea how they feel about him, and considering the sheer number of blue ahead of him on this list we may never see Gustafsson.
(15) D Joey Laleggia: Undersized skill D who plays for U. Denver, Laleggia's numbers were off this past season but there's little doubt he's an exceptional offensive weapon on the PP. The big question for Laleggia will be how well he can play defense (he's 5.09, 180) and he's in the 'longshot' area of the top 20 because of it. However, his boxcars (39, 11-18-29) and NHLE (82, 9-16-25) are the strongest offensive numbers among defenders in the system. If he can figure out how to survive in the NHL defensively, Laleggia could be a gift to big league powerplays.
(9) R Tyler Pitlick: It was a strange season. Here's what it looked like at OKC TC: Coach Todd Nelson, pre-season–He has to play in a top-six role, that's where we have him slotted. He might play in a line with Josh Green. We're just kind of looking at things. Tyler Pitlick, we feel that he's a top-six guy and he's going to get an opportunity to prove that and play in that role." Pitlick did nothing with the opportunity and then suffered an injury that cost him much of the season. He does some things that make him unique–bigger body, aggressive, works hard in the corners and he has a very good shot. However, his boxcars (combined reg/playoffs 60, 5-11-16) and NHLE (82, 3-7-10) are miles from normal. This coming season is going to be a major opportunity, I don't think he gets another contract without showing some offense.
(16) G Olivier Roy: Built on a strong ECHL season in 11-12 with some nice work in the AHL behind Yann Danis, but eventually was sent back to Stockton because of struggles there. Roy found his groove and enjoyed an outstanding season and playoffs. A .902SP in the AHL isn't going to get the job done, but Roy has earned a season in OKC to showcase his skills.
(NR) R John McCarron: NCAA power winger (6.02, 225) hasn't found his offensive game but plays a physical style and should adjust well to the pro game. Oilers have two more years (he was a sophomore at Cornell this winter) to make a decision on him. 33, 7-12-19 at Cornell, that's NHLE 82, 7-12-19 too.
(23) G Frans Tuohimaa: The tall, lean Finnish goalie (6.02, 180) went 13, 2.29 .912 in the SM-Liiga this year and was exceptional in a brief period in the playoffs (2, 0.77 .960). Tuohimaa's signing by the organization is obviously a clear indication they hold him in some esteem. I am uncertain about the plan for the coming year–will he come to North America?–but he does seem to have a promising future.
(29) L Phil Cornet: Won a skill line job in OKC after the lockout and played well again in that role. His boxcars (46, 15-18-33) and NHLE (82, 12-14-26) suggest he is a 'tweener' offensive winger and not likely to make the NHL grade. Certainly has enough skill to hook on with another AHL team and could get a callup or two along the way, but we have seen him for three seasons now and have a good idea about him.
(28) C Ryan Martindale: Part of the 2010 draft, Martindale is still looking for regular work as a pro. Battled injury but also lost playing time this year due to period of ineffective play. His boxcars (41, 6-8-14) and NHLE (82, 5-7-12) aren't close to good enough and despite size (6.03, 207) no one ever talks about his physical play.
(NR) L Kale Kessy: Big forward with toughness and an ability to agitate/fight. Oilers got him this spring in a deal for Tobias Rieder. Kirk Luedeke had a nice profile of Kessy in his draft year, including a quote from a scout that went like this: "this is a kid who's legitimately tough. Last year, he'd blast people and then turn around, looking for someone to take him on. And, he fought some guys older than him and more than held his own. He can go." Kessy is 6.03, 202 and his boxcars (60, 21-22-43) and NHLE (82, 9-9-18) tell us we should expect a 4line pugilist in OKC next year. If he does have more offense as the playoffs implied (15, 11-3-14) he may take Moroz' slot as the top ranked enforcer in the system.
NEEDS REVIEW
Center: The current NHL depth chart has youngsters RNH, Gagner (rfa) and Lander, but that's not exactly the 1984 Oilers up the middle. The top C's on this list entering yesterday's draft were Khaira, Arcobello, Andrew Miller and Martindale, with only Khaira in the top 10. Oilers spent several picks on the position yesterday, with Roy being the centerpiece along with the project Yakimov and the gritty Chase. I'm absolutely certain they would have loved Monahan, and suspect they argued over Horvat (it was too early to take him) but the position is stronger today. The best of these prospects (Roy, Khaira, Yakimov) are years away.
Goalie: Oilers have no goaltenders with NHL calibre resumes and they did not add any yesterday. Fucale almost fell to them and would have represented nice value where he would have been taken. I would guess we'll see a trade sometime this summer for a goalie prospect, otherwise it'll be a priority at next year's draft.
Left Wing:  I'm strong on Slepyshev, that was a brilliant pick. The other two LW's (Muir and Campbell) are draft and follows, we won't really know much for a couple of years–they're the new Kellen Jones. Top options now are Slepyshev, Rajala (#9) and Moroz (#14). The organization has devoted two very high selections (Hall, Paajarvi) on the position in recent years, and I think Slepyshev has an excellent chance to join the party.
Right Wing: Took only one pure RW in the draft (Houck) but that's kind of misleading because some of these guys at C and L can play R. Starboard is not well represented on this list, but with Eberle and Yakupov already at the NHL level it's unlikely to be a priority.
Defense: The Oilers spent their finest draft bullet on another defenseman and at this point someone has to be headed out of town for a G prospect or a C. The top 3 prospects on this list are D's, 5 of the top 10 and 8 of the top 15. Outstanding depth on defense, can't recall the last time they had some many good prospects at this position.
WOODLIEF CHAT TRANSCRIPTS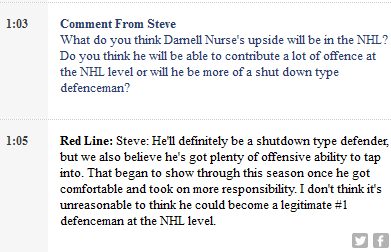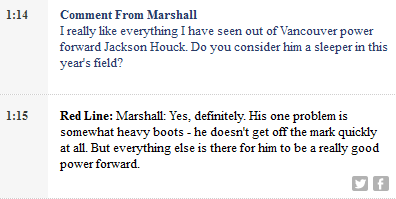 I love what the Oilers did yesterday. Entering the draft, they owned three bullets and then three pellets; they turned that into 4 of the top 10 prospects on this list and another three who made the top 20. That's outstanding value. It'll be years before we know, and they certainly did pass a lot of talent at #37, but the bets seem very reasonable and the prospect list much stronger this morning.