The Edmonton Oilers could sure use a lift this fall from the Stu MacGregor draft bin–one of two of those 2nd rounders (and beyond) turning into actual NHL players would be golden. From what I can tell, Craig MacTavish is planning on using Anton Lander in a 4th line role (that could change depending on what is available over the summer). Is Lander ready?
MODIFIED VOLLMAN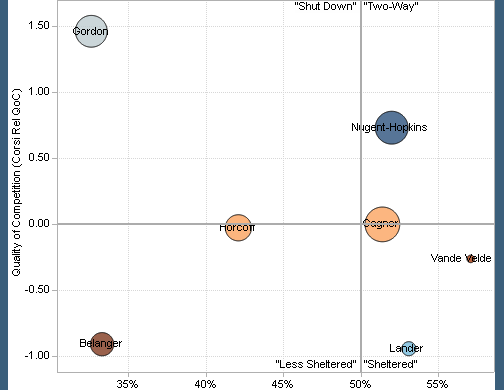 This is sort of cheating (I've added Boyd Gordon so the graph doesn't fall over on its side) but a nice view of Lander's role a year ago with the Oilers 5×5. In 11 games, he's in the sheltered part of the storm and has a small blue (good) balloon (this is CorsiRel). That's a small sample size (11 games) and I don't really think any of us were thinking "man, get Lander more at-bats" but I do find it interesting that the Oilers don't seem to be aggressively pursuing any other options.
I wonder if they think he's turned some kind of corner. Here are his splits this season:
October through December: 27, 2-4-6 .222
January through April: 20, 7-7-14 .700
Playoffs: 8, 5-3-8 1.00
As well, his SOG totals rose over each period (Oct through Dec: 29 in 27 games, 1.07 shots-per-game; Jan through April: 49 in 20 games, 2.45 shots-per-game; Playoffs: 27 in 8 games, 3.38 shots-per-game). At what point do we count this as a positive? Remember, he does have a nice reputation as a checker, so the offense just has to represent breaking even for him to be a legit 4th liner (he should be able to help on the PK, even as a winger).
During the OKC RE series I suggested "reasonable expectations" would be 70, 10-20-30 (.429 point per game) and he delivered 55, 14-14-28 (.509) in the regular season and playoffs. Which raises the question: is this the time to see if Anton Lander can play 4line NHL minutes and keep his head above water? Is the Vollman Sledgehammer (in a small sample size) and his progress after mid-season offensively enough to suggest the time to find out about him is now?
Is Anton Lander a valuable enough prospect to invest a roster spot on during the 2013-14 season? The current evidence suggests Craig MacTavish's answer is yes.
(photo by Rob Ferguson, all rights reserved).