The rumors about Dion Phaneuf to Edmonton signal the start of silly season, where a spark grows to a flame and soonafter the entire valley is on fire. This is hockey's equivalent of a rain delay conversation, a lark, a song, what-if, how-about, hey look there's some blue sky and they're removing the tarp.
WHAT WHAT WHAT?
I know, it's early Sunday morning and you've had one sip of coffee and now Lowetide starts rambling about Dion Phaneuf? What the hell? You'd rather read about Alexei Mikhnov's traktor farm, right? Well the truth is that Bill Watters threw it out on Oilers Now and so Edmonton deals with it until the next brush fire. The question isn't "would the Oilers ever, in a million years trade for Phaneuf?" but more like "why would Edmonton do this deal at this time.
Phaneuf is 28, expensive and a year away from free agency. He plays big minutes against tough opponents and has severe zone starts, but he's also vulnerable to grievous errors of coverage and is less mobile than he was years ago. Dion Phaneuf has a lot of miles on him.
He's a $6.5M cap hit and then he's gone, or could be gone. He would certainly be a top pairing defender on the Oilers, and the Oilers could offer him a stronger partner than he had last year. I would guess that the Oilers would have to take on some dollars, but even if they traded Nick Schultz or Laddy Smid for Phaneuf that would represent a $3M cap saving to Toronto (who have given themselves trouble because there are some valued RFA'S to sign and their cap number is $9M but won't be when Kadri, Gunnarson and Franson are done with them).
 WOULD YOU DO THE TRADE?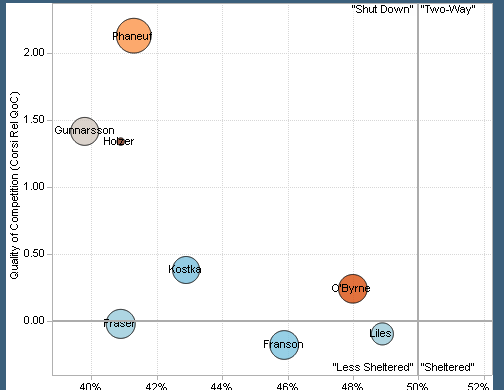 I would do a Nick Schultz and a pick trade for Phaneuf, but he has one season remaining on his deal, so Smid wouldn't be on the table in my war room. If the Oilers could somehow squeeze him from the Big Smoke for Schultz the elder and something else (hell, maybe the cap relief is enough of an extra) the top 6D would look like this:
Phaneuf-Petry
Smid-J Schultz
Ference-Belov/Larsen
That's a pretty harsh roster turnover, isn't it? And remember, Phaneuf plays 25 minutes a night although a better defensive team would probably rely on him less than Toronto has year over year.
A couple of final items in regard to the graph above. That's a truly weird graph there, Dion Phaneuf is in the tough quadrant with a bad color and Gunnarson joins him while the rest of the group swims in safety (for the most part). It's a pretty drastic usage chart, the Leafs are clearly aware that they're dealing with some defensive holes at the back of the depth chart.
The other item is Phaneuf's partner. He got lots of time with Gunnarson, but was also (and Jon mentioned this in the article linked above) spending time with lesser men. This is a list of his dance partners 5×5 last season by total minutes
CHANGING PARTNERS
Carl Gunnarson 253
Korbinian Holzer 229
Mike Kostka 189
Playing big minutes against tough opponents without Gunnarson must have been especially challenging for him.
Bottom line: I wrote about Phaneuf in March of 2012, and not much has changed. He's a person of interest, and if the price is right MacT would do well in acquiring him–even if its just for the season. Giving him a chance to wheel in Edmonton, and giving Dallas Eakins a #1 D option he's somewhat familiar with, might be a very nice fit.