I know as soon as this is posted, the Oilers will trade Ales Hemsky. Why? Because that's the way these things work. Yesterday, Jim Matheson wrote his 83rd "trade Hemsky" article over at the EJ, and God love Matty he's talking Ottawa (I've been talking to Travis Yost about a Sens-Oil deal for Hemsky myself). The article is here.
11-12 VOLLMAN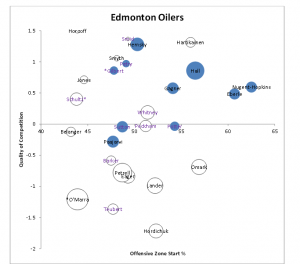 There's all kinds of good news here, Hemsky's in the tough quadrant with a nice blue bubble (you can click to expand the Vollman). Now let's run the Sledgehammer for last season.
12-13 Vollman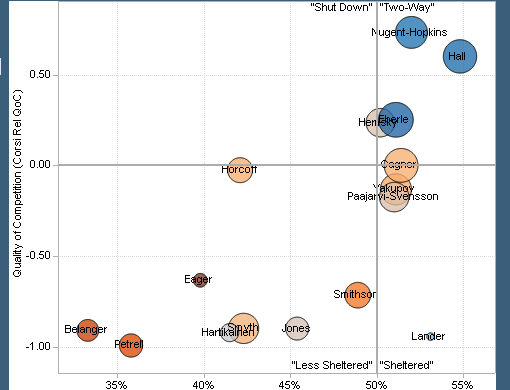 Hemsky–having an off-season–is still in the tougher quadrants and is a player the coach is counting on to deliver. We know he wasn't right, the guy was hurt (no one argues against that, think the last detractors are gone on that one) so we're talking about a veteran gutting it out. If Hemsky had been born in Wainwright, played injured and displayed that Vollman, we'd be singing his praises. Right?
Well, what if someone in the Oilers current projected top 6F gets hurt this coming season? Wouldn't it be nice for the rookie coach to be able to trade his 3rd line Hemsky for a top 6 version? We're talking about these rosters (at least we are for the most part) as if they are written in stone.
Not so.
In a way, Hemsky is kind of the perfect 7th option in that:
he has good chemistry with several of the current top 6F.
he can man the point on the PP.
he has something to prove.
By The Numbers
06-07 5×5 per 60m: 2.09
07-08 5×5 per 60m: 2.36
08-09 5×5 per 60m: 2.08
09-10 5×5 per 60m: 2.85
10-11 5×5 per 60m: 2.88
11-12 5×5 per 60m: 1.57
12-13 5×5 per 60m: 1.40
His 5×4/60 number this year (5.87) tells us he's still got it when offensive opportunities avail themselves, and he doesn't have to carry the mail as much as he used to during the lean years. I think the Oilers would be wise to keep 83 and see if they can find him enough at-bats in the middle of the lineup to keep things interesting. That 3line doesn't have to be a checking line, and Boyd Gordon can keep the back beat.
Keep Hemsky.
Fin.
(expect a trade in the next 10 minutes).