Nail Yakupov took 4.7 seconds to conquer Edmonton. Grown men gush about him, adult women giggle when relaying the 'my captain' story and Don Cherry just doesn't get it: the kid is perfect. He is from half a world away and he's one of us. Nail Yakupov belongs to Edmonton and vice versa, and 48 games into the relationship it's true: we'll never be the same.
RE 13-14: 82, 29-23-52
Who was the last Oiler rookie to lead the team in goals? Way back to 2010. Taylor Hall. And now Yakupov–as a rookie!
Lordy. Yes.
What were the good things about his stats? A nice 5×5/60 (2.20/3rd among Oil F's), that was solid. The stats show some real brilliance, his rookie season was a match for Taylor Hall's–.646 points per game.
Holy Crap. Did he play more than Hall did as a rookie? Yakupov got 12:04 EV TOI and 2:28 PP TOI as a rookie, Hall got 15:26 EV TOI, 2:23 PK TOI.
Same points per game, way less playing time? Yes. Yes that's it.
Your RE is WAY too low! Well, there's more to the story.
Like what? His shooting percentage (20.99%) is off the charts, there's no WAY we can assume he'll do that again. Ever. Also, his shot per game total (1.7) was quite low. I'm not an expert on shooting percentage estimates and won't start now, but if he remains at 1.7/game the young Russian would end the season at fewer than 140 shots on goal.
What did he shoot in the KHL? 3.4 shots per game, double the NHL total. His shooting percentage was 12%.
How did you do the RE? I don't do shooting percentages for RE, I'm trying to get three seasons on a straight line. Yakupov's junior seasons are pretty damn strong, and his rookie NHL season was too. As best I can tell, this projection is reasonable.
Can you justify the goals based on the shots/percentage? Well, if we assume he would increase his shot total and decrease his shooting percentage, we could make a story. If you went with 2.5 shots per game and 14% shooting percentage–I mean this isn't exactly my specialty, but reasonable implies 'down the middle'–and came out with 28.7 goals–is that reasonable?
How the hell do I know, I'm the guy who asks questions. Yeah, okay. Right.
What did you project for Hall in year 2? I had him pegged at 70, 32-28-60 (.857) and he covered it (61, 27-26-53 .869).
So, you're projecting Yakupov to have a significantly inferior second season to Hall, despite the rookie match and the lack of playing time compared to Hall? It's tough, but there's the shooting percentage problem and the short rookie season problem and there might be a TOI problem because Hemsky. So, honestly, this is the toughest RE of the summer by a long mile.
Okay, well, it's probably wrong. Thanks.
Let me ask you something. Without the shooting percentage, without the Hemsky, without without without, pure octane matching Hall balls out RE for Yakupov? It would be 82, 39-31-70.
What are we dealing with here? Look, there's no way. We can't call that reasonable, not from here.
I know the shooting Hemsky. I got it. Still… Yeah. We don't know who he is yet. His rookie season was dynamite. If you look at him from a certain angle, he looks like the DiMaggio.
Why can't these kids win an award? The hockey Gods have decided the first trophy they win will be the one that counts the most.
You shut your whore mouth. These kids are fantastic.
Did he show progress during the season? Oh hell yes. Coach Krueger in early April: "There are a few things that happen if we go back 11 games and one of them was definitely Nail growing up in such a quick period of time. He's very responsible without the puck, you can see him making strong decisions, he was the first forward back on multiple occasions (Monday). He plays physical, takes multiple responsibilities defensively. He's been getting smarter with the puck and more patient. He's understanding the difference between simple plays versus opportunity and that's all showing up. We're excited for a kid that age, what he's done here in these two and a half months, it certainly shows us that we have an exciting future with Nail."
Do you want to talk about the 2line? It was a difficult season. The Gagner-Hemsky combination–a pretty certain duo–fell off the rails. And Yakupov (along with Paajarvi) were part of the disaster.
Where SHOULD he play this season? His best linemates last season were Gagner and Hemsky, suspect it'll be Gagner and Perron this coming season.
Why do you like him so much? Impossible to answer. You have to have lived through the absolute hell of being an Oiler fan these years to understand. To live through that, and then to almost miss on getting him at the draft, then to see how wonderfully gifted he is on the ice, well, that's special. But the personality? The person he is? The cocky rebel who has no idea nor care about authority and the silliness of the hockey hierarchy? If he hadn't arrived, someone would have had to invent him. Yakupov is like the human bullshit detector–flushed Belanger out in 4.7 seconds, Don Cherry shortly after.
Why this song? Because Yakupov, like all rebels, mostly pisses off authority because he's completely unaware it exists. Don Cherry only wants him filmed from the waist up, Eric Belanger prepared to read him the Ethan Moreau 'rules of a pro' manifesto as Yak City screamed across the ice with a Hollywood smile and the city of Edmonton rejoicing with 4.7 seconds left in the game. He's the ultimate outsider, and couldn't give a rat's ass. God bless this kid, I love him to death.
Man, that was sweet when Yak scored to win the game. He scored to tie the game, but that's what legends do–create their own story. Nail Yakupov went from #1 overall pick with big dreams to a legend in 48 games. Next stop: icon.
NAIL YAKUPOV VOLLMAN SLEDGEHAMMER 2012-13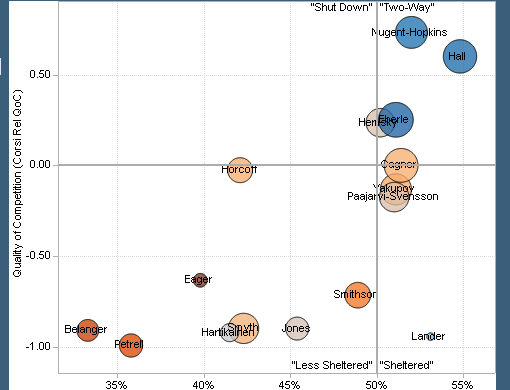 NAIL YAKUPOV 12-13
5×5 points per 60: 2.20 (3rd among regular forwards)

5×4 points per 60: 4.20 (5th among regular forwards)

Qual Comp: 7th toughest among regular forwards (second-third line opp)

Qual Team: 7th best teammates among regular forwards

Corsi Rel: -5.1(11th best among regular forwards, -15.22 CorsiON)

Zone Start: 51.1% (6th easiest among regular forwards)

Zone Finish: 51.0% (6th best among regular forwards)

Shots on goal/percentage: 81/20.99% (1st among F's>70 shots)

Boxcars: 48, 17-14-31

Plus Minus: -4 on a team that was -15
THE GOAL