I like to do this a few times a season, it gives us an idea (as time goes on) about usage and performance in one quick glance. There are limitations, but Rob Vollman has been working on improvements and there are many more elements available this year. Gabriel Desjardins information is vital of course, as always. A mention that it's early is in order, and with that said here we go. Any errors, shout please.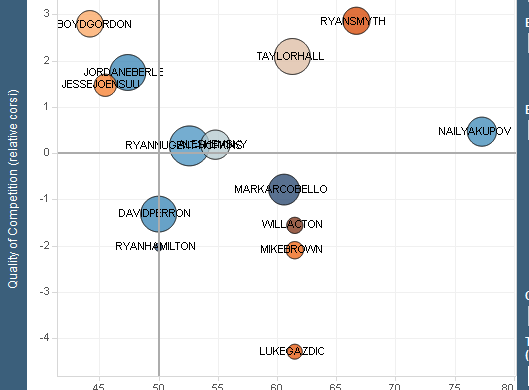 Quality of Competition vertical and Offensive Zone starts horizontal. Upper left, you're in with snakes and they have knives and automatic weapons. Lower left, you face easier comp but start in the snake pit. Upper right, coach thinks you can score, but so does the other coach and he's sending a fleet of Frans Neilson's to get you. Lower right, you face your Grandma and her Yahtzee friends and do it on Easy street. If you can't win there, you're heading for Schittgablerstrasse of the German Prison League.
SHUT DOWN QUADRANT: This is crazy early, but we can see Boyd Gordon occupy the Horcoff zone and that's what was expected of him. He has some company–and this is early–but it does match what we've seen of Eberle so far this year. Tough zone start, tough competition, blue balloon. What's left? Joensuu looks good but has a bad back because Oilers.
TWO WAY QUADRANT: Again early, but we see how much Eakins is relying on Ryan Smyth. RK played Smyth with Mike Brown and Lennart Petrell last year, and the results were predictable. Smyth may fade as the season wears on, but I'm glad he's been given the chance. Hall is Hall, if healthy (and at L) he'll push the river, Hemsky and Perron (I'm including him here because it fits better, this is an early photo) are fine NHL players. Nuge is a phenom–I don't know that he can carry a line yet, but he's a beauty–and coach Eakins has been trying very hard to get Yakupov some help via zone starts. I think we should include Arcobello here too, he's been up with the top 2lines mostly and fits better (like Perron).
SHELTERED: Eakins doesn't really use his 4line much so they land here.
LESS SHELTERED: No one, really. Hamilton hasn't played enough to talk about. If the Oilers had a better 4line, we might see this quadrant populated.
This is a crazy graph. Eakins gives Nick Schultz severe zone starts (which makes sense in one way: he's an offensive catastrophe) but it also means you've got a guy who doesn't handle the puck well being asked to make a nice outlet pass. That may be a reason we saw Grebeshkov slide in yesterday.
Smid-Petry are facing less difficult opps than Ference-J Schultz (remember, the coach doesn't control the qual comp on the road, and may not care to at home) and that's kind of counter with what I think makes sense. It may also explain the pairing shuffle we've seen of late, Eakins could be in the feeling out process.
BEHIND THE NET CORSI ON FORWARDS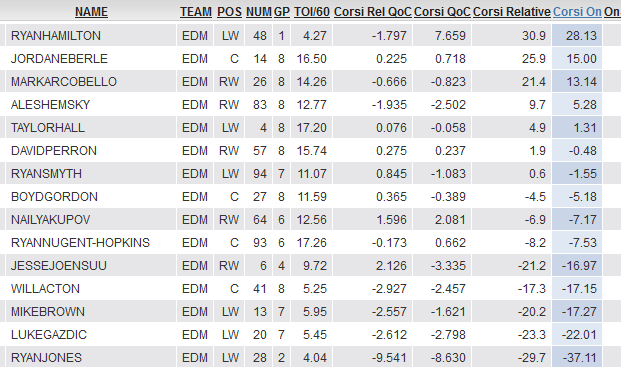 Here's the Desjardin Behind the Net numbers, we see just how badly the 4line is getting killed (Petrell scoffs at the Jones number) but there's little doubt Oiler management is willing to tolerate it in an effort to reduce the Gagner injuries Hall injuries. I give a tremendous amount of credit to Eakins for getting the veterans to buy in, and Hemsky's fine number reflects it. The kids are alright folks, they really are. Godspeed, Taylor Hall.
BEHIND THE NET CORSI ON DEFENSE

I still think Smid must be hurt, and the Belov is the stout. Here's an item that should make you smile: Here's last year's blue.

My sincere thanks to both Mr. Desjardins and Mr. Vollman. Dallas Eakins has done some nice things in 8 games (this doesn't include yesterday) and I think we're going to see some sunshine as this season* wears on.
*Light a candle for Hall.