We are in the middle of the misinformation that will lead Oilers fans to conclusions based on things that aren't true. That's how we get discussions about Jordan Eberle being an 'in the range' selection and Tyler Pitlick being a 'reach selection' as time rolls on. It's VERY important to keep this stuff straight, because the mind plays tricks.
Generally speaking, the draft bible is the Bob McKenzie list. After that, Red Line Report is a respected industry standard, and I'm a really big fan of Corey Pronman—and his footprint on draft proceedings is increasing each season. This year, for our purposes, we're going to follow those three services from now until draft day. No disrespect to others, but if you put all of the contenders into the mix, purity takes a holiday.
I'm going to publish the top 10 this morning, Pronman's list is subscription (and available here) and well worth the coin. ESPN's coverage is terrific, with Pronman's stuff being the most compelling for me.
BOB MCKENZIE LOTTERY EDITION
D Aaron Ekblad
C Sam Reinhart
C Sam Bennett
C Leon Draisaitl
L Michael Dal Colle
L Nick Ritchie
L Nikolaj Ehlers
R Jake Virtanen
R Kasperi Kapanen
D Haydn Fleury
RED LINE MAY EDITION
C Sam Bennett
D Aaron Ekblad
C Sam Reinhart
C Leon Draisaitl
L Michael Dal Colle
L Nikolaj Ehlers
R Jake Virtanen
L Nick Ritchie
C Robby Fabbri
R Kevin Fiala
COREY PRONMAN FINAL
D Aaron Ekblad
C Sam Bennett
R William Nylander
C Sam Reinhart
L Nikolaj Ehlers
R Kevin Fiala
C Leon Draisaitl
L Michael Dal Colle
R Kasperi Kapanen
D Haydn Fleury
You're going to hear a lot of people saying things like 'Draisaitl is sliding' or 'Oilers should take Fiala, he closed strong' or 'Nylander is the man!' from Oiler fans. That's great, except we have to keep things in context. Let's make a list of things we know we know:
Ekblad, Reinhart and Bennett show up at the top of every list. Reinhart is 4th on Pronman's but that's not a bad thing, Corey likes Nylander better and we need to factor it in. Jim Matheson has Dale Tallon liking Nylander the most in an article that dropped last night, so this isn't a crazy notion by Pronman.
Draisaitl shows up 4,4 and 7. I think that works as a range, but if he goes 3 or 8, no one should begin foaming at the mouth. The Oilers are going to leave one of Ekblad, Reinhart or Bennett on the draft board though, and value wise that's going to be an interesting follow. The fact that Calgary will take the player passed over just adds to the delightful scenario facing Edmonton. It's kind of funny, in a gallows kind of way. Edmonton apparently tried to trade down in 2012, not wanting to make a decision between Yakupov, Murray and Reinhart. Problem: no one else wanted to make that decision either! Ah, the humor.
Dal Colle is Draisaitl, once removed.
Pronman's list is his final edition. He's slotted his Euro's thusly:  Nylander 3, Fiala 6, Kapanen 9. He's done it without the benefit of reaching out to the industry after their scouting meetings, and without the benefit of extra time (one month, basically). I always find the McKenzie list, and to a certain extent Red Line, slots their Europeans in right at the end. Part of it comes from the U-18, part from the scouting meetings that include everyone happening in May and June, but we shouldn't be surprised if Nylander, Fiala and Kapanen end up on all the lists.
LAST YEAR'S EDITIONS
Bob McKenzie
C Nathan Mackinnon
D Seth Jones
L Jonathan Drouin
C Alexsander Barkov
C Elias Lindholm
L Valeri Nichushkin
C Sean Monahan
D Rasmus Ristalainen
D Darnell Nurse
C Max Domi
Red Line Report
D Seth Jones
L Jonathan Drouin
C Nathan MacKinnon
C Aleksander Barkov
L Valeri Nichushkin
C Sean Monahan
C Elias Lidnholm
D Darnell Nurse
C Max Domi
C Bo Horvat
Corey Pronman
L Jonathan Drouin
C Nathan MacKinnon
D Seth Jones
L Valeri Nichushkin
C Aleksander Barkov
C Elias Lindholm
C Sean Monahan
D Rasmus Ristolainen
C Max Domi
C Hunter Shinkaruk
I like looking at the draft this way. Three sources, different and unique but they also crossover a lot. Drouin was a little all over the place, MacKinnon and Jones right at the top and Barkov was last year's Draisaitl. That's the good thing about looking at things this way, you see patterns. This year's Nurse? Kapanen. Fun stuff.  I can tell you that the Oilers and Red Line Report seem to be marching in lock step in recent drafts, so paying attention to their list is probably a good idea for Oiler fans. Last year, they had Nurse, Roy and Houck inside their top 40, and loved the Russian element. They were also big fans of Khaira.
BURKE'S SCREENSAVER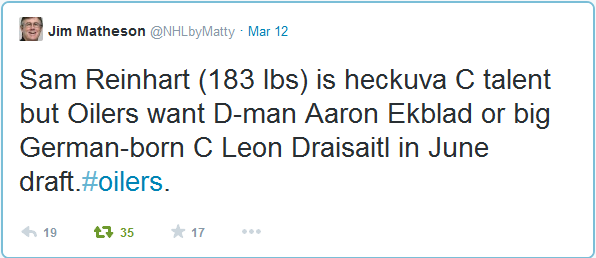 If I'm Brian Burke, this is my screen saver. Why not? I mean, good lord, if the Edmonton Oilers are (apparently) leaking their thoughts to the media, it's very helpful! Burke can imagine the top of the draft:
Florida: D Aaron Ekblad
Buffalo: C Sam Reinhart
Edmonton: C Leon Draisaitl
Calgary: C Sam Bennnett or Michael Dal Colle or William Nylander or perhaps shop the pick
WHY give Burke and his new GM this kind of lead time? WHY? WHY? WHY? If they grade out Sam Bennett as #1 overall, and that's completely possible, they can wait for the draft to come to them. If they want Ekblad? Giddy-up.
LOWDOWN WITH LOWETIDE
10 this morning, TSN 1260. Scheduled to appear:
10-1260 text, @Lowetide_ on twitter.