How much for Justin Schultz? I thought we'd be looking at something north of $4.5 million and long term. Edmonton buying seasons at $3.5 million until free agency and then the dreaded fin as far as the eye can see. Well, maybe not? The Oilers aren't giving in to Schultz and vice versa, which means a great divide (if this was close it would be done).
MacT: "That's still ongoing. I think that both sides fully expect to get a deal. We want to treat Justin very very fairly. He's working his way through the system. I guess at this point that's probably the friction point. When you compare him to guys on our team, where he fits in is not going to be entirely reflective of our value of him, it's more a reflection of the system and where he is in the system."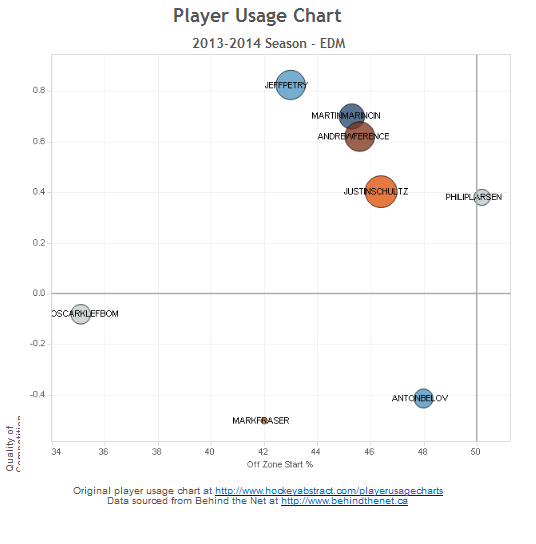 The Vollman Sledgehammer shows Schultz (this is CorsiRel) in the tough opposition zone (Oilers had no choice, lack of depth) and getting a zone start push while still below 50% in ZS's. Looking at this graph, it drives home the importance of Petry even if it is for only one year. MacT's comments on Petry yesterday sounded encouraging, but there's a real danger (which he acknowledged) and I expect Petry's gone or signing to $5.5 or more at the deadline. Back to Schultz.
Justin Schultz 12-13
5×5 points per 60: 0.96 (2nd among regular D)
5×4 points per 60: 5.06 (1st among regular D)
Qual Comp: 3rd toughes faced among regular D (2nd pairing)
Qual Team: best available teammates among regular D (1st pairing)
Corsi for 5×5 %: 43.5
Corsi for 5×5 % REL: -1.6
Zone Start: 48.1% (2nd easiest among regular D)
Zone Finish: 49.5% (3rd best among regular forwards)
Shots on goal/percentage: 85/9.41% (best among F's>30 shots)
Boxcars: 48, 8-19-27
Justin Schultz 13-14
5×5 points per 60: 0.86 (1st among regular D)
5×4 points per 60: 2.23 (2n among regular D)
Qual Comp: 2nd toughest faced among regular D (1st pairing)
Qual Team: 2nd best available teammates among regular D (1st pairing)
Corsi for 5×5 %: 42.9
Corsi for 5×5 % REL: -2.6
Zone Start: 46.4% (3rd easiest among regular D)
Zone Finish: 46.8% (4th best among regular forwards)
Shots on goal/percentage: 109/10.1% (best among F's>50 shots)
Boxcars: 74, 11-22-33
The real change offensively year over year came on the power play, hopefully Ramsay will find a way. The smart play from here is to keep Schultz on the 1PP, but give him a hammer partner (at this point Nikitin). I'd also run Nuge, Hall and Yakupov as the 1 forwards, but doubt it happens (someone is going to be pissed eventually, Oilers have some insane offensive talent for the 5×4 and 5×3). Fiscal responsibility in regard to No. 19 is good business: he's a talent but miles from being an impact talent.
 LOIS LOWE SPECIAL REPORT FROM JASPER
I was at the Blue and White game tonigt in Jasper (aside: the Oilers were confused about which team was which and handed out programs incorrectly identifying Team "Blue" that wore white, and Team "White" that wore blue).
I am not an evaluator of talent, nor am I a hockey expert, so take my observations with a dumptruck's worth of salt. The format was 15 minute periods of 4 on 4, with no real faceoffs except on goals and pucks out of play. The players seemed to really need a chance to get going, the final half was at a decent pace. Team White (wearing the white) was pretty much stacked with all of the higher end prospects to my eye.
Marco Roy was very vocal, directing the play and trying to help his teammates move the puck to open areas. He was almost the only one making any noise. He buzzes around like Perron and has a similar style to his game (I swear I'm not making the comparison because they're both Quebecois). He's slippery in the offensive zone and bounces around in the corners. Saw him good.
Leon the Teuton was sluggish and slow tonight. He didn't play the majority of the 3rd period. He has excellent hands though and legs up to his ears. His shoot out slap shot was ugly. Saw him meh.
Darnell Nurse must have played over half the game. It seemed like he was almost aways on the ice. He's clearly the most athleticly gifted among the kids at camp and appears to have stayed in excellent shape. He played at close to full speed most of the game and laid the only real hit of the evening. He spent much of the game jumping into the rush and was realy trying to make things happen offensively. For a kid that's apparently under 200lbs he's BIG. The kid is a gamer, he competes. Saw him good.
Dillon Simpson was paired with Nurse for most of the game. I can see why people say he has skating issues as he doesn't really have a very good first step. He should talk to his step mom about some lessons. That said, out of everyone on the ice he has the best anticipation. He always seemed to know where the puck/play was heading and made the right reads (this was mosty in the O zone as that's where I was sitting). Saw him good.
Joey Laleggia has NHL speed right now. Easily the fastest player on the ice and excellent offensive instincts. He's very small though. Saw him good but worried about his size.
Jar Jar was a force tonight. He uses his body to shield the puck extremely well and drives the net hard. He's easily the biggest forward on the ice and used that to his advantage. Underrated puck mover to my mind, he did well at drawing people to him and finding the open man. The official score sheet was a bit wonky with assists, I had him with 4 points. He'll get a top 6 spot in OKC next year. Excellent cheeky shoot out move at the end. Saw him very good.
Greg Chase's game is not well suited to intra squad games, as the pace picked up in the second half he became more visible. At one point he clipped Jar Jar after the play and you could see Khaira taking his number. Chase is a solid kid and hits hard. Has an excellent shot as well. Saw him good.
Yakimov's night was pretty uneven despite all the points. He was integral on the two goals he assisted on (McCarron and Vessel, I think). His goal was a bit of fluke. He was in the high slot and the puck sort of bounced around and found him, but he absolutely sniped it. He has an excellent shot. He gasses very easily and needs to take very short shifts. I didn't really notice him until he did something excellent to create a scoring chance. He doesn't use his size like Jar Jar but is better in tight with the puck and has good vision. Saw him meh.
The player with the most eyeglow/60 was Colin Markison. He had about three or four good breakaway chances and started chirping at the refs over a missed call. He knows that this is an opportunity and is clearly taking it as such.
Many of the other kids had moments but I was trying to also watch the game.
PROJECTED ROSTER AND SALARY CAP 2013-14
| | | |
| --- | --- | --- |
| LEFT WING | CENTER | RIGHT WING |
| TAYLOR HALL (6M) | RYAN NUGENT-HOPKINS (6M) | JORDAN EBERLE (6M) |
| BENOIT POULIOT (4M) | LEON DRAISAITL (1M-est) | DAVID PERRON (4.5M) |
| NAIL YAKUPOV (925k) | MARK ARCOBELLO (600k) | TEDDY PURCELL (4.5M) |
| JESSE JOENSUU (950k) | BOYD GORDON (3M) | MATT HENDRICKS (1.85M) |
|   | ANTON LANDER (600k) | TYLER PITLICK (600k-est) |
That's $40,525,000 of the cap spent on forwards. I've sent Gazdic to the IR, his $600,000 would replace Pitlick when he's healthy. I really like the wingers on the top three lines, if only Khaira, Yakimov or Draisaitl were a few years older.
| | |
| --- | --- |
| LEFT DEFENSE | RIGHT DEFENSE |
| MARTIN MARINCIN (730k) | JEFF PETRY (3.075M) |
| NIKITA NIKITIN (4.5M) | MARK FAYNE (3.625M) |
| ANDREW FERENCE (3.25M) | JUSTIN SCHULTZ (4M-est) |
| KEITH AULIE (800k) | OSCAR KLEFBOM ($894,167) |
|   |   |
| BEN SCRIVENS (2.3M) | VIKTOR FASTH (2.9M) |
That's $25,180,000 for defense and goaltending (I've excluded Klefbom's number). I like this blue line far more than recent seasons, even the unproven guys have shown some things. There is no impact defenseman on the roster, no top pairing defender, but the Oilers ran well a decade ago without one—it can be done.
TOTAL NUMBER: $65,705,000
CAP ROOM: $3,295,000
LOWDOWN WITH LOWETIDE
10-noon today, TSN 1260. I'll have
Rom will join me to talk draft, free agency and center ice.
Corey Pronman from ESPN stops by to review the draft and look forward to 2015.
Bruce McCurdy from Cult of Hockey join me, we'll discuss the Billy Moores game from last night and I'll ask about the major players (feel free to chime in).
Travis Yost from Hockeybuzz and I will chat about Bryan Murray, David Legwand and more.
Please send ?s for guests and tune in if you can!