Andrew Ference entered the fray with the reputation of a winner, and it took fewer than 30 games to crush the resume into a fine white powder. The Oilers' curious chaos proved too much for the veteran, and made him 'one of us' in the worst possible way.
ANDREW FERENCE 13-14
5×5 points per 60: 0.65 (2nd among regular D)
5×4 points per 60: 4.47 (1st among regular D)
Qual Comp: 3rd toughest among regular D
Qual Team: 2nd best available among regular D
Corsi for 5×5 %: 42.9
Corsi for 5×5 % REL: -3.1
Zone Start: 45.9% (3rd toughest among regular D)
Zone Finish: 47.1% (best among D)
Shots on goal/percentage: 77 shots/3.9% (3rd among Oil D>50 shots)
Boxcars: 71, 3-15-18
RE 13-14 REVIEW
| | | | | | |
| --- | --- | --- | --- | --- | --- |
| PPG | NAME | GP | G | A | PTS |
| .224 | ANDREW FERENCE RE 13-14 | 76 | 3 | 14 | 17 |
| .254 | ANDREW FERENCE ACTUAL 13-14 | 71 | 3 | 15 | 18 |
RE 14-15 PREVIEW
| | | | | | |
| --- | --- | --- | --- | --- | --- |
| PPG | NAME | GP | G | A | PTS |
| .212 | ANDREW FERENCE RE 14-15 | 66 | 3 | 11 | 14 |
|   | | | | | |
VOLLMAN SLEDGEHAMMER (CORSI REL)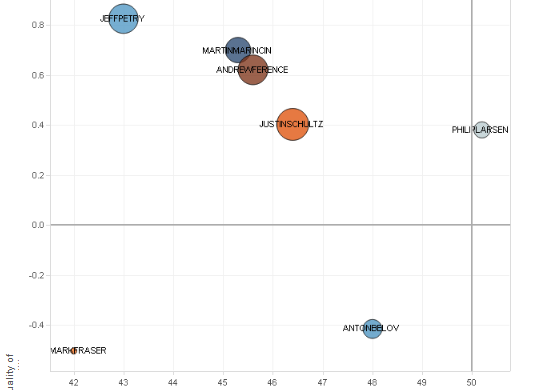 Did he play well? No. Andrew Ference didn't deliver in the role assigned, and would have been better off handling a lesser role. It is vital that Dallas Eakins gives him fewer minutes at evens this coming season, and lesser assignments. It's no sin to be 35.
Who did Ference play with? At 5×5, 464 minutes with Justin Schultz, 321 with Jeff Petry, 148 with Nick Schultz.
Who was he most effective with? Petry, and then (in fewer minutes) Phil Larsen and Denis Grebeshkov.
Who did he struggle with? Everyone else. I don't think Ference can handle Schultz and his rambling style while also playing difficult minutes. Eakins needs to move both of their Vollman bubbles over to Phil Larsen's spot from last year, and with lesser competition.
You blamed Nick Schultz in the same role? Yes I did.
Good of you to spend a lot of time explaining yourself. I am not a crook.
It's like talking to Nixon. What's the best thing you can say about Ference's first season as an Oiler? He didn't make any difference at all. Andrew Ference was signed as a veteran hand who would come in and still the thunder, use those calm feet to stop the crazy. It did not happen.
Is that his fault? Ference played higher on the depth chart than he was able, and he was paired with a defenseman who has one year's experience twice. Whose fault is that?
No one could have made any difference. Martin Marincin, a raw rookie making diddly, made a difference. That young man delivered as soon as his plane landed, and did it against tougher competition and with similar zone starts. We have to assume, at this point, the days of Ference playing tough minutes at evens are a distant bell. Unless he hooks up with Fayne.
What value does Ference bring? Shelter, for one. In my opinion this was a good hire for all kinds of reasons, the main one being he'd been down the losing road and could answer all the questions without making a mess. The choice of Ference as captain was inspired in hindsight, as it took a veteran to keep from lashing out on those difficult nights.
What are the other good reasons to have signed Ference? Well, he played some tough minutes this season—third toughest competition, and the zone start was no screaming hell—and he survived it. The Oilers paid him to play in their top 4D, and he did, although the results were a train wreck along with the rest of the team.
Did you like the signing. Here's what I said a year ago: D Andrew Ference, 4 years times 3.25M. An overpay where he'll play, Ference is ideally suited as a veteran pairing for Schultz the younger. He was 4th among Bruins in EV TOI (17:06) and fourth in PK TOI (2:13) and will probably play similar minutes with the Oilers. I think we should probably prepare for Ladislav Smid or Nick Schultz heading out of town (Ottawa or Philly is my guess) before training camp. The current LH depth chart is Smid, Ference, N Schultz, Anton Belov, Oscar Klefbom–suspect we'll see a flip before fall.
Well they traded them all. It made sense, Ference made Smid moot and Marincin came along and did the same for Schultz the elder.
What are the on-ice positives we can take from Ference's season? He played as well or better than any other defender who spent extended time alongside Justin Schultz.
What? Ference-Schultz were 42.1% Corsi for%, Schultz-Schultz 38.4%.
Was anyone better? In far fewer sorties, Belov was 49% with Schultz the younger, Oscar Klefbom was 44.3%.
Where does Ference play next season? Third pairing, with Justin Schultz.
What is your top 4D? To open the season? Marincin-Petry and Nikitin-Fayne.
Will Andrew Ference skate in a playoff game as an Edmonton Oiler? I believe he will.
Why this song? This is perfect for Andrew Ference. I think it's about someone with the wisdom and experience to put aside the idea that anything less than perfection is compromise. Happiness can be defined differently at certain points in life. For Ference, it's about being 35 and looking at the future in a game that does not love 35. And it's about searching for a home you can call your own, even if it doesn't look like what you wanted at 25.