There are few times when we get a really good chance to chuckle about life, and today we have one of them. As you'll recall, last month's draft offered the Oilers several chances to pluck good boxcars in the lower rounds, and they passed on all but one (and that a 20-year old, undersized forward from the USHL in Tyler Vesel). Edmonton drafted a tough, physical defender with some puck skills (Lagesson), two goalies (Nagelvoort & Bouchard) and a power forward who isn't quite scoring in the BCJHL (Liam Coughlin).
There were several players who all NHL teams left on the table, including Russian winger Vladimir Tkachev. I had him at No. 49 overall:
(49) L Vladimir Tkachev—Small, skilled Russian with a ridiculous Q run.
Red Line had him No. 58 overall:
Exceptionally skilled, but diminutive winger. Tiny and does not have a big frame to fill out, but he's incredibly elusive and instinctivearound the offensive end. Super fast hands and could stickhandle in a phone booth.
ISS had him No. 98 overall:
Crafty little offensive player with slick passing skills and offensive instincts. Also has outstanding speed but needs to get stronger and get better puck protection skills. Highly skilled with the puck on his stick and has breakaway speed. Looks smaller than listed.
Remember when Stu MacGregor talked about MacT's draft emphasis? MacGregor: "Well with Mac, skill is really important to him. That's something that he's looked for. Obviously the other intangibles of character, hard work, quality of people and players who are passionate to play the game are important, but he really has a high regard for skill."
Today, we get word Edmonton has invited the undersized Russian to training camp:

And leads us to ask 'can Edmonton sign this kid like Carolina did with Sergey Tolchinsky. My answer: No idea. The great thing is that the Oilogosphere has someone who we can trust in most (if not all) areas, and in this case it's speeds from Hockey Symposium.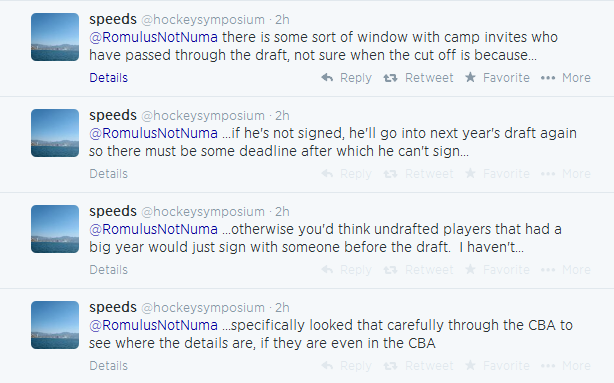 So, that's the latest. Edmonton invited a kid who is more promising that at least two prospects drafted last week, but a player who has size issues. It's an interesting equation. I submit that we commit to re-visiting this scenario five years from today, and see where all of the players are at that time.
Lay your money down, ladies. Lay your money down.