William Lagesson is the latest in a recent flurry of Swedish defensemen to be drafted by the Edmonton Oilers. A rugged defender with some puck skills, he's an intriguing addition to a team with an enormous number of emerging prospects on the blue.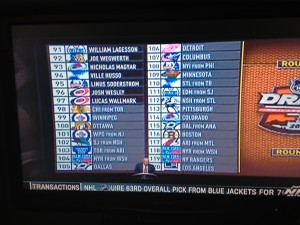 Corey Pronman: "He's a guy I had rated around 60. I've seen him play well many times, he's a player I really like. At the U-18 level, in the tournament in February and in April, he was a top player for Sweden U-18s). He's a physical defenseman he skates well and defends well. I don't think he's a sterling offensive player, but he has average puck moving ability. He won't be in the World Juniors this year. I think this is a guy who is going to be a very good prospect and the Oilers got good value where they picked them."
Ryan Kennedy, The Hockey News A big, strong defenseman who is nasty to play against, Lagesson also chipped in three goals for the Tre Kronor at the world under-18s. Already 6-foot-2 and nearly 200 pounds, Lagesson was picked up by Dubuque in the first round of the USHL draft, so perhaps we'll see him over here sooner than later. Draft eligible in 2014.
Hockey Prospect.com Lagesson was Sweden's best defenseman in this game and was effective in different areas of the game. He did a good job using his body to separate the opposing players from the puck and he won quite a few battles deep in his zone. He was very aggressive on 1-on-1 battles and he took a bad penalty doing it. I also thought he moved very well around the ice and he showed it by joining the rush a few times. He seems to have some interesting tools and the upside to play a solid two-way game. Skating needs work.
Martin Lunden, Swedish Oil "Solid pick at 91. made a huge impact in with jr team. 1st team coach loves him (former U20coach Rönnmark). good size, average+ puck handling. He doesn't stand out in the SHL, but he's a 17 y/o playing with men so no wonder. He doesn't make a fool out of himself though.."
McKeens A favourite of coach Andres Eriksen at the 2014 World U18 Championships; Lagesson played quality minutes and finishedthe tournament with three goals .. a scrappy, physical hard-nosed competitor who competes for every inch on the ice .. an 'in your face'type of defender who reacts quickly to loose pucks and is able to identify threats .. under-stated offensive ability as the third highest scoring defenseman in the SuperElit J20.
International Scouting Services Lagesson shows traits of a good two-way defender with some intrigue in the offensive zone as he displayed flashes of a big shot. Good mobility, foot speed and overall skating ability for a defenseman of his size. Good presence on the offensive  point, great shot that he is able to get through traffic and keeps it fairly low to the ground. Good release, doesn't need a full wind-up to get pucks off. Physicality should be a bigger facet to his game to give him that defensive upside and promise that he shows on the puck. William shows a good basis for the two-way game with a good shot and mobility when running the offensive point. Upside remains at the raw stage, project type.
Stu MacGregor: "He makes a good first pass and has some hockey sense but I can't emphasize how much he wants to battle and compete. One-on-one he's a warrior. Doesn't hurt that he's coming over here to get used to the ice surface. He's probably going to college after Dubuque."

Jacob Nystrom: Large, tough player who is not afraid to step in rough play and play physically. Did a great U18 World Cup and strengthened their shares before the summer. Is no point machine from the back room but has offensive qualities that perhaps forgotten.
The Hockey Writers: Lagesson will need to work on his skating if he hopes to translate to an NHL blueline. He has some intriguing offensive capabilities and could eventually help out a PP. He was 3rd in SuperElite J20 scoring this season and can move the puck with composure out of high pressure areas. With a 6'3 209lb frame, Lagesson could very well become a bruising defenseman for the Oilers blueline core. Again a bit of a project but he could eventually turn into a useful piece for the Oilers blueline several seasons down the road.

 NOTES
The Pronman items above are very interesting. I think the Oilers want that player type—the mobile defender who is a defender—to run alongside the more offensive types like Justin Schultz. It makes sense, you can't employ seven jitterbugs, and Edmonton's 'family' of this player type would include Lagesson.
Mark Fayne
Oscar Klefbom
Keith Aulie
Brandon Davidson
David Musil
Ben Betker
William Lagesson
Will Lagesson make it? No idea. I do think fewer of the 180 jobs available to defensemen in the NHL each season will be devoted to this type, though. We're going to see more chances being taken on Brad Hunt's and Joey Laleggia's, and of course the two-way types like Schultz and Marincin and Nurse will always be the heart of a roster. The stay-at-homes? I honestly think they're dwindling. What does that mean for Lagesson? He might want to work on that whisper of an offensive game, and turn it into something audible in the next couple of years.