On a morning like this one, it's easy to rage and make sweeping statements that go beyond what we know for sure. We know the Oilers are 0-2-1 after three games and the playoffs—never a promise, not with this team—could be gone by month's end with the points being left on the table. Injuries are starting to pile up (at least one last night, Viktor Fasth in LA) and there's no relief in sight.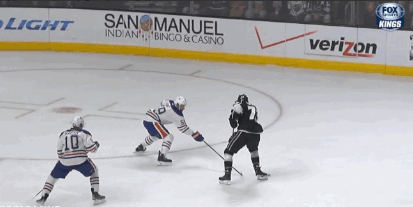 And yet that's not really the story. The Oilers ARE a better team than last fall, and I can say that with authority even after a night of very poor play in Los Angeles. The real story: The Oilers are doing some wonky roster things, and that's clouding the view, and they didn't get a center dammit all anyway and that clouds it too.
MACT'S SUMMER 2014 LIST
A veteran top pairing defenseman. (Mark Fayne)
A 2line C with experience and the ability to play a two-way game. (Didn't get it done)
A legit two-way winger who can score 12-15 goals. (Benoit Pouliot)
Find a way to get value, or make use of, Sam Gagner. (Teddy Purcell)
Improve the bottom 6F's. (Purcell, Draisaitl, healthy Joensuu)
Retain as much of the young cluster as possible. (Retained all of it)
Get Petry signed long term. (Didn't get it done)
Sign Schultz but DO NOT break the bank. (Got it done, with an explanation).
You may argue with Mark Fayne as the choice, or Pouliot's contract, but MacTavish did in fact fill in most of the squares. However, on a team that is very weak and inexperiencd up the middle, not getting a veteran center may end up being fatal. It's easy to throw everything in and say it's one more disaster after another, but the Oilers are in fact better if:
They dress their best players, one of whom is in another state at the moment
They address center. Today.
That's it, that's all and the rest is just caterwauling and an inability to understand nuance. In the two games the Oilers have been in this year, the club's possession numbers at 5×5 have been good. Last night was (as Dennis King calls it) a schedule loss and you'd expect (again King) to lose by a couple of goals. We can gnash our teeth over the final score, but that's not the valuable takeaway here. The strong, strong tell from that game is that on the road, in the Western Conference, you lose plenty of Taylor Hall's value because he's on a line badly exposed at center.
JEFF PETRY
Elliotte Friedman: If the Oilers think Jeff Petry is not good enough to dress in Los Angeles, it is time. He's unrestricted at the end of the year. He's not going to stay; there is no point in keeping him. Get what you can, end the distraction and move on. Detroit is the obvious candidate, but I can see Anaheim wanting a shot at him, too. Both are looking for right-shot defencemen. Source
This is one big damn shame right here. WHY do the Oilers bother drafting college defensemen when they can't stand them? It's a really curious item. If you're an Oilers' scout reading this, look for Matt Greene-types at UND and let those skilled guys go to a team that isn't going to humiliate them. Jesus Mary and Joseph this is tough to watch in the same general era as Tom Gilbert's exit. As I recall, they left Gilbert behind then traded him, perhaps that's what they'll do with Petry. A bitter, bitter shame.
If you're going to trade him, it's best to get a center. I'm not even going to try to predict the pairings or the roster, this Oilers management and coaching group are seeing their depth chart differently than anyone on planet earth. However, even trading Petry should give you three reasonable options on LH and RH side:
| | |
| --- | --- |
| LEFT DEFENSE | RIGHT DEFENSE |
| NIKITA NIKITIN | MARK FAYNE |
| OSCAR KLEFBOM | MARTIN MARINCIN |
| ANDREW FERENCE | JUSTIN SCHULTZ |
I'll bet money the Oilers ice only four of those six after the Petry trade. Whatever ails the Oilers and needs fixing, someone needs to find the glasses they see the defense through and break them into one million tiny pieces. I hope Petry gets signed long term today, but suspect there's too much water under the bridge. The only explanation I can see for his handling is that Mr. Petry has informed the organization there is no use negotiating a contract he will not sign.
HAVEN'T WE BEEN DOWN THIS ROAD BEFORE?
I would think the Red Wings and Anaheim are the likely spots for Petry this season, and Edmonton has a few ways to go here. If Craig MacTavish is in the McDavid hunt, then you send Petry down the road for a second-round pick (maybe a third if there's not enough value). That's a noxious return, but the price you pay when deciding not to sign him long term. Do you notice how many young blue are getting long term deals these days? Why is that, anyway? I know you know. Anyway, draft picks if they're prepared to flush the season after three games and don't care what the fans think about their development time line, but there is in fact plenty of risk here. Surely the Oilers have noticed fan rage is about 9.6 on the meter and dealing Petry for picks isn't going to help the cause. So, we look for centers, something the organization should have done in the summer, perhaps trading an unsigned Petry (who would have greater value) to a team that liked him.
Anaheim has centermen Ryan Getzlaf, Ryan Kesler, Nate Thompson and a very good rookie in  William Karlsson. The Oilers aren't going to get the Ryans and Karlsson is 21 and they don't need another child center. Thompson is more 4line than 3line and wouldn't (imo) be worth a season of Petry.
Detroit has miles of centermen and are the better fit. Henrik Zetterberg, Riley Sheahan, Luke Glendening and Darren Helm have been doing the center work this season, with Datsyuk out and both Joakim Andersson and Justin Abdelkader doing wing work so far this season.
I'd be inclined to ask after Helm, an experienced center signed this and next year. If you could run a center depth chart of Nuge, Leon/Arco, Helm and Gordon that improves things at center and you'll be able to grow Marincin and Klefbom in the NHL this season.
I suspect something else will happen. Do you remember the Smid trade? That ended up being a four-player deal (Smid and Olivier Roy for Roman Horak and Laurent Brossoit) and we could see the same thing happen here. Tomas Nosek or Stefan Noesen may be the ask, or as mentioned above a pick inside the top 100 for 2015.
WHAT DOES IT ALL MEAN?
It's a rebuild, ladies. It's a rebuild. Turning north is my dream too, but trading Jeff Petry now and getting better don't run the same railroad line, and that's for sure.
LOWDOWN WITH LOWETIDE
10 this morning TSN 1260 and I'd recommend tuning in right from the start. Bruce McCurdy from Cult of Hockey has been ripping the cover off the ball since the Schultz scratch yesterday and he'll kick things off. Sarah McLellan from the Arizona Republic will preview tonight's game for us, complete with updates on Dubnyk and Gagner, and I'll say "Phoenix Coyotes" at least once because when it's in the vault it's in the vault. At 11, it's Jonathan Willis from Oilers Nation and the Cult of Hockey and then at 11:25 I'm going to open up the phones/texts and hear what you have to say. Please call/text and bring it, there's a lot of rage today and I'd like to have some intelligence on the radio. Dave Jamieson kicks by at 11:45 and then we're talking CFL/NFL and maybe Petry is traded by then.
10-1260 text, @Lowetide_ on twitter. I didn't even have a chance to say I thought Nurse and Yakimov looked okay. Oh well, it's one of those days.
TONIGHT'S LINEUP (8:15 PM)
Hall—Arcobello—Eberle
Pouliot—Draisaitl—Yakupov
Perron—Gordon—Purcell
Hendricks—Acton—Joensuu
Ference—Petry
Nurse—Schulta
Nikitin—Fayne
Scrivens (Bachman)
The Oilers sent down Bogdan Yakimov this morning and placed Viktor Fasth on IR, while recalling Richard Bachman and Steve Pinizzotto. Eberle is questionable, if he can't play I imagine Purcell moves up.