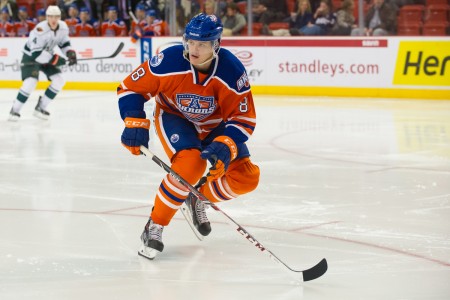 By the time the Edmonton Oilers reached No. 19 overall at the 2011 draft, there was something close to panic in the organization. Badly outmanned on the blue in the NHL and at every level below, management needed a defenseman who had size, speed, toughness and some idea about the position. Oscar Klefbom met all requirements and the selection has been regarded as positive since it was made. The only things left: Transition to the NHL and where he plays on the depth chart.
PREVIOUSLY NUMBER THREE ON THE WINTER LIST
December 2004: C Marc-Antoine Pouliot
December 2005: G Devan Dubnyk
December 2006: C Marc-Antoine Pouliot
December 2007: D Tom Gilbert
December 2008: D Theo Peckham
December 2009: C Riley Nash
December 2010: L Magnus Paajarvi
December 2011: D Oscar Klefbom
December 2012: D Oscar Klefbom
December 2012: C Marco Roy
Some nice players made it to No. 3 on their respective winter lists. I'd count Tom Gilbert as a hit, with Riley Nash looking good too. There are no Hall's or Nuge's here, as one would expect. This is Klefbom's third time at this number, suggesting he's both good and near the end of his time as a prospect (for our purposes). He should be past 50 games by this time next season.
WHAT THEY SAID ON DRAFT DAY
Redline Report: Klefbom is a real Red Line favorite. He's certainly the most overlooked of the top prospects, but is the best pure passer of the bunch, and his skating ranks only behind Murphy. He already makes pro style passes — crisp and with touch — and excels at breaking the trap with tremendous stretch passes through the neutral zone, showing great vision. He was also the natural leader on Sweden's national under-18 team. All this comes wrapped in a 6-3, 196-pound package, and Klefbom has really stepped up the physical aspect of his game over the last 12 months. At Red Line, we believe he might ultimately become the best all-around balance of offensive upside and physical strength in this year's class.
TSN (Grant McCagg): Captained Sweden to a silver medal at the U-18 championships, and appeared in 23 games for Farjestad in the SEL at 17 years of age. His stock rose as the season went on, culminating with his strong play at the U-18's. Strengths: High character player who did it all for Sweden at the U-18's, considered a warrior with tremendous leadership qualities. Good size and strength, reads the play well and will jump into the rush, good vision and passing skills, good compete level, likes to play physically. Weaknesses – Has a clumsy skating style, needs to work on quickness and lower body strength. NHL Upside – May develop into a top three NHL defenceman who takes care of his own end and sees some time on the second powerplay unit.
PRE-DRAFT RANKINGS
BOB MCKENZIE, TSN: NO. 21
RED LINE REPORT: NO. 11
ISS: NO. 10
PREVIOUS TOP 20 RANKING
Summer 2011: 2
Winter 2011: 3
Summer 2012: 3
Winter 2012: 3
Summer 2013: 3
Winter 2013: 2
Summer 2014: 4
Winter 2014: 3
Klefbom and Martin Marincin were thought to be the class of the organization's defensemen when they were drafted (until Nurse arrived). It is sometimes difficult to be patient for their arrival, but the only worry over Klefbom since draft day was injury. He's a stud prospect.
 Oscar Klefbom in the NHL, 13-14
5×5 points per 60: 0.74 (4th among D)
5×4 points per 60: nil
Qual Comp: 4th toughest among D
Qual Team: worst available among D
Corsi for 5×5 %: 44.3
Corsi for 5×5 % REL: +1.0
Zone Start: 35.1% (toughest among D)
Zone Finish: 43.7% (2nd best among D)
Shots on goal/percentage: 14 shots/7.1% (3rd among D>10 shots)
Boxcars: 17, 1-2-3
Klefbom on 2013-14 season: "It's been a very exciting year for me – a big year – especially when I got a chance to play in the NHL as well. So I think it was a really good year for me in my career so far. I'm just looking forward to the next one."
Eakins in the days after Klefbom's NHL debut: "He's been night-and-day for me from those first 30 minutes he played for us. We still have to protect him a little bit — that's the fair thing to do with a man of his experience — but so far, so good. He's making progress."
Corey Pronman: "NHL GM on newly signed Oscar Klefbom. "Physically mature, great skater. Projects to play against best players and some offense."
2014-15
WHAT THEY'RE SAYING NOW
The Hockey News: Owns massive shutdown upside, thanks largely to great size (6-3, 204 pounds), a physical edge to his game and mobility. Also possesses a little puck-moving and offensive potential.
Todd Nelson on Klefbom: "Defensively, he's a horse."
Todd Nelson: "Oscar is a defenseman's defenseman. He really prides himself on playing good defensive hockey. He skates well. He's a strong kid. He's able to move the puck. He's got a lot of skill. He just needs to play hockey games."
OSCAR KLEFBOM 14-15 (OILERS)

5×5 points per 60: nil

5×4 points per 60: nil

Qual Comp: toughest

Qual Team: 7th best

Corsi Rel: 2.3

Corsi for % 5×5: 51.4

Zone Start: 50% (5th easiest among defensemen)

Shots on goal/percentage: 2 shots

Boxcars: 2GP, 0-0-0
OSCAR KLEFBOM WOWY

 THE FUTURE
Klefbom is a top flight 2-way defensive prospect who fits the modern game. Good skater, physical and willing to jump into the play. Decision making has improved since draft day, injuries are a concern. He is on the NHL roster after impressing in Oklahoma City, but has played only two games so far. His zone starts are the most severe on the team, but he appears to be No. 8 on the depth chart—these things don't add up! Klefbom has played 19 NHL games, I expect he'll get another 25-30 this season and spend the rest of the year in the AHL. His long term future is very bright, and very much as an Edmonton Oilers player. Among the blue, Darnell Nurse and Oscar Klefbom are clearly regarded as the future.
The 2011 NHL Draft
Ryan Nugent-Hopkins, No. 1 overall. Splendid young player and may be adding another gear in year four after his draft. Graduated.
Oscar Klefbom, No. 19 overall. A big piece of Edmonton's future on the blue line, Top 4D with an emphasis on defense. No.3 on the winter 20.
David Musil, No. 31 overall. Playing solid D in OKC, working on foot speed. Inside the winter 20.
Samu Perhonen, No. 63 overall. Big goalie hasn't progressed. Back in Finland. Not in organization.
Travis Ewanyk, No. 74 overall. Tough as nails checking C doesn't bring offense. Candidate for winter 20.
Dillon Simpson, No. 92 overall. Turned pro this season, impressing in OKC. Inside the winter 20.
Tobias Rieder, No. 114 overall. No longer in organization. Scouting home run, he's in the NHL.
Martin Gernat, No. 122 overall. A solid young prospect maturing in the AHL. Inside the winter 20.
Frans Tuohimaa, No. 182 overall. Prospect has shown some interesting progress. Candidate for winter 20.
The 2011 draft is in its fourth year and there are some promising things. Nuge and Klefbom are on track to be part of the cluster for years to come, and there are several candidates to join them. The sheer number of blue taken in this draft dictates not all of them will be Oilers, but there are some nice trade assets in the group. Tobias Rieder, cashed early, is the third player from the 2011 Oilers draft to make the NHL.