The Edmonton Oilers sent Martin Marincin to Oklahoma City today, signalling the arrival (to stay) of Oscar Klefbom. The young Swede offers the club a more physical player while still managing to be very mobile. There are going to be growing pains, but it's good that management has finally settled on their choice of young blue to play in the NHL for 2014-15.
Where does that leave Marincin? Probably out in the cold, unless Klefbom struggles or there is an injury. I've long felt that the club values Klefbom and Nurse as their template for the future on defense, and today's move only serves to confirm the view. Marincin could be trade bait down the line, but for now he's insurance for injury. The club might see fit to have a look again in the fall of 2015 but it's also possible Marincin is shuffled off to another NHL city in the next few months.
It's worth mentioning that Martin Marincin is a better NHL defenseman than Niki Nikitin, if that's ever a topic of conversation.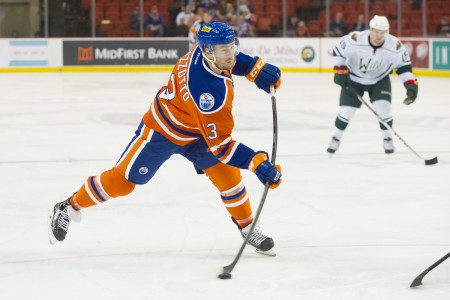 It's the same story for Steve Pinizzotto today, as the Oilers waived Jesse Joensuu for the purpose of assignment (Europe or OKC). This is a good story, a minor league veteran who hung around and worked hard before finally making the grade a decade later than the kids who were better on draft day. Pinizzotto outplayed Joensuu in camp too, so this is justice being served.
Edmonton now has two (by my count) open spots for additions
Goal (2) Ben Scrivens, Viktor Fasth
Defense (7) Jeff Petry, Mark Fayne, Andrew Ference, Justin Schultz, Niki Nikitin, Keith Aulie, Oscar Klefbom
Center (4) Ryan Nugent-Hopkins, Leon Draisaitl, Boyd Gordon, Mark Arcobello
Left Wing (4) Taylor Hall, David Perron, Matt Hendricks, Luke Gazdic
Right Wing (4) Jordan Eberle, Teddy Purcell, Nail Yakupov, Steve Pinizzotto
We might want to follow the waiver/trade/callup wire today.