When I was young, there was a man about the size Leon Draisaitl is now who patrolled the portside for the Torontos when they were good. He was a monster for the era, had good speed and a mammoth shot, and he scared the daylights out of the opposition. When he was a younger man—this is before my time—he would patrol his wing, score goals, hammer and crash, and if he got knocked down, he'd smile, get up, and do it again (source: Howie Meeker). He was basically Curtis Lazar on 35 goals a year, for about 20 years.
"I'd be totally fine with that." BLOG: #Oilers Leon Draisaitl willing to play the wing to be in NHL this season> http://t.co/DsUuUIe7Hw

— Chris Wescott (@TheChrisWescott) July 3, 2015
I don't think Leon Draisaitl is going to be Frank Mahovlich, but there's zero reason to expect he'll flop on the wing. His speed—much like that of Big Frank—is often mentioned as a weakness, when in fact it's an illusion. The little man, in my mind's eye it's Tie Domi and his 'I'm passing a kidney stone' choppy stride, looks like he's a speed demon. The bigger man looks slower but passes more houses with each stride, and that's Leon. Speed won't be his problem, passing won't be his problem, in fact his only problem making the opening night roster will be bonus dollars—Edmonton is probably going to send him down for 20 games, more if they want that UFA season to kick in one year later (as speeds reported). When he arrives, clear the track. Leon Draisaitl is going to have a helluva career.
My one big takeaway from today? Good luck keeping Darnell Nurse off the opening night roster Oilers. Not going to happen.

— Tyler Hupka (@HBomb1982) July 5, 2015
Here's a guy I can't see spending much time in Bakersfield, if any at all. Brian King (PDO) posted an interesting item yesterday afternoon in the comments section:
PDO: I've been looking for a Nurse comparable and (albeit hopefully) a comparable that could lead us to believe he can contribute as a top 4 NHL D next year right out of the box.I think I found him.
PIETRANGELO V. NURSE (VIA PDO)
Nurse comes in an inch taller but with a similar lanky build.
Alex Pietrangelo was taken 4th OV in 2008 vs Darnell Nurse 7th OV in 2013 so they have a very similar pedigree.
Pietrangelo famously was held on the Blues roster to practice until the WJC so the numbers are hard to project perfectly, but here are the junior box cars:
Piet draft year:60 GP 13 G 40
Nurse draft year: 68 GP 12 G 29 A
Piet draft +1 36 GP 8 G 21 A
Nurse draft +1 64 GP 13G 37 A
Piet draft +2 25 GP 9G 20 A
Nurse draft +2 36 GP 10 G 23 A
So we can see Pietrangelo is bringing a shade more offense, but not a ton more either. So now lets take a look at what Pietrangelo did as a rookie at the same age Nurse is now..
Boxcars: 79 GP 11 G 32 A
Fancies: Qual Comp: .673 (third, just barely); Zone Start: 56.2 (5th, but three guys in the range… Jackman and Polak were buried and everyone else played the same); Corsi: 10.81 (First)
So he looks like he played 2nd pairing but KILLED it.  Lets look at the WOWY's:
58.4 % GF 54.4 CF %
He played a bit with everyone….
With Jackman: 52.9 % GF and 54.8 CF % in 448 minutes.
Jackman without: 47.4 % GF and 47.6 CF % in his remaining 584 minutes.
With Colaiacovo: 69.2 % GF (!!!) and 55.1 CF% in 358 minutes.
Colaiacovo without Piet: 32.5 % GF and 50.4 CF % in 589 minutes.
So right out of the box Pietrangelo came in, was arguably the best defenseman on the team and had gone through a similar career path as Nurse has up to this point. Is it blue skying? Sure. Is it too much to think it could happen here? I don't think so. It's not impossible for Nurse to come in out of the box and be a good top 4 defenseman.
End PDO.
—
Connor McDavid's acceleration is pretty good… https://t.co/Das6MbSyWo

— Robert Söderlind (@HockeyWebCast) July 5, 2015
Absolutely smoked. That's an 18-year old junior who is chasing 97, but then again McDavid's the same age. Unreal speed, can't believe we're early July and the whole town can't wait for October. Madness!
IS PC DONE?
I think the club may tinker in three areas: Backup goalie (replacing Scrivens), defense (Chiarelli is aggressive and the market may gift him a Christian Ehrhoff, depending on how things go) and a physical, skilled forward with speed (Glencross, that sort of player) again if the market allows. The Oilers have very little room (depending on Justin Schultz' contract) but if they add a player at any of these positions then it follows someone will be dropped or traded. Here's a quick look at current conditions: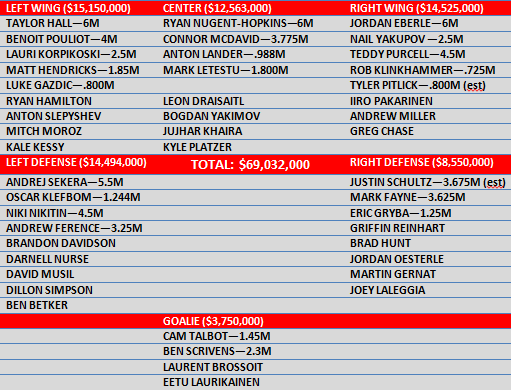 So let's take my three examples above and apply them to this roster (which is at $69,032,000 and includes estimates on Justin Schultz and Tyler Pitlick). If Chiarelli grabs a goaltender and offloads Scrivens, the current cap room should be sufficient. If he acquires Ehrhoff at $3.5M (let's say) then Nikitin or Ference will have to go. If he grabs Glencross for $2.5M, we're probably looking at something major—sending Gazdic down isn't going to get that done in my opinion. The roster has holes for sure, but has some nice options too—including young Darnell Nurse who may indeed be the answer to the question 'who in hell plays top 4D besides Sekera, Fayne and Klefbom?' in what may become the 'child shall lead them all' winter in Edmonton.
STILL AVAILABLE
Cody Franson, D. I'm surprised he's available, would love to have him if EDM is moving on from Schultz.
Christian Ehrhoff, D. The only concern for me is injury. He would be a fabulous add at this point.

Curtis Glencross, LW. Oilers have been adding speed all summer, Glencross isn't as fast as he was but would be an upgrade on someone like Teddy Purcell (in terms of skating). Can PK too, and is rugged. A nice possible fit.
Matt Irwin, D. Nice numbers, he'd be familiar with McLellan.
Lubomir Visnovsky, D. Why not? He's 38 but can still wheel. I'd love to see him back here.
One final item: Don't discount a trade. Chiarelli does have some moves he can make to add quality if it comes available.
LOWETIDE'S CHIARELLI LIST
Draft McDavid and sign him (Done)

Find a quality goalie option (Cam Talbot)

Acquire a legit top pairing blue (Andrej Sekera)
Sign a two-way F (Lauri Korpikoski)
Ignore MacT re: Marincin (Or trade Marincin for real value) (Eric Gryba)

Veteran two-way center (Mark Letestu)
I've been writing these damn lists for years and Chiarelli is the first GM to cross them all off. As we've discussed, when you have six things to do in a summer, you're not going to hit a home run on every bet. That said, the additions of Talbot and Sekera look like "A" fixes (or have the potential) from here and I'm thrilled they finally acquired a Pisani this summer. That's a golden item, really. I didn't hate Ryan Jones or Lenny Petrell but their skill sets (goals from one, PK and pure ginger from the other) don't fit the Pisani role. Fernando Pisani mentored a bunch of young Oilers and Korpikoski could have enormous impact on the careers of Draisaitl, Lander and others. Letestu seems a reasonable bet and a guy they can move around once Leon establishes himself and Lander moves into the 4C/PK role. I hope there's some moves to come (a top blue) but that relies heavily on another team wanting to do something and Edmonton being able to supply the parts. We wait.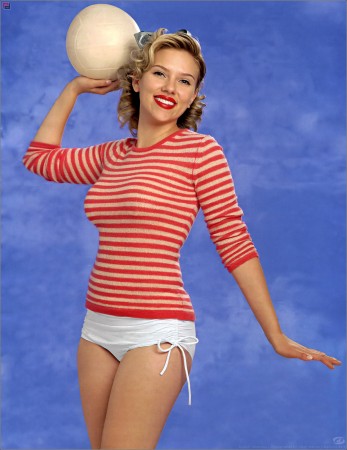 LOWDOWN WITH LOWETIDE
It's the first Monday of the signed McDavid era, so the sun is shining and good days await! Scheduled to appear:
Scott Burnside, ESPN

. A look at the week's signings, McDavid's impact and arbitration.

Antony Bent, FC Edmonton

. An insane game in Fort Mac has the Eddies moving up the table and I wonder if we'll EVER see Laing in our city again?

Dennis King, Oilogosphere Icon

. We'll talk about McDavid's best fit for linemates and some other roster options.

Bob Weeks, TSN

. Rory McIlroy looks like he'll miss the British open after suffering an ankle injury. In a "soccer kickabout" according to his Instagram.
10-1260 text, @Lowetide twitter. Talk soon!