It is impossible for a fan to cheer against Nail Yakupov. His child-like enthusiasm for the game and life in general is intoxicating, and stories of his genuine goodness pop up with increasing frequency. As much as we love Nail, and as hard as we try, finding a place for him among the gifted kids remains an issue. Why can't this work?
NAIL YAKUPOV 12-13
5×5 points per 60: 2.20 (3rd among regular forwards)

5×4 points per 60: 4.20 (5th among regular forwards)

Qual Comp: 7th toughest among regular forwards (second-third line opp)

Qual Team: 7th best teammates among regular forwards

Corsi Rel: -5.1(11th best among regular forwards, -15.22 CorsiON)

Zone Start: 51.1% (6th easiest among regular forwards)

Zone Finish: 51.0% (6th best among regular forwards)

Shots on goal/percentage: 81/20.99% (1st among F's>70 shots)

Boxcars: 48, 17-14-31
NAIL YAKUPOV 13-14
5×5 points per 60: 1.45 (5th among regular forwards)

5×4 points per 60: 2.68 (7th among regular forwards)

Qual Comp: 7th toughest among regular forwards (second-third line opp)

Qual Team: 4th best teammates among regular forwards (second-line teammates)

Corsi Rel: 0.6 (9th best among regular forwards)

Corsi for % 5×5: 44.9

Corsi for % Rel 5×5: +0.8

Zone Start: 64.2% (easiest among regular forwards)

Zone Finish: 52.0% (best among regular forwards)

Shots on goal/percentage: 122/9% (5th among F's>100 shots)

Boxcars: 63, 11-13-24
NAIL YAKUPOV 14-15
5×5 points per 60: 1.23 (6th among regular forwards)

5×4 points per 60: 3.55 (6th among regular forwards)

Qual Comp: 9th toughest among regular forwards (third-third line opp)

Qual Team: 11th best teammates among regular forwards (fourth-line teammates)

Corsi for % 5×5: 46.3

Corsi for % Rel 5×5: -6.0

Zone Start: 61.0%

Zone Finish: 49.3%

Shots on goal/percentage: 191/7.3%

Boxcars: 81GP, 14-19-33
 VOLLMAN SLEDGEHAMMER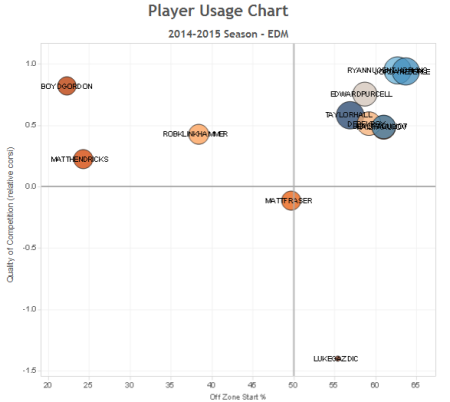 RE 14-15 REVIEW

RE 15-16: 77GP, 20-18-38 .494
What's this? This is the Nail Yakupov preview for next season.
Its, uh, better than I thought it would be. I think Nail will recover a bit this season—call it the McLellan factor married to talent and desire. A change is as good as a rest. It isn't a major jump and it may not be enough to keep him here but if the Oilers are going to play the man he'll score some. He was tied for No. 168 among NHL scorers last season—right at the end of the second line scorers—and my estimate puts him at No. 140. That's about midway through second-line scorers (who, logically, begin at No. 91 and go through No. 180).
You just bloody hammered all damn week that he didn't fit in!!! Oh, I don't know that he will but I imagine we'll see him have some success and recover a little. There's a chance the Oilers pump and dump here, although if he starts filling the net his price point will make him tough to move. Nail is a tough damn subject, he really is.
Left Wing? No. I think you keep him on his natural wing.
Sticks on the boards! I think the Oilers need to put him in a position to succeed and he's far more comfortable on RW. I saw him extremely bad LW this season, it isn't good. Also, the Oilers have a nice group of LW's, it's less stable on the right side up front. We'll see, Todd McLellan will surely have something to say about it.
What was that trick with Eakins again? Do you mean Yakupov's splits before and after?
Yeah, scored more with Nelson but possession went down? In October-December, Yakupov was 0.8 5×5/60 and 2.4 5×4/60. January+, he was 1.53 5×5/60 and 5.38 5×4/60. Yakupov's Corsi for % 5×5 before New Year's was 47.59%, and after it was 45.48%. Basically underperformed offensively under Eakins, but had pretty decent (for Yak) possession numbers. After Nelson arrived, his scoring rates doubled (more than on the PP) and we are here.
Voodoo! Well, it was a bad year all around but he did score better in the second half. The entire team was bleeding possession in the second half so that's not specifically on our guy.
Why can't Yakupov just learn to play responsibly? Look, we knew what he was draft day. Yakupov's cannons are all pointed toward offense and if the Oilers become a better possession team that helps Yak's defense. Scoring goals is a tough damn thing to do, this isn't an asset you just flush or break down into a failed scorer and a subpar checker. This is damn serious business here.
Playing well defensively is a big part of the NHL game. No. Wrong. It's possession. "They think there's defending in today's game. Nah, it's how much you have the puck. Teams that play around in their own zone think they're defending but they're generally getting scored on or taking face-offs and they need a goalie to stand on his head if that's the way they play." Darryl Sutter.

Well then what's the answer? I think McLellan may try Korpikoski on LW and Lander at center, or maybe Korpikoski and Letestu. Veteran wingers who can mentor and do the dirty work while Yakupov riffs.
Why did Roy work? Well, their possession stats weren't great but I did see them good in the offensive zone with the puck. There was still a lot of chaos there to my eye but Roy found B flat and followed the changes.
What is Yakupov's outer marker as a player? I think he should be a consistent 25-goal scorer if he can find a groove, maybe higher in his peak seasons. This and next year are really important to him. If Nail can find a way to score goals while playing on a responsible line, he should have a significant career. We should prepare ourselves for less, though. The new coach is probably his last chance Texaco.
So, he could score like Eberle? Yes. Eberle's career high is 34,  I'd say that's a reasonable outer marker for Yakupov. If he beats it, I'll be glad to say I'm wrong. As it is, despite terrific talent (he has a great release and like all scorers has a nose for the net) Nail isn't close to being a guy you can count on for 20 goals in a season.
If this doesn't work, who do we blame? Let's say the Oilers and hope we never have to dig deeper and point the finger. Edmonton wasted a lot of talent along the way, let's hope this young man can rise above the madness.
Why wouldn't McLellan just put him on the Hall—McDavid line? Maybe he will, but you have to ask yourself what happens when the puck turns over. Who is coming back? In that trio, who decided to break off pursuit and become the high forward? That's why I think McLellan uses Purcell, a veteran player who can read and react.
Why this song? "The change will do you good, I always knew it would" fits on several levels. People remember Yakupov under Ralph Krueger and I think there's a sense he'd spike sans Eakins. That happened, but only in a narrow view (Yak's scoring increased but the offense went both ways). I think the change WILL do Yakupov good, but we shouldn't forget about the lessons unlearned.
So it's partly Yakupov's fault? I don't know how to answer that one. Hall and Eberle were gifted Shawn Horcoff, Yak played with Sam Gagner. That's not similar mentoring, not at all. I'd say the Oilers misread the situation in two ways: They felt the best way to handle Nail in year two was that ghastly 'tear him down, build him back up' crap that they employed during the MacT regime.
And? And I think they focused on what he wasn't able to do instead of what he's able to do. Good teams put young players in a position to succeed, Edmonton didn't do that—the past two seasons have been focused on what he's not good at, what doesn't come natural to him.
Why would they do that? There's only one answer that fits. They didn't value him, not like they should have. Nail Yakupov has always been the redheaded step-child and hasn't ever been regarded as a full-fledged part of the future. No credit, all the blame and oh by the way you don't get the feature minutes. I don't blame Eakins, for me this is an organizational flaw that somehow blames these kids before their sins and disregards real and obvious deployment flaws. There is no player on this roster that needs a veteran hand at the coaching wheel more than Nail Yakupov. I hope he and Nail hit it off and this thing gets traction in October.
Do you think it will happen? Too soon to know.
A change will do him good? One way or another.