Mark Fayne spent the winter backing up. The Edmonton Oilers, the team called chaos, wasted his talents with turnovers and errant passes to no one. All is not lost, as this summer brought a lot of good things to Edmonton, and those things are going to fit Mark Fayne very well.
MARK FAYNE 13-14
5×5 points per 60: 0.52 (6th among regular D)
5×4 points per 60: nil
Qual Comp: 2nd toughest among regular D
Qual Team: 3rd best available among regular D
Corsi for 5×5 %: 55.3
Corsi for 5×5 % REL: +1.5
Zone Start: 47.6% (toughest among regular D)
Zone Finish: 51.3% (4th best among D)
Shots on goal/percentage: 88 shots/4.55%
Boxcars: 72GP, 4-7-11
MARK FAYNE 14-15
5×5 points per 60: 0.33 (6th among regular D)
5×4 points per 60: nil
Qual Comp: toughest among regular D
Qual Team: 3rd best available among regular D
Corsi for 5×5 %: 46.2%
Corsi for 5×5 % REL: -7.0
Zone Start: 42.9%
Zone Finish: 48.4%
Shots on goal/percentage: 78 shots/2.6%
Boxcars: 74GP, 2-6-8
VOLLMAN SLEDGEHAMMER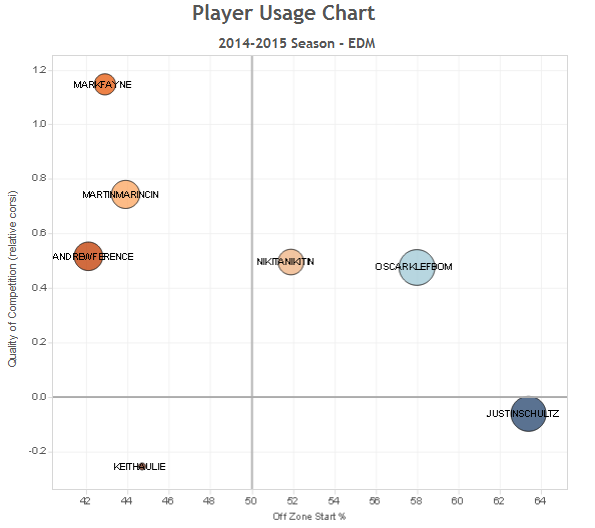 RE 15-16: 64GP, 3-7-10 .156
They need more from Fayne. Fayne needs more from them.
How so? Fayne isn't going to be the puck mover on his pairing. He is a good defender but his partner is going to need to move things along under control. Edmonton gave up the puck after getting it back a ton last season. Ghastly. Fayne's value is neutralized immensely if the team he plays for turns the puck over all the time. New Jersey made use of him, Edmonton not so much.
Fayne has to take some blame. Sure, he could have been more effective, but if you roll the tape Edmonton is in their own zone far too much, and a lot of that comes from being unable to exact 50 seconds off the clock outside their own zone on each possession. Fayne's worry is to separate puck from opponent, and then make a simple play. The rest is on the linemates, including puck gathering, support, safe outlet, 50 seconds. Fayne's Devils did it regularly, Fayne's Oilers didn't have a care.
So what? If you're on your heels, it's GA and the penalty box. That's a fact.
Says who? Darryl Sutter.
Oh no. Here it comes.
I'm sorry. Please don't. In three, two…..
Dammit!

Darryl Sutter

: "The big thing in today's game is you have to be able forecheck and backcheck, and you have to have the puck. You can't give the puck up. We don't play in our zone, so there's not much defending.  I've coached in three decades now and this stuff where they said Marian had to play in Jacques's system is a bunch of bull-crap. The game's changed. They think there's defending in today's game. Nah, it's how much you have the puck. Teams that play around in their own zone think they're defending but they're generally getting scored on or taking face-offs and they need a goalie to stand on his head if that's the way they play."
Who did he play well with? Nikita Nikitin. They were 49.6% Corsi for 5×5 together and that was in 300 minutes. He was also stupid good in 15 minutes with Brandon Davidson.
His possession number is poor. Considering that he was playing with Martin Marincin a lot (Marincin is good, but a young player) and Nikita Nikitin (who had some health and mobility issues) I don't think the possession number is a huge negative. Give him a healthy veteran, an Andy Greene, and we should see a 50% or better possession number 5×5.
He'll be a solid pairing with Sekera. If they are the top pairing, and that's the logical play, one suspects that duo will be one of the key elements for the 2015-16 Oilers.
Did McLellan have anyone like Fayne? You mean tough minutes defensive defender who doesn't score a lot but has value as a stay-at-home type?
Yes. That's what I mean. Justin Braun, although they aren't identical talents.
So, McLellan ran Vlasic—Braun in SJ, and Sekera—Fayne is the closest available match? Yes. Vlasic is on another level, but this is a pretty good comparable for those tough minutes pairings. I do think the chances of success are pretty high.
Fayne didn't play much last season. He was used less than you'd expect for a veteran (17:56) last season but a lot of that had to do with a combination of tough zone starts and chasing the game with mondo Schultz minutes. He was 15 minutes at evens and 2:29 on the PK, I think we can estimate a return to 16 EV minutes a night (he did that in 2013-14 with the Devils) and he should get those tough starts again in 2015-16.So, we're talking between 18 and 19 minutes a night.
What do you like about him? He knows his role and is a veteran. Fayne when he came over: "Andy (Greene) and I usually played against the other team's top line (in New Jersey) and they didn't expect too much from us offensively. Eating up minutes against the top guys. It's a definite challenge but it keeps you on your toes."
Aside from Sekera, who could he play effectively with? As mentioned, he and Nikitin played well together last season and my RE model has them together to start the coming season.
Anyone else he could play with? Klefbom I imagine although it didn't work well in a short look last year. I think Marincin would have been a dandy partner going forward, would have loved for McLellan to get a look at big MM for a season.
Is this player type going away? I'd say we're morphing now, heading toward 'two-way' and 'offensive' defensemen, with men who don't handle the puck much getting squeezed. Fayne can make the simple pass, and he is a good defender, for me that player will be around for a long time.
Why aren't we able to measure defensive ability? It's hard to see any trends at all. Most of the new analytics are measuring passes (which partner makes most of them, how successful they are) and those measures are important, interesting. However, an NHL team still needs someone to battle and keep the puck between themselves and the net.
How would you measure that? I don't know, 'sorties successfully defended' would be a good start, but we mostly see these things visually and discount them.
Discount them? Yes. When something doesn't happen, it's quickly forgotten. Human nature. Remember when Chris Pronger would defend a two-on-one as an Oiler? A two-on-one against 2006 Pronger was basically like a one-on-one because he'd use the tree to knock the puck away or lambaste someone or do something fantastic. However, most successful defenses aren't that spectacular, despite their value.
So? Well, those successful moments, each one of them, has value. I've not seen a league-wide stat for sorties defended for an entire year, but that kind of measurement would have some value. And if a player showed up in a good way year after year, that player would hold great value.
Don't we already know who defends successfully? Hmm. I'd say we know what we THINK a good defensive defenseman looks like, but I still see a lot of verbal discounting a guy like Sekera because he isn't physical.
You need physical, smashmouth defensemen. Nah. Mark Fayne had 14 PIMS last season, Jason Smith had 103 PIMS in 2001-02. Same job. Penalties are extremely harmful, so coaches have taken them from the game (as much as possible).
Among Oilers prospects, which defensive defensemen do you like the most? Well, as I mentioned the two-way and offensive types are more prominent in today's hockey, but Edmonton has invested quite heavily in the position. David Musil, Brandon Davidson, Dillon Simpson, Ben Betker and others could fit into the description, although for me Simpson is more of a two-way type. Still, Musil was a high pick, you don't see many No. 31's going to this player-type. Interestingly, all of these men had good-to-great seasons, McLellan will have a nice group to choose from should the need arise.
Why this song? It's about seeing an opportunity pass you by, something you've been waiting for, anticipating. Mark Fayne is 28, 316 games into his NHL career and may have 500 more with the Oilers, filled with glory and silverware. However, it's not promised to him in a way it is promised to McDavid, Hall et al. Fayne will have to rely on his own ability, the recognition of coaches (who clearly value him, based on usage), luck and health to be part of this team when the good times arrive.
Will he make it? Yes, I think so. The Oilers need to be better around him, though. Players like Fayne tend to be associated with wins and losses more than others, probably because the boxcars simply don't tell us much about them. That's my take on Fayne's first year.