On the morning of his injury, we discussed Connor McDavid and the future as if it were our own to write as we pleased. O those hockey Gods, they vex, they vex to the outer marker and beyond. Those lost days are gone, 97 returns this evening. Connor McDavid is magic, but can he make 10 standings points disappear?
ETERNAL DAMNATION, YEAR OVER YEAR
Oilers in October 2014: 4-5-1
Oilers in October 2015: 4-8-0
Oilers in November 2014: 2-9-3
Oilers in November 2015: 4-7-2
Oilers in December 2014: 2-8-4
Oilers in December 2015: 7-6-1

Oilers in January 2015: 5-7-1
Oilers in January 2016: 4-5-2
Oilers in February 2015: 5-6-1
Oilers in February 2016: 0-0-0
Oilers after 50 in 2014-15: 13-28-9, 35 points (-51 GD)
Oilers after 50 in 2015-16: 19-26-5, 43 points (-27 GD)
A year ago, the Oilers won G51 in a shootout over the San Jose Sharks, Eberle and Schultz the stars of the show. Todd Nelson was not improving the possession numbers, but the club went 5-6-1 for the month of February. Can this year's team beat that total?
DEFENSE, 2015-16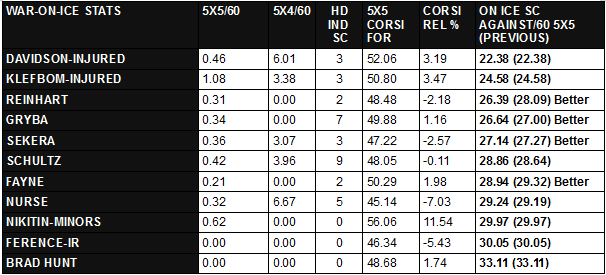 We were hoping for Klefbom and Davidson after the break, both have injuries that will keep them out tonight and possibly beyond. In a season where we can point to a lot of shortcomings, the injuries have done an enormous job to sewer this club.
Sekera—Fayne will be the lead pairing tonight, they were doing solid work and improving the possession totals when the break arrived. Reinhart—Schultz sounds like an adventure, Reinhart had a terrific game with Gryba against Nashville and we may see them together at some point tonight. Nurse—Gryba should see the fewest minutes and the easier chores, and against the Blue Jackets that should mean some easy shifts. Famous last words.
We should not underestimate the consequences of not having Brandon Davidson. He is a rookie, but he sure doesn't look like one. A body blow.
MCDAVIDS, 2015-16

The Oilers have three outstanding centers. You can argue it, slice it in half, send Leon to right wing—does not matter—they have three fantastic centers and that will help them kill teams when the playoffs arrive later in life. If I had to pick a 4C for them next season? Matt Hendricks, and I love Anton Lander, and Mark Letestu is a good NHL player.
WINGERS, 2015-16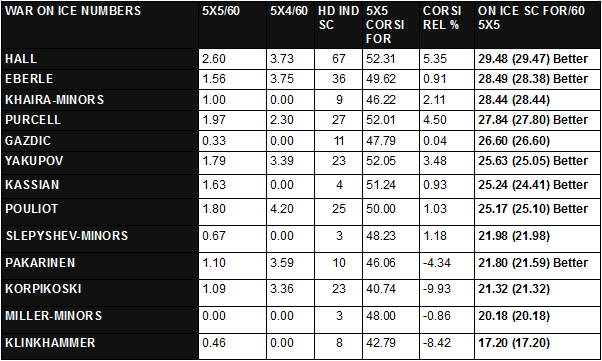 Taylor Hall is enjoying a splendid season, 305 shot attempts and 190 shots for this season. He is on pace for 312 shots this year, fully 60 more than his previous career high. Prime Hall is very tall, it is one damn shame he won't see the second season this spring. Jordan Eberle looks to be getting a feature role and those hands should be deadly when the chances come available tonight. Expect that 5×5/60 number to turn north beginning this evening.
Teddy Purcell and Nail Yakupov have both posted solid numbers this year, I think Yakupov gets a push this month once Purcell is dealt. Until then, it could be a struggle for 10. If Mark Letestu had just a little Derek Roy in him, the Russian might be able to make hay. His line (with Letestu and Kassian) looks like the vehicle from the One Piece at a Time song by Johnny Cash.
TOTAL RECALL
If we base the Bakerfield roster purely on performance, I think the list is about five deep. Now, it doesn't mean they will be recalled, but if we were putting together an expansion draft list from the Condors, it might look like this:
G Laurent Brossoit 24gp, 2.64 .924
F Jujhar Khaira 23gp, 4-7-11
D David Musil 38gp, 3-5-8
D Jordan Oesterle 31gp, 2-16-18
R Tyler Pitlick 15gp, 3-4-7
L Anton Slepyshev 20gp, 4-1-5 (injured)
I included Anton Slepyshev, who remains on IR, because at some point I think the Oilers will want to have another look at him. It may be difficult to project him onto next year's roster now, but things change in a hurry this time of year.
TRADE DEADLINE LIST, OILERS EDITION
RW Teddy Purcell 50GP, 11-18-29
RD Justin Schultz 36GP, 3-6-9
RD Eric Gryba 45GP, 0-4-4
RD Mark Fayne 37GP, 1-1-2
C Matt Hendricks 37GP, 2-5-7
LW Lauri Korpikoski 39GP, 6-6-12
G Anders Nilsson 24GP, 3.04 .903
I don't really think they will trade Matt Hendricks, but he is the kind of player NHL teams like to acquire at the deadline: Utility player, plug-and-play in several areas. Peter Chiarelli may be tempted by the quality of the offer this year. What do the Oilers need?
Minor league players who may have NHL futures. Chiarelli is going to have more Khaira's and fewer Andrew Miller's, maybe some of those players will shake loose at the deadline.
Draft picks. Edmonton traded away most of a deep draft last season in acquiring Griffin Reinhart, Cam Talbot and Eric Gryba. They have very little outside the two pro teams and need to add picks for the 2016 draft.
Cap room. One of the reasons I have Mark Fayne, Matt Hendricks and Lauri Korpikoski on my list. This one is very important.
CAN MCDAVID WIN THE CALDER
Yes. I was asked this question yesterday, and for me McDavid's chances of winning it depend on two things: Playing in all of the final 32 games and pushing Edmonton back into the fringes of playoff contention. If McDavid can post between 45-50 points in his 45 NHL games, and the Oilers cut into the (now) 10-point deficit between themselves and third place in the Pacific, he will be given a large part of the credit and the story will have sustain. A strong finish for player and team will win the day.
In Calder voting, the story counts for a lot, and McDavid has a pretty nice potential script waiting for him. I know, I know, historically the odds are stacked against him. My reply: Who better to shatter history than a generational player?
I am curious to see if the Oilers are showcasing Ebs by matching him up with Jesus…

— Stone Hands (@SHMcOsta) February 2, 2016
I think it is more likely that Todd McLellan and Peter Chiarelli want to see McDavid with Eberle for the month of February. If there is chem, and there could be, that probably changes the script for summer (I do not think the Oilers trade a major piece at the deadline). I also think we could see Yakupov back on that line if nothing rhymes, and would have thought the McDavid-Eberle combination would be tried after 97 gets some comfort.
Can an EDM MSM member track down MacT and ask him why he didn't sign 4th round pick E.Gustafsson, who leads the NHL in Dmen 5v5 pts/60?

— Woodguy (@Woodguy55) February 2, 2016
Heh. Stu MacGregor was one of the major firings during the great Forensics sweep that identified two guys who were not former Oilers as the problem. Coincidence, I am sure. Anyway, some of McGregor's later bets (Brandon Davidson, Tobias Rieder and now Gustafsson) appear to be emerging. Lo and behold, the GMs didn't sign the blasted guys! Honest to Christ.
Five years, folks. Stu MacGregor should wear it for the 2009 and 2010 drafts (not 2008 because he didn't have a second or a third), and the second-round selections of David Musil and Mitchell Moroz are also part of his record. How much has to do with the GM? Doesn't matter now. I encourage you to wait a few more years before calling the 2013+ drafts, and remember after five years Brandon Davidson still hadn't made himself known.
Anyway, the answer to Darcy's question is this: As the Oilers had already signed Cameron Abney to an entry-level deal in 2011, they had no room for Gustafsson. See? Easily explained.
Nail Yakupov is the odd man out—again. Jonathan Willis wrote about it this morning and I wanted to riff a little on it.
Jon from the article: Some of this is Yakupov's fault. He's played more than six hours with Ryan Nugent-Hopkins over his career, recording five assists and with the duo managing a 39.3 percent Corsi rating. When a winger struggles so badly with the only high-end centre on the roster, there's basically no choice but to play him with second-tier pivots.
No disagreement on this, I think Jonathan surrounds the truth here. I am curious about one thing: WHY did five coaches (Ralph, Dallas, MacT, Todd Nelson, Todd McLellan) all handle him the same way? Answer: They did not. In Yak's first season with Dallas Eakins, the coach played Nail with the Nuge for about 3.5 hours. Huh. The guy who many people believe was unfair to the Russian gave him the most push with RNH, and the same coach backed off the following season.
I think the Oilers made their decision on Nail long ago. I don't think it is necessarily the right one—this is a talented player with great gifts—but you can tell a lot about an organization's feeling toward a player by their actions. Does Nail get McDavid's line for a few minutes tonight? We wait.
LOWDOWN WITH LOWETIDE
McDavid is back!! Wall to wall of wall to wall coverage! 10 this morning, TSN1260.
Jonathan Willis, Cult of Hockey. McDavid's impact on the final 32 games, is Eberle over Yak the right choice?
Travis Yost, TSN. How much impact can one rookie have on a half-season?
Paul Almeida, SSE. Should the Oilers push for wins in the second half, potentially robbing themselves of another impact forward in the draft?
Plus your texts at 10-1260 and tweets to me @Lowetide. See you on the radio!