The Edmonton Oilers began the week 2-0-0 and looked like a different team, but gave it all back against a team in peril on a nationally televised Saturday game. It was actually a perfect storm: National game, afternoon tilt, and they were up against a former Oiler in Ben Scrivens. None of that should matter, of course. The players didn't have a lot of structure, had little push after the first period, and to my eye got stubborn on exits and entries. Montreal beat them, credit where due, but the Oilers made it easier with their stubborn ways. Miles to go.
NO SLEEP TILL BROOKLYN, YEAR OVER YEAR
Oilers in October 2014: 4-5-1
Oilers in October 2015: 4-8-0
Oilers in November 2014: 2-9-3
Oilers in November 2015: 4-7-2
Oilers in December 2014: 2-8-4
Oilers in December 2015: 7-6-1

Oilers in January 2015: 5-7-1
Oilers in January 2016: 4-5-2
Oilers in February 2015: 5-6-1
Oilers in February 2016: 2-1-0
Oilers after 53 in 2014-15: 14-30-9, 37 points (-57 GD)
Oilers after 53 in 2015-16: 21-27-5, 47 points (-22 GD)
Edmonton's goal differential climbed into the teens with two good games early in the week, but fell back into the 20s after yesterday afternoon. The Islanders lost 5-1 as well yesterday (to Detroit) so will no doubt be in foul moods as they hit the ice this afternoon. A year ago, Edmonton won a 2-1 game over New Jersey courtesy a Nail Yakupov goal, as the Devils directed only 14 shots toward Ben Scrivens. Suspect the Tavares bunch will post a larger number today.
DEFENSE, YESTERDAY

Davidson—Gryba was quality, and I do think we are reaching the point where the Oilers will look into signing Gryba. Now, his trade value could spike (if someone offers a third-round selection, PC should take it) but it would not surprise me to find out negotiations are underway. Davidson is pushing for a top 4D role next season, there is no one on the current roster more qualified for the discussion (than Sekera and Klefbom).
Sekera—Fayne were mostly good to my eye (I watched the game on pvr, that is both good and bad—you see the actual game but knowing the result places a different, perhaps clinical, view). Sekera was chasing a lot, hell the blue go to the moon in pursuit of the puck carrier in the zone, I have seen it enough to believe that is the preferred play by the coach.
One thing about Todd McLellan I have learned? He is not predictable. Now, I would expect the coaching staff to re-tool the blue for today after yesterday, but the obvious (sit Schultz, possibly Nurse) may not happen. I have been pleased to see the coach stay with Sekera—Fayne, but he got into some Sekera—Gryba yesterday and we will see. Nurse—Gryba went 4-0 together.
Nurse—Schultz was an adventure, I am not certain how much blame to place on Nurse beyond chaos ruled the day and his partner was stirring the giant chaos stick. As I have mentioned in the past, putting 25 in the pressbox for a game or two is no sin, and sending him down should not be met with marching in the streets, either.
Reinhart—Clendening could return to action today. NHL teams have this thing where a former player does well against his team, and anecdotal evidence over the years has me somewhat convinced (I don't really think it does, but damned Scrivens is fresh in my mind).
I would run Sekera—Fayne; Davidson—Clendening; Nurse—Gryba today.
CENTERS, YESTERDAY

Leon Draisaitl and his line got the clean air (faced Emelin—Petry mostly) and could wheel much of the game. In those situations, this line must cash. The Oilers need them to score in games where they are facing the second division. McLellan pulled the chute when the game was over, they should get more minutes today.
Connor McDavid received a steady diet of PK Subban (11:41 against Subban, 9-10 Corsi events) but even with that this line felt more dynamic. Any injury worries should go away after that game, PK was very physical against the phenom. I was impressed with the rookie, he kept pushing when some of the veterans were slamming sticks and showing frustration.
Matt Hendricks and his crew didn't win the Corsi battle, but they rattled at evens and were fairly effective against the Plekanec line.
Mark Letestu and his trio were shelled by the flying Plekanecs, beaten down by a line that basically had its way for the entire game. I bet you $100 Yakupov pays for it. (I don't mean this, clearly. All bets are off, reject all signals, whoa).
WINGERS, YESTERDAY

Hall—Purcell had good possession numbers, but I felt they got a little stubborn as the game wore on (and then they basically shut Purcell down and restricted Hall's minutes). I don't know if they were being saved or punished, but there is some stubborn on this line.
Pouliot—Eberle had some chances, I liked both of their games, save Eberle's frustration boiling over. That isn't really fair, the shot to the nuts can put any man off his game, but I feel Eberle is in a spot where he needs to score if McDavid is going, and to my eye McDavid was going.
Korpikoski—Pakarinen didn't play a lot at evens, but to my eye were fine in their time. Not a lot of offense, but they were physical and aggressive.
Kassian—Yakupov had no fun against the Plekanecs, and as mentioned above I think it will be pretty easy to stash Yakupov in the PB today. My hope? They move Yakupov up a line and shake things up that way. We wait.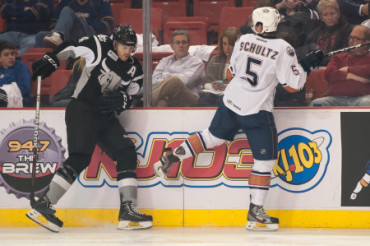 Bruce Garrioch: The Oilers have a decision to make on defenceman Justin Schultz before the deadline. Making $3.9 million and scheduled to be an RFA this summer, Schultz, who has 3-6-9 points in 37 games this season, could be moved. Schultz, 25, was signed by the previous regime and there's plenty of interest in him if Edmonton wants to make a move. A lot of teams are looking for an upgrade on the blueline and the Oilers picked up blueliner Adam Clendening off waivers from the Anaheim last week. Source
I have been waiting for this, and for me this is confirmation that a trade is imminent. Will Schultz stay on the east coast? I believe it possible. The showcase took a hit yesterday, 19 needs a good performance today.
SUBBAN ON MCDAVID'S PLAY IN THE THIRD
"From the bench, we were saying it happened so quickly you couldn't even tell that he went between his legs. For me, I think at this level what blows me away is players that can do these things at top speed. A lot of guys can do them, but at top speed in a game situation? No." Source
McDavid impressed the hell out of me yesterday. There was a lot of Oilers frustration, and the shots from the bench had 97 wondering, but his quiet demeanor serves him well in these kinds of games. He is a tough guy to read, doesn't give up at all, and even late in the third period he was pushing. In a game he didn't hit the scoresheet, he once again showed me something. A giant of the game is emerging in front of us, one frame at a time.