It is a delight to see greatness as it happens. Hockey has been around for over a century, but the chronicles may need a re-write to describe 97 in full flight with the puck on his stick. Connor McDavid is fire. What a tremendous game, bookend goals by the man who even Mr. Webster cannot describe. Oh my.
An understandably brusque Eichel asked about McD winner: "There's 8 guys on the ice. It's a team game." #Sabres #Oilers

— Mike Harrington (@BNHarrington) March 2, 2016
FIRE, YEAR OVER YEAR
Oilers in October 2014: 4-5-1
Oilers in October 2015: 4-8-0
Oilers in November 2014: 2-9-3
Oilers in November 2015: 4-7-2

Oilers in December 2014: 2-8-4
Oilers in December 2015: 7-6-1

Oilers in January 2015: 5-7-1
Oilers in January 2016: 4-5-2

Oilers in February 2015: 5-6-1
Oilers in February 2016: 4-8-2

Oilers in March 2015: 5-6-3
Oilers in March 2016: 1-0-0
Oilers after 65 in 2014-15: 18-36-11, 47 points (-69 GD)
Oilers after 65 in 2015-16: 24-34-7, 55 points (-35 GD)
The Oilers are craptastic on the road, but last night—and for all the nights since the horrible Ottawa loss—the Edmonton Oilers have long stretches where structure rules. The club also had a brilliant sequence at the end of the first period where they looked like a dominant six playing a weak, limp team. It was stunning to watch the Oilers do what other teams have been doing to them for the last decade. Music!
DEFENSE, 2016-17

Nurse—Clendening had a great possession game, a surprising result based on their own past (they saw the soft parade). Clendening has speed and quickness issues, he is starting to remind me of Gary Lariviere. He did get some power play time and looked just okay, to my eye. The Sabres allow lots of ice and Nurse wound up a few times to get thing going. The rookie had seven shots on goal, two high-danger scoring chances, proved he can wheel, and stood up for Leon when Evander Kane was punishing him. One of his best nights.
Sekera—Fayne sure look good to me. I am probably the only guy left carrying a Don Awrey hockey card, but Fayne can defend and that has value. Sekera skated miles, scored a goal (it was offside) and passed the puck with aplomb. He is a wicked smart player.
Davidson—Pardy had a reasonable night on what I saw as the second pairing. I like 88's game, full stop. Not only can he defend, his offensive instincts are impressive. He will never be an offensive defender, but I can see 25 points in a season for him. Pardy is a big fellow, had a few impressive hits, saved a goal early. He also fumbled a couple, but first night with a new team has to be driving blind. I liked his game.
Cam Talbot had the kevlar pads out early, but by the end of the first period pucks were sticking and he settled in to play a sound game. Ranks No. 25 in save percentage among NHL goalies with 25 or more starts, No. 30 overall at even strength. He had a terrible stretch earlier in the season, continues to recover the numbers and we will see where he finishes. Still plenty who do not believe in him, I am not one of those people.
CENTERS, LAST NIGHT

Mark Letestu and his line had a very physical evening and won the possession battle. He was 56 percent on the dot. I like things about his game, but his low-event offense is going to cost him on the depth chart next season.

Connor McDavid had a tremendous evening. Won the possession battle, had five shots, two goals and kept pushing. I thought he was very aware without the puck as well.
Leon Draisaitl and his line took on the top line (by my eye) and sawed them off. Eichel didn't win the battle with McDavid, but he helped Reinhart drive Leon's line crazy. Leon won more than his share of faceoffs, passed the puck very well, and, like his linemates, probably deserved better offensively.
Anton Lander and his line managed to (pretty much) saw off the other 4line, Anton had some interesting looks in the offensive end. He got one minute on the power play last night.
WINGERS, LAST NIGHT

Lauri Korpikoski had a tremendous possession night, posting 5-0 with Adam Cracknell and 3-0 in a minute with Connor McDavid. A good night for the Finn.
Jordan Eberle pulled the chute on the only goal against, a really poor play that showed that some of the rich and famous are also the flawed. He got an assist on the first goal, a filthy pass. Lots of negative about Eberle, folks you need these player-types.
Zack Kassian had some good defensive moments (rode an opponent out of the play on a play about as dangerous as the Eberle boner). He also had one or two reasonable chances, passed the puck well and was a generally effective dink.
Nail Yakupov had some looks, I liked his game with McDavid. On the first goal, he stood up and created some confusion, it was actually the genesis of the goal. He was on the ice for that splendid shift at the end of the first period, contributed to its dominance. He can play the game, despite the apparent gaps in predictability.
Iiro Pakarinen hits like a Mack truck, lordy. He is a strange player, in that the puck is never safe from his forechecking. If he was a little more skilled, he might have a very good future.
Matt Hendricks pursued the puck and slowed down the Sabres as he could, that is something Edmonton needs badly now that Pouliot is out.
Adam Cracknell had a reasonable debut. Got an assist (on the goal that didn't count), a shot on goal and three hits. Bruins fans would recognize him as a classic 4liner under the Chiarelli regime.
Taylor Hall had six shots on goal, some impressive opportunities but could not cash. The hockey Gods owe him a hot streak, this season may run out of track before they pay out, though.
INDIVIDUAL HIGH-DANGER SCORING CHANCES
Three: Connor McDavid
Two: Darnell Nurse, Jordan Eberle
One: Taylor Hall, Adam Cracknell, Matt Hendricks
PUCKS DEEP, HEAVY EARLY, LAY ON THE BODY, ZZZZZ
It is not pretty, but the Chiarelli fourth line has its uses. In 2010-11, Chiarelli's Bruins played Shawn Thornton 781 minutes at 5×5, and he went 10-9-19. Along with typical fourth liners (Greg Campbell, Daniel Paille), the line also saw Brad Marchand a lot and Tyler Seguin a little. I would never employ a line like this, and suspect McLellan won't play them much (that is my observation of McLellan so far), but I think a guy like Cracknell has a chance to be here next season.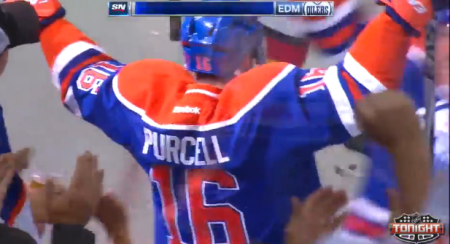 THE PURCELL-SCHULTZ TO LAK DEAL
Elliotte Friedman: Heard the Kings were disappointed the Ted Purcell/Justin Schultz deal fell through with Edmonton. Obviously, Oilers GM Peter Chiarelli thought he did better with the picks he received from Florida and Pittsburgh. Source
I am going to quote Mr. Friedman twice in this post, and am breaking my 'wait until next day' rule, so please click on the link and read the entire 30 Thoughts please and thanks. I think Schultz would have been far better off with LAK, and was intrigued by one of the potential players coming back from the coast (Nikolay Prokhorkin)—a big Russian winger with 20 goals (19 regular season, one so far in the playoffs. The second prospect (Jake Marchment) was a curio, and there were rumors a pick was also involved. One player I would have liked to see as an Oiler? Alexander Dergachyov.
YAK CITY
Elliotte Friedman: With Benoit Pouliot injured, Nail Yakupov moves back up the Oiler depth chart. This bears watching. There were rumours over the weekend Yakupov asked for a trade, but I don't think that's a fair picture. He's got zero complaints about living in Edmonton. And, from what I understand, there are no issues when he's with one of the team's high-end offensive centres. However, he was moved down recently and, if that's his future, it doesn't make sense to keep him. He's not suited for it. The Oilers may choose to trade him anyway. Source
I had not heard about the trade request, but Friedman's take seems fair. Nail, by all accounts, loves the city, but if Todd McLellan doesn't see him as an offensive option, then moving on makes sense. That jives with what Darren Dreger said yesterday. We are looking at the last chance Texaco, and if we are being honest, chances are the die is cast.
ANNOUNCEMENT: Beer League Hereos sign free agent bloggers @kosmicburrito, @hemmer91 and @OilersNerdAlert. #Oilers https://t.co/TWRvaTRAOp

— zach laing (@Loweded) March 2, 2016
I love seeing people find voices, and highly recommend checking out the quality of Oilers blogs. I will get around to more than just Cult of Hockey, Copper and Blue, The SuperFan and Because Oilers as we roll into spring, but wanted to congratulate our own G Money on the new gig.
WORLD CUP OF HOCKEY
Lauri Korpikoski has been named to Team Finland this morning, and the hits will likely keep on coming. Despite being one of the best wingers in the world, I am uncertain Taylor Hall will be named to the roster today. Hopeful, but these things are often disappointing. I will no doubt be cheering for the U23 group anyway, although Hall being named to the senior team would help set my cheering schedule.
Does Katz sale of Rexall mean #oilers can offer #stamkos $9 million per for 7 years? Or am I dreaming? Or just dumb? Both?

— Dave Mitchell (@mitchee69) March 2, 2016
Not dumb at all. If Steven Stamkos gets to free agency, Peter Chiarelli should be aggressive in his pursuit of the free agent. He is a perfect fit for this roster—experienced enough to serve as mentor to McDavid, and young enough to be around for the golden age. This is not at all insane to think about, but we should not count on it. Stamkos will have 30 teams interested and he hasn't yet reached free agency. We wait.
LOWDOWN WITH LOWETIDE
At 10 this morning, Lowdown hits the air on TSN1260. Scheduled to appear:
Bruce McCurdy, Cult of Hockey. McDavid is amazing. Bruce will find the words. We will also discuss Peter Chiarelli's trade record as Oilers GM.
Scott Cullen, TSN. World Cup rosters, trade deadline winners, can the Oilers pass some Canadian teams in the standings?
Some fluidity to the show, I am tracking some unusual stories (Tebow to CFL?, Where is Ethan Bear? World Cup) so will have guests based on the stories that break. 10-1260 text, @Lowetide on twitter. Today's word? McDavid.