The Edmonton Oilers are approaching the home stretch and have some good arrows in recent days. A solid road trip—interrupted by a schedule loss in Columbus—continues in Winnipeg tonight. The team is 2-1-0 since hitting the road, 3-2-1 since that ghastly Ottawa game, and tonight should be interesting.
NEW MOTHER NATURE, YEAR OVER YEAR
Oilers in October 2014: 4-5-1
Oilers in October 2015: 4-8-0
Oilers in November 2014: 2-9-3
Oilers in November 2015: 4-7-2

Oilers in December 2014: 2-8-4
Oilers in December 2015: 7-6-1

Oilers in January 2015: 5-7-1
Oilers in January 2016: 4-5-2

Oilers in February 2015: 5-6-1
Oilers in February 2016: 4-8-2

Oilers in March 2015: 5-6-3
Oilers in March 2016: 2-1-0
Oilers after 67 in 2014-15: 18-38-11, 47 points (-75 GD)
Oilers after 67 in 2015-16: 25-35-7, 57 points (-35 GD)
In G68 last year, the Oilers lost 6-4 to Pittsburgh and David Perron. The Goddamns are a positive over the season, but there are other things we should consider:
5×5 Corsi For Percentage is 49.0, last year it was 48.1
5×5 save percentage is .9157, last year it was .9019
5×5 goals for per 60 is 2.03, last year it was 1.93
5×5 goals against per 60 is 2.55, last year it was 2.91
I believe it important for this team to close well. Adding the Nuge and Klefbom should help, and getting the GD's under 30 would be something to talk about over summer.
OILERS DEFENSE, 2015-16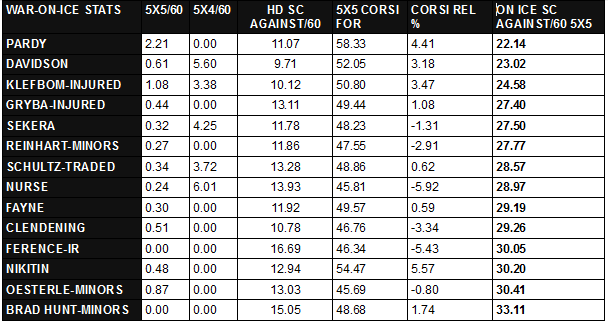 I would like to talk about next season if I may, beginning with the fact that 14 men have played defense this season—but only five have played more than 30 games. Klefbom's return should settle this group down quite a bit.
Using the list above, I would suggest that the Oilers are wise to place Andrej Sekera, Oscar Klefbom and Brandon Davidson as 'sure things' for next year. Two others, Mark Fayne and Darnell Nurse, may or may not be included. For our purposes this morning, I will include both men—the Oilers are going to run Nurse out next season, and trading Fayne probably costs another asset and that would be foolish. That means, before free agency, Edmonton's depth chart for next year might look like this:
Klefbom—Hamonic
Sekera—Fayne
Nurse—Davidson
As you read this, the chances of blurting out 'that isn't enough!' are very high and I get that. There are also those who will be fretting over the lefty-righty issue and I understand that too (my point has always been L-R is preferable, but if four of your best D are lefthanded then play them despite awkward). I think this offseason comes down to Peter Chiarelli deciding on Darnell Nurse and or Mark Fayne. If the Oilers decide to put Nurse (and Reinhart) in the AHL, then the entire process becomes much easier:
Klefbom—Hamonic
Sekera—Demers
Davidson—Fayne
I know there are many who don't like Fayne, but that is a solid spot for him. The problem? He costs a pretty penny for a third-pairing guy and I think Todd McLellan isn't his biggest fan. Let's try this with Darnell Nurse (and Reinhart) in the AHL, Fayne and a second-round pick for a third-round selection, and the trade that brings in Hamonic (plus signing Demers and Dan Boyle):
Klefbom—Hamonic
Sekera—Demers
Davidson—Dan Boyle
That is going to cost Peter Chiarelli a lot of assets (the Fayne trade would be pure silliness in my opinion) but those six men (plus an inexpensive 7th) give the Oilers a substantial crew in Bakersfield and a pretty mobile group—with experience—above board. I also think Brian Campbell could be someone Edmonton considers adding this summer.
CENTERS, 2015-16

LEFT WINGS, 2015-16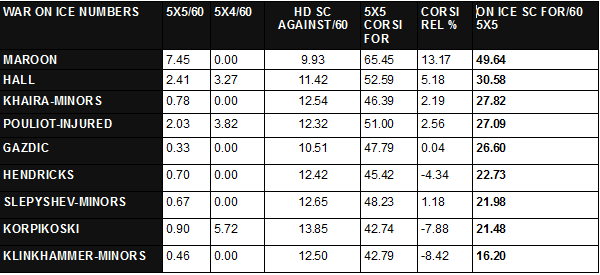 RIGHT WINGS, 2015-16

Peter Chiarelli has done quite a bit in-season to address the forwards, as the Bruinizing of the Oilers is now in full bloom. One area I hope he has taken an accurate view is center, where RNH's value has to be obvious in every step Leon Draisaitl takes without the veteran on the team. Edmonton's centers are here, now, even the ones Todd McLellan might like to replace.
The wingers are in motion, especially RWs. Adding Patrick Maroon to Taylor Hall and Benoit Pouliot may well be what we see next year (although I suspect management would deal off Pouliot—a mistake—if a market could be found and Milan Lucic comes available).
Right Wing has a likely trade piece (Jordan Eberle), a work in progress (Nail Yakupov) and Zack Kassian—who has earned a job for next season in my opinion. Assuming the Oilers deal Eberle in a Hamonic acquisition, and draft early, the top 12F's might look like this in the fall:
Pouliot—McDavid—Yakupov
Hall—Draisaitl—Patrik Laine
Maroon—Nuge—Kassian
Hendricks—Letestu—Slepsyshev
I have the Oilers buying out Lauri Korpikoski, although Mark Letestu may be the target instead. The team does have some inexpensive extras (Lander, Khaira) and of course have to get lucky and finish No. 2 in the draft lottery. I had hoped Slepyshev would emerge as a substantial scorer in the minors, but we did get a bit of a break with Yakupov's numbers (his 5×5 numbers are down after several months at sea with Letestu as his center). I don't know that the Oilers see Yakupov as a reasonable solution to the future at RW, but I hope they do. That $2.5M contract, along with keeping Griffin Reinhart in the minors all year, gives this team some real juice in the cap wars this summer.
POULIOT VS. LUCIC
Benoit Pouliot is a fine NHL player, making $4 million and is a free agent in 2019. Unlike Mark Fayne, who is a solid defenseman who lacks an offensive dimension, Pouliot has something resembling a complete skill set. He is a fine offensive player, he is physical and can also interrupt offensive sorties for the other team. In one of those inexplicable things in life, I don't think current management is terribly fond of him. None of this matters, Pouliot is a productive player who has chem with Connor McDavid. Pouliot will be here opening night 2016-17, unless.
Unless Milan Lucic reaches free agency. If the big man doesn't sign with LAK, and decides to pass over the Canucks (who may well be in full rebuild this summer), then my guess is we see a massive offer from the Chiarelli Oilers. I have guessed 6×6 but it could be higher.
I am not saying this to scare you, although many Oilers fans are not terribly thrilled with the idea. I am saying it because—in my opinion—this is as likely as Travis Hamonic coming here this summer. Which is to say, there is a good chance.
Milan Lucic—McDavid—Yakupov
Hall—Draisaitl—Patrik Laine
Maroon—Nuge—Kassian
Hendricks—Letestu—Slepsyshev
Klefbom—Hamonic
Sekera—Demers
Davidson—Fayne
Talbot—Brossoit