Sometimes the world begins to set you up on your feet again. The Edmonton Oilers, stuck in the middle of nowhere, threw the luckiest punch of this or any other century and landed The Future. There are no words, rhymes or chimes to truly describe it, beyond the universal line we all share in historic moments: "Where were you?" and that's about all there is to say about it. I was in my easy chair, stone cold shocked and spilling my wine. I'm still a little that way about it. It is a delight to see greatness emerge in real time. We should all enjoy this, and remember it. (Five Days In May)
CONNOR MCDAVID, 2015-16
5×5 points per 60: 2.69 (1st among regular forwards, No. 2 NHL)
5×4 points per 60: 6.68 (1st among regular forwards, No. 5 NHL)
Corsi for 5×5 %: 51.3 (3rd among regular forwards)
Qual Comp: 4th toughest competition among regulars (2line)
Qual Team: 9th best among regulars (3line)
Corsi for 5×5 % REL: 13.6(1st among regular forwards)
Shots on goal/percentage: 105 shots/15.2%
Boxcars: 45, 16-32-48
(All numbers via Stats.HockeyAnalysis.com and BehindtheNet.ca)
WAR-ON-ICE PLAYER CHART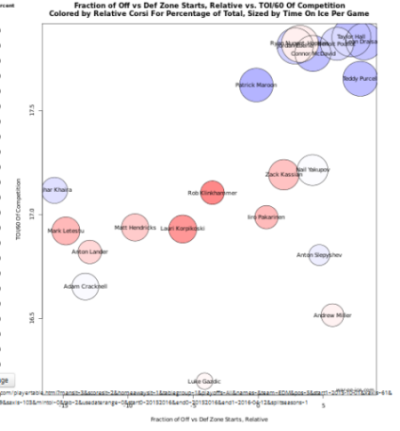 Connor McDavid as an NHL rookie delivered an impact season—when healthy—and there should no doubt in anyone's mind about his status as the league's top freshman. If he had been healthy for another 10 or 15 games, the Calder would be a lock. Even then, he might win it.
RE 15-16: 70GP, 23-39-62 .886
ACTUAL 15-16: 45GP, 16-32-48 1.07
He blew away your RE. McDavid has the kind of ability that is going to produce games with two or three points regularly. I think he will win more than one scoring championship and he could win one next season. He is so, so good. 

How many times did you see him live? Including pre-season? Probably 10. It wasn't enough.
Best memory? The game in Calgary early, the goal against Columbus, that touch pass to Pouliot against Montreal (I think it was Montreal) all rank. What a fantastic player.
Was he all you thought he would be? It sounds strange, but I think he is probably more than I thought he would be—especially the speed. It is shocking.
What do you hold in your mind's eye? I remember a scout saying something about when he was even with a defender (as in the defender had him marked) it was already over. Hearing it, and then seeing it—there is delight in that moment. McDavid does something no one else does, he performs this magic, where he can trick space and time and transport himself to a different place in a heartbeat. Except it isn't a magic trick, or Hollywood effect, it is a teenager touched by God. I can't really describe that feeling, the moment where five decades of watching hockey stands upright in your brain and says 'what the hell was that?!!' but that's McDavid. And he can do it on the next shift, and the delight is the same, or better. Connor McDavid games cause a stir that few other men have managed in my lifetime. He is appointment viewing, year one.
How long before this is his team? It is McDavid's team now.
No, I mean how long before they begin to build the team around McDavid? Today. Now. This instant.
Well, they aren't going to toy too much with the Hall cluster. Chiarelli would blow the Hall cluster in two if it meant winning the Stanley. The media avail made that much clear.
How? Peter Chiarelli on getting defensive help: "I am reasonably confident I'll be able to address it in a meaningful way, yes. If you asking whether in a trade or not, that's probably the most effective way." Source
You prick!!!! You are absolutely framing the issue!!!!! Read Jones article again. He says point blank he doesn't have to trade Hall, Nuge or Eberle. (article here). Sure, he says he can trade the pick. If he wins the lottery, that can work (trading down). My point is, at some point, Chiarelli may have to decide a trade is in order and it won't come from the McDavid cluster. Chiarelli must have a list on his white board of blue he wants (Karlsson, Subban, Pietrangelo, etc) and a mental list of players he is willing to trade if the return is there. We can argue about what player is going, but the ask is the key, and the players (Hall, Nuge, Eberle, Pouliot, etc) won't be in the McDavid cluster.
McDavid cluster? When did you start on this? Back last summer and fall.
By the way your RE SUCKS! AND you projected GOBS of offense! AND you promised us strumpets! You keep saying that, never promised strumpets. I pegged Edmonton's offense at 2.80/game, they finished 2.48/game. If you add in all the injuries—I would argue far more severe in total and quality than could have been anticipated—that isn't such a terrible total. I was off by 27 goals.
Okay, but you blew the GA! You always do! You're so BAD!!!!! I projected Edmonton's GA at 2.73/game. The team finished at 2.99/game. I was off by 21 goals.
You were off by 48 freaking goals! Stupid Stupid Stupid! Again, factoring in the injuries, et cetera, I am fine with the projection. Oilers had a terrible string of injuries to much of their best players. Hall was a stone alone. And Chiarelli kept his powder dry, not buying a blue nor adding one either. I thought he would, wrote about it last summer.
Yeah well. Who did McDavid play well with? Jordan Eberle had 1.32 goals per 60 minutes with McDavid, Maroon scored 1.79 goals per 60 minutes with 97. Everyone played well with McDavid, to be honest. Yakupov posted 3.51/points-per-60 with McDavid. Hey-Zeus.
What were some of CMD's really good numbers? He posted 34 EV points in 45 games, as a teenage rookie. He had 33 takeaways, that is a nice number based on GP, age and rookie status. McDavid is already ridiculous, but those takeaways often involve him skating over and taking the puck away with extreme ease. Has to be damned galling if you are the other guy.
Crazy fancy numbers? War-on-Ice has his Individual High-Danger Scoring chances at 64, No. 4 on the team despite the missed games. He had 17.25/60 On-Ice HDSC for, tremendous number. My favorite fancy is his 5×5/60 of 2.69, No. 2 in the entire league behind old man Jagr.
Who will he play with next fall? Among the current wingers, probably Maroon—Eberle and the left side is Hall and Pouliot. All three LWs will probably see time with him, and of course the right side is under construction.
He was terrible with Hall. No, McDavid went 2.41/points-per-60 5×5 with Hall. Not the best number, but certainly one that justifies further pairing.
Did Eberle save his Oilers career with his run alongside McDavid? Early days, but I get the sense (and this is just me talking) it might take more than 14 to get that defenseman Chiarelli wants. If so, then Eberle on RW is not a bad fall back position for this roster.
Any other names for RW with McDavid? A few, actually. Patrik Laine might be a perfect fit, if not this coming year then in the future. Quick release, he is a bigger man, et cetera. Gretzky did well with a Finn, maybe the Oilers are destined to get another HHOF Finn for their generational center.
Anyone else? There are a bunch of free agents who could be available this summer, and signing one shouldn't be difficult. The opportunity to play with CMD should be compelling. I will list Kyle Okposo, Troy Brouwer, Teddy Purcell, David Perron and Lee Stempniak. Long list here.
Who will they add to help the McDavid cluster? I think the top adds will be on defense, and those adds will be passing and carrying defenders. Names that have been mentioned include Sami Vatanen, Tyson Barrie, Travis Hamonic, Justin Faulk another others. Jason Demers will be a free agent in summer, and may be the most attractive because only money is required to get him here.
Will the Oilers draft and sign former Erie teammates? Great question. I doubt they get a chance to grab Alex DeBrincat in the draft—he will probably go in the first round, after Edmonton chooses and before their second-round pick arrives. Nick Betz is a free agent right now, I imagine the Oilers have interest in him (Chiarelli-type). Great name, if he ever becomes an Oiler, suspect we will hear some Baby Got Back remakes.
Why this song? So very many reasons. First, it is a brilliant love song, hard to do after so many hundreds of years of writing love songs. Second, there are myriad passages that can be applied to McDavid and the Oilers—'Sometimes the world begins to set you up on your feet again' and 'How will you ever know, the way that circumstances go, always going to hit you by surprise'. It also helps that the line 'you are the one' figures prominently. I always thought this song should have gotten more play, but the album it came from had about 10 great songs pushing. There are some fabulous live versions, but I chose the studio because of Cuddy's wonderful vocal and that tremendous piano.