Going through the Oilers back pages, Patrick Maroon's late season heroics are right up there with the best of them. He arrived at the deadline—actually after it, we thought Edmonton was done—and then went off down the stretch. In doing so, he established himself as a major portion of the future at forward. Question: Is anyone concerned about a little thing called sample size? No? If not, why not? (Rose Colored Glasses).
PATRICK MAROON 15-16
5×5 points per 60: 2.85 (No. 1 among forwards with 15+ games)
5×4 points per 60: 8.09 (No. 1 among forwards with 15+ games)
Corsi for 5×5 %: 52.3%
Qual Comp: 14th toughest competition among regulars (fourth line)*
Qual Team: 4th best teammates among regulars (second line)*
Corsi for 5×5 % REL: +5.3
Shots on goal/percentage: 39 shots/20.5%
Boxcars: 16GP, 8-6-14
*Includes his entire season.
WAR ON ICE PLAYER CHART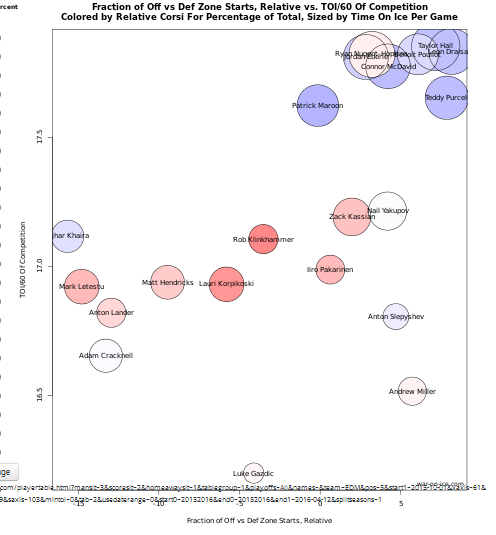 Patrick Maroon shows us with a gorgeous bubble but we can see he is playing in a very sweet spot. Ideally, he would be right back there (with McDavid and Eberle) next season. This is something to shoot for next season, but not expected—that would ignore a lot of information.
He will score 40 goals next season. That would be outstanding. I believe it is folly to expect it and do fear there are those who do.
Boy, you can't let people have fun can you? I think this is exactly the kind of thing that can lead to incredible disappointment. If you look at his season overall, that is a far better line in the sand for what should be expected.
What were his overall boxcars? Including both Oilers and Ducks, he went 72gp, 12-15-27.
What were his Anaheim boxcars? He went 56gp, 4-9-13.
He didn't play with Connor McDavid in Anaheim. There is every chance he will play with McDavid next season, but the team has other options. Slumps, injuries, these things happen. Assuming Maroon plays with McDavid then we can certainly expect a spike in offense, but 40 goals is not reasonable.
Why? Let me put it this way. I think 40 goals from McDavid's left winger is possible, but see no good reason to assume Maroon will play 82 games on 97's left wing.
Is this about your man Hall? No. As a matter of fact, I think Todd McLellan will roll those two on different lines for the most part—although that is an itch that will be scratched from time to time I am sure.
Is this about your man Benoit Pouliot? Yes, at least a little bit. He is a better overall player than Maroon.
Pouliot is old as the hills! He is less than two years older than Maroon.
Who performed better with McDavid? Maroon was 49.1 Corsi for 5×5 Percentage and went 4-3-7 in 133:57 with 97. That works out to 3.14 points-per-60 at 5×5.
Is that better than Pouliot? Pouliot was 53.6 Corsi for 5×5 Percentage and went 3-11-14 in 285:50 with McDavid. That works out to 2.94 points-per-60 at 5×5.
Who is better? They both did very well. I would prefer Pouliot because for me the idea of giving the more complete player to McDavid makes sense.
How did Hall do with McDavid? Hall was 56.6 Corsi for 5×5 Percentage with him but scored only one goal.
Small sample size? Yes, but it is also true the opposition can put out their best against both when the second line can't threaten. I think we will see it next season, the injury to McDavid cut off a lot of experimental time.
What is the best thing about him? Maroon is a value contract even at 30 points, he can cover his bet in terms of cap and what it took to get him. Peter Chiarelli took a lot of heat over his summer moves—with good reason—but this one, later in the year, when he had a chance to see the roster, worked very well.
Was this the best move by Chiarelli in season one? You could make that argument, I would point to the acquisition of Andrej Sekera as my top choice.
Is there a risk? Yes. If the Oilers bet heavily on Maroon, by trading Pouliot as a for instance, that could bite them in the ass and be considered an unforced error.
Why this song? I always found this to be a hopeful song, but the title fits this scenario. I think Maroon has a chance to be one of those very rare value deals that pays off in a big way and that fits the hopeful part of the song.