The Edmonton Oilers threadbare system got a boost when management signed Finnish winger Iiro Pakarinen. He passed a plethora of second rounders and hopefuls on his way to the NHL in 2014-15, and may have done it out of camp in 2015-16 without injury. Despite a delayed start to the year, Pakarinen was in the NHL by late October and hung around for 63 games. The coach likes him, the competition is not overwhelming, and the future looks pretty bright for Pakarinen. (After the Rain)
IIRO PAKARINEN 2015-16
5×5 points per 60: 1.16 (No. 9 among regular forwards)
5×4 points per 60: 5.86 (in 20 minutes)
Corsi for 5×5 %: 46.0%
Qual Comp: 8th toughest competition among regulars (third line)
Qual Team: 12th best teammates among regulars (fourth line)
Corsi for 5×5 % REL: -8.9%
Shots on goal/percentage: 76 shots/6.6%
Boxcars: 63GP, 5-8-13
WAR ON ICE PLAYER CHARTS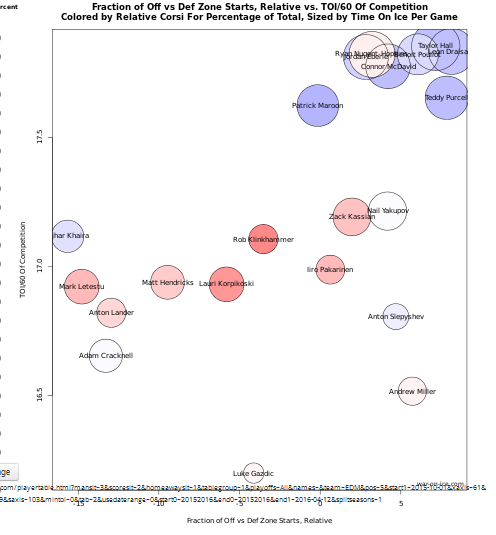 Pakarinen is in the middle of the chart, facing softer opponents and getting reasonable zone starts in the portions of his shifts that begin on faceoffs. Does he have a future?
IIRO PAKARINEN 2015-16 RE: 20GP, 3-4-7 .350
IIRO PAKARINEN ACTUAL 2015-16: 63GP, 5-8-13 .206
How did he win the job? Edmonton tried out a few things early, including Andrew Miller. Pakarinen's speed probably got him an early push and he played better than the other candidates. He did not have a tremendous amount of competition but did win the day, and there is value in that moving forward.
What do you like about him? I like his responsible play (not completely there but he appears coachable compared to these other lunkheads). He now has 80 NHL games, things are settling in and he's getting the feel of hickory wind.
Has he passed any veterans? I feel like he is slightly more responsible without the puck than Kassian and I am pretty sure Todd McLellan loves him—or likes him plenty.
His possession numbers don't shine. Well, there is a pretty good story here. Playing with Anton Lander, he is 50 percent in possession and has a 1.19 5×5 per-60 scoring rate with him. Lander was not exactly an offensive dynamo and the young Finn chimed three times when on the ice with him. If he had a more substantial center for a year? I think there is a spark.
Anyone else he played well or badly with? Oh yeah, you look at the numbers and there are interesting spikes. Pakarinen spent 194 minutes at 5×5 with Darnell Nurse and another 151 with Lauri Korpikoski. If you take him away from that part of the lineup, there is a 'you never can tell' upside in my opinion.
What is the best thing about him? After years of watching Oilers prospects from the farm step into their NHL debut like a deer in the headlights, Pakarinen last year hit the gap like a bat out of hell and hasn't looked back since. He's in a helluva hurry, that's a good thing.
What does he need to work on? Defensive play (this applies to all the kids), although his aggressiveness was useful in the McLellan system.
What one thing will keep him from have a productive NHL career? I'm not sure the young man can score enough to beat out the oncoming rush. He could have a significant 3line career if 15 goals were achievable each year—I just don't know if he can score 15 on a 3line. My guess would be unlikely.
What is his status? He is an RFA, kind of in a group with Zack Kassian and Tyler Pitlick. Guys looking for opportunities, but Peter Chiarelli could just sign a veteran free agent and flush the bunch of them.
Give me an example of why you like him? Here is a summary from one of his games:  Iiro Pakarinen had a helluva game, scoring one, assisting on another, hitting everything in sight and moving up and down the lineup like Casey Candaele in 1987. He was 8-2 with Letestu, 8-4 with Kassian, 3-6 with Lander, 3-2 with Hendricks, 0-1 with Hall, 1-4 with Eberle, 2-1 with Draisaitl, 2-0 with Purcell, 1-0 with Yakupov and 0-0 with Pouliot but did play 28 seconds with him (these are all evens Corsi events).
How does this play out over the summer? Pakarinen needs a contract, and is in competition with Kassian, Pitlick, maybe Klinkhammer (but not really).
And outside forces? Sure. If Peter Chiarelli keeps Eberle, moves Leon to RW full time and adds a veteran 3line winger (and he should be able to) with more offensive ability, then a player like Pakarinen could be left behind in a heartbeat.
Are there any depth wingers heading out? Hope so. I think Lauri Korpikoski is a buyout candidate and do wonder if the club will run Matt Hendricks another winter (although I like him fine). Nail Yakupov is in a tough spot, too.
Coach likes him? Oh yeah. McLellan: "We were all over the map trying to find players and trying to motivate guys, but Pak wasn't one of them. I put him right wing, left wing, power play, penalty kill. He was very effective." Source
Why this song? The character in the song ('if I were a train, I would never slow down') reminds me of him, and as always the general feel of the record is that things could go either way at any moment. Kids like Pakarinen could be here for 20 minutes or 10 years, that's just a fact. I have grown so tired of the 20 minutes prospects, perhaps one of them could hang around for a time. Maybe it is the Finn. Maybe it is after the rain.