I am reasonably certain people are getting ahead of themselves in regard to Patrick Maroon. He is 28, has 220 NHL games on his resume, and averages about 35 points per 82 NHL games. A late-season surge on Connor McDavid's line has many talking about Benoit Pouliot being yesterday's papers and Maroon a strong candidate to play on the top line. This blog sees it a little differently (Blue Collar)
PATRICK MAROON 15-16
5×5 points per 60: 2.85 (No. 1 among forwards with 15+ games)
5×4 points per 60: 8.09 (No. 1 among forwards with 15+ games)
Corsi for 5×5 %: 52.3%
Qual Comp: 14th toughest competition among regulars (fourth line)*
Qual Team: 4th best teammates among regulars (second line)*
Corsi for 5×5 % REL: +5.3
Shots on goal/percentage: 39 shots/20.5%
Boxcars: 16GP, 8-6-14
*Includes his entire season.
(All numbers via Stats.HockeyAnalysis.com and BehindtheNet.ca)
VOLLMAN SLEDGEHAMMER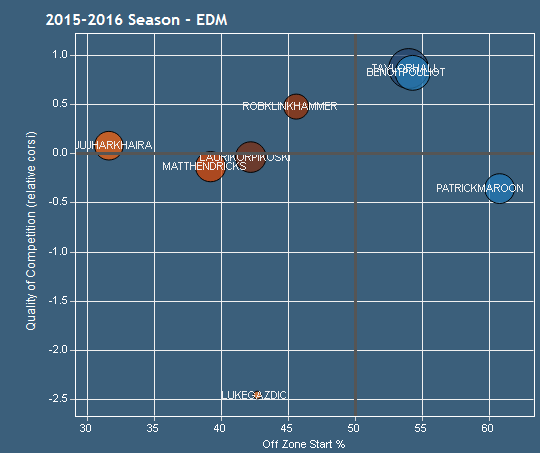 RE 16-17: 72GP, 12-15-27 .375
That is such a load of crap. I don't think Maroon gets the 1line job and am not certain he could hold the 2line position. I believe he will settle on on the 3line. That is the prediction here.
Whatever. 12 goals? He scored eight in 16 games a year ago! Sure. However, 16 games is not a massive sample size, and I do not believe Edmonton will have three scoring lines. He will get some chances on the power play, but from here he looks like the third best LW option.
What did he do in Anaheim a year ago? 56gp, 4-9-13.
What were his combined numbers? Including both Oilers and Ducks, he went 72gp, 12-15-27.
And that matches his RE? Yes. I think we will see some down times, as we did a year ago in Anaheim. Plus he will get a push as well, the numbers above reflect his overall season.
Clearly you hate him. Actually, I quite like him—that was a fine trade by Peter Chiarelli. I have Pouliot with 39 points, Maroon with 27. They could end up vice versa, but I do not think so.
Who performed better with McDavid? Maroon was 49.1 Corsi for 5×5 Percentage and went 4-3-7 in 133:57 with 97. That works out to 3.14 points-per-60 at 5×5.
And Poo? Pouliot was 53.6 Corsi for 5×5 Percentage and went 3-11-14 in 285:50 with McDavid. That works out to 2.94 points-per-60 at 5×5.
Who is better? They both did very well. I do not think it matters, because Milan Lucic is going to get those minutes all year long. The battle here is for 2L between Pouliot and Maroon.
Is there any way Maroon wins out? Two ways. First, the Oilers trade Pouliot. That could happen—Anaheim needs an LW and they have a bushel of blue—allowing Edmonton to add Brandon Pirri (as an example) and move Maroon up. Could happen.
And the other way? Pouliot gets hurt/slumps. I do not see it. I think Pouliot is well clear of Maroon, pretty sure.
How long have you been aware of Maroon? I wrote about him in 2012 and again in 2013, and have been monitoring his progress since then.
What do you like about him? Quoting the 2013 item: A big man like Maroon may lack footspeed, but he can take and make a pass, he has great hands in close and he's still working hard to establish himself in the NHL.
A flawed, useful player? Sure. Maroon has some nice things on his resume and can help the Oilers. I wish the team would pick these guys up every summer. Some work out and Maroon should be a value contract next season.
I want to get back to the RE. It is too low. Disagree. Edmonton does not have the personnel for three scoring lines, Maroon is (imo) outside the top 6F, and we are here.
What did Edmonton's third line LW do a year ago? Lauri Korpikoski had 22 points. Maroon, with 14 in 16 games, was the No. 4 scoring LW a year ago.
I think Maroon gets to 40 points. If he does, my guess is that Edmonton has traded Pouliot and the third line LW is someone in the 20-25 point range.
Why? The Oilers do not have enough for three successful scoring lines. I don't see it.
Because you are an imbecile! There was a time when the Oilers might have been trending toward three scoring lines—McDavid on one, Hall on another, perhaps a third one built around Leon facing softer opposition. Things have changed.
I really think you are missing out on the spike in offense coming. No, I have factored in the goalie equipment—in this model both goals for and against increase.
Does Edmonton net a positive in that area? No. I think the choice of backup hurts not helps the Oilers in goal differential. We are looking at an organization that does not have balance or depth in some very important positions.
What is the best thing about Maroon? He can move up and down the lineup as needed. That helps and gives Todd McLellan an edge when injuries or slumps hit.
Would you be shocked if McLellan runs Maroon on the 2line over Pouliot? Not at all. I would be shocked if Pouliot is unable to win the job back over time, though. Pouliot is the superior player.
Would you be shocked if Maroon scored 20 goals? I would be shocked if he does it from the 3line, yes. I hope he does but that is a major ask. I have posted two third line forwards so far, Puljujarvi (14 goals) and now Maroon (12 goals). Leon, who will spend time as 3C and 2R imo, is projected to score 15 goals. Folks, the offense on this team will come from the McDavid and Nuge lines. I do not see a reasonable argument to counter this statement.
Why this song? It is one of my favorites in the Randy Bachman 'Undun' series that began in the Guess Who. Wonderful record, so good I passed on the more appropriate Takin' Care of Business. Maroon is a blue collar warrior though, I love these player types who spend years and years playing at a high level before getting noticed. Maroon worked on his game, honed his skills and made himself an asset. There is much to be respected in this player.