This is a tough spot for Adam Larsson, and a tougher one for Peter Chiarelli. There are trades made that open up the floodgates—Butch Goring to the island, Frank Robinson to the Orioles—and there are trades that become legendary errors in judgement. The trial begins in October. (Lies) (Summer Wages)
ADAM LARSSON 2015-16
5×5 points per 60: 0.53
5×4 points per 60: nil
Qual Comp: Top opposition
Qual Team: Top support
Corsi for 5×5 %: 44.9
Corsi for 5×5 % REL: -3.5
Shots on goal/percentage: 65 shots/4.6 percent
Boxcars: 82GP, 3-15-18
Information via Stats.HockeyAnalysis.com, behindthenet.ca and hockey-reference.
VOLLMAN SLEDGHAMMER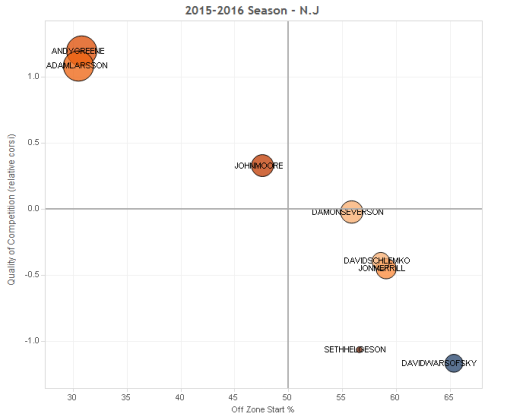 RE 16-17: 73GP, 4-16-20 .274
Let's start with the Vollman. Sure. Hell on earth.
Well, the qual comp is poor but zone starts tend to be overrated? Our friends WoodMoney are doing strong work on the qual comp and the zonestart info (also via WG) are devastating. Larsson had beyond difficult zone starts (20 percent in the O-zone) and played tough opposition. Watch this space and others as the summer rolls along.
Anything else? I reached out to Todd Cordell in the hours after the trade, and that conversation is here. Here is an example of what we discussed (question mine): Larsson plays the tough minutes based on the published numbers. Is he effective in that role? Yes absolutely. His numbers weren't very good in terms of CF% but that was as much a team issue as it was with him. Of the four Devils' blue liners to play more than 1,000 minutes at 5 v 5 last season none allowed fewer shot attempts against per 60 minutes than Larsson despite playing heavy defensive minutes against the league's top players. The Devils' shot suppression numbers are always good but his were the best of the bunch. That's impressive given he started 20% of his shifts in the offensive zone.
What does it all mean? He is the ultimate defensive defender, and he is very good at it. His offensive side may or may not be more substantial than what Devils fans have seen, but we should not expect a monster year from this player offensively.
Your RE projection is piddly. Well, I don't see him getting a ton of power-play time and do believe he will be top pairing with Oscar Klefbom. Tough minutes, second assists and hopefully some success. Larsson is not a sexy player, but he can be an effective one.
How are the Oilers playing this addition? Todd McLellan slow played it.

McLellan on Adam Larsson

: "We've got to take our time with him. I don't want to be bold and tell the fans and even his teammates that he's going to play in a situation or that situation. We've got to take some time with him and we've got to make him comfortable with what he does best, and that's playing regular minutes and penalty killing and playing a good defensive game." Source
Is that the wise way to bring him in? Oilers were clearly aware this trade was going to be unpopular, McLellan is getting out in front of the rage. That is my take.
How did Peter Chiarelli play it? Curiously.

Chiarelli

: "So generally speaking guys, you know what – it's a tough business. You make these decisions. Whatever you do, social media is going to criticize you. Whatever you do. It's like talk radio. It's a really public forum and you just (laughs) you don't look at it, basically."
Is that true? I don't think so, social and mainstream media have been generally positive. Of course, trading Hall for Larsson is going to create some ire. There is no mystery here. Overall, people have been as outraged as one would think, but that goes with the territory. I think he knew he was going to take a beating because he took a beating.
What does PC think he will do?

Chiarelli to Bob Stauffer

: "We've brought in Adam Larsson, a high pedigree player, although not as well known to this community as in other hockey circles. He's a right shot, that's important in the righty/lefty scheme of things. He can play an offensive role. No, he's not an offensive specialist. He can play on a power play. No, he's not a power play specialist." Source
Where do you think he will play? Top pair, with one of Oscar Klefbom or Andrej Sekera.
Do you like him as a player? Sure. I liked him in his draft year, had him No. 3 in 2011 (Oilers got three of my top 30 overall).
What is the best thing about Larsson? I am fond of his player type—shutdown defender who has a lot of his value tied up in the defensive side of the game. He has a nice range of skills, is young enough to grow with the group and hopefully has more offense than he showed in New Jersey. Good passer, that will be a key in Edmonton.
Do you believe Oilers fans will enjoy him? Not sure. He is a strong player and can win battles, and I do like his passing, overall play. That said, there is an increasing frustration from the fanbase in regard to defensive defenders. Example: Mark Fayne. Larsson is a superior defensive defender, but there are fans and observers who have staked out territory that has little room for this type of player. If Larsson scores 20 points (as I have projected)? I suspect the knives will be out. We will have to see how things go.
Any chance of power-play time? Maybe, but he is 274 games into his NHL career and his power-play totals are 0-4-4.
Huh? Yeah. Actually, his PK totals in those 274 games is 0-5-5!
Is he a league leader in anything? No. 27 in blocks, No. 45 in time-on-ice per game, No. 32 in EV TOI.
What about shorthanded TOI? He is No. 5 league wide among NHL blue in TOI on the PK. Edmonton badly needs the help 4×5, where the club allowed 46 PP goals. Oilers had 42 GF on the power play, so that is another area that could use improvement.
So, you dislike the trade, like the player, and believe it was a massive overpay? If Adam Larsson was a 40-point player with his other skills, I would have considered it a fairly even trade. As it is, the trade is done and there isn't really much left to say.
Do you like the blue now? Yes. I think they need a PP shot from the point, but that could be a forward. The addition of Larsson gives the team better balance—he was a nice addition. He is not a complete player, but does give the team a terrific lift. He can play 22 effective minutes a night as a shutdown defender, and replaces Mark Fayne in that role. Significant upgrade.
But people won't notice? I don't know. There was a time when that type of player had high value, but the game is changing. A lot of defense now is getting back to the puck before the opponent, making a quick effective pass and heading north. If you are defending in the modern NHL, you have already lost at least one battle.
So they acquired the wrong guy? Well, I would say they acquired a player who helps for sure, but didn't hire a complete player. Now, I am sure Chiarelli had his list, and tried to acquire names above Larsson, but eventually checked down to Larsson.
They needed a complete defender? Yes.
No chance Larsson is that player? He is 23, has played 274 NHL games and has four power-play assists. Fine player, helps at evens and on the penalty kill. He will help defensively, and I bet he helps the GA this coming season.
Why this song? A few reasons. It was in an episode of Six Feet Under, so that makes it musical royalty. I also like the line people say your dreams are the only thing that saves you, it fits Larsson because he is going to have a very difficult time in Edmonton (at least initially) covering the bet.
Why this other song? It is a bet, and there is real risk. Never hit 17.