I don't know what the hell they've got, but whatever it is, it's an awful lot. Brandon Davidson is too good to be true, and despite a slow development, he arrived just in time. He appears to be payment for all those second-round picks wasted on the way. (What the Hell I Got)
BRANDON DAVIDSON 15-16
5×5 points per 60: 0.54 (2nd among regular D)
5×4 points per 60: 5.41 (1st among D, two points in 22 minutes)
Corsi for 5×5 %: 52.0
Qual Comp: 4th toughest among D (second pairing)
Qual Team: 6th best available among D (third pairing)
Corsi for 5×5 % REL: 7.5
Shots on goal/percentage: 63 shots/6.3%
Boxcars: 51gp, 4-7-11 .216
Information via Stats.HockeyAnalysis.com, behindthenet.ca and hockey-reference.
VOLLMAN SLEDGEHAMMER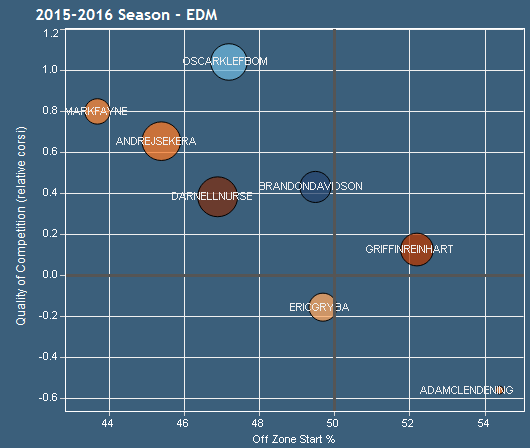 62GP, 5-10-15 .242
Wow. Yeah. What an emergence and what a great time for it.
No. I meant your RE. It blows. Well, it is a slight increase, I don't think he will get any more power-play time but his TOI should increase.
No power-play time? I think Sekera and a healthy Klefbom will get most of the time, with a forward also playing the point quite a bit. That is the guess, anyway.
He has a great shot. Two power-play goals in 22 power-play minutes, so he might get time. I don't think it is reasonable to project it, but did give him a spike offensively based on increased EV playing time.
The Vollman looks good! Yes. I think the Oilers could use him on second or third pairing, and BD on the RH side second pairing may end up being a better option than Mark Fayne.
Who did he play well with? Everyone. He spent 283 minutes at 5×5 with Eric Gryba (53.7), 102 minutes with Justin Schultz (50.8).
What makes him so good? Smart, skilled, better speed than many of us thought, plus he had time to put his game together in the minor leagues.
Maybe the Oilers should do that more often? Hahaahahahahahahaaaa.
Haaahahahahahahhaaha. Haahahahahahahahaaha.
Can Davidson play RH side? He did last season, and looked good doing it. I think we could see a third pairing that includes two lefties this fall and he would be a candidate. I think he might end up second pair—on merit.
What was the biggest obstacle he had to overcome? Skating. That's why we missed him, that's why the Oilers got him so late and why he was allowed to develop out of the spotlight.
How bad was his skating? Pre-draft report from scout Mike Remmerde: I usually like late bloomers who come out of nowhere, but this guy's skating bothers me too much. Has big trouble with pivots. But he's got really good hockey sense and is a very good puck mover. Probably goes way higher than I like, but if somehow he lasted until the 5th round, I might be interested.
Where did he go again? He went in the 6th round, No. 162 overall. He is the last remaining remnant from the Lubo trade.
Who was the last EDM 6th round pick to look this good? Anatoli Semenov in 1989 was a really good player, Steve Smith is easily the best player the Oilers ever took from the sixth round.
Do you think Chiarelli made the call on keeping him last fall? I think Davidson must have had an inside champion, probably for more than one year.
Inside champion? Yes. Someone in the room pushed to keep him, even to the point of keeping eight defenders. Whoever that inside champion is, Oilers fans owe him a thanks.
MacT? Don't know. I imagine it would have been someone involved in the minor league side, so maybe. Bob Green? Maybe. Bill Scott? No idea. Someone in there saved Brandon Davidson—or more accurately, saved the Oilers from losing a good young player.
Did the man who came to Davidson's aid survive the forensics? Heh. Suspect he did, although maybe it was Scott Howson.
What is Davidson? Well, he is kind of like Fernando Pisani, in that he developed in the minors and quickly emerged as a very useful NHL player. We have to see it for a longer period, but this fellow seems to be an extremely useful player.
Can the Oilers learn patience based on his rational development? Can the Oilers learn patience based on his rational development?
Point. Yeah. Well, I have real concerns about the development side, Edmonton has lost a lot of talent along the way (imo) because kids don't follow a rational line. Compare Anton Lander's development to Davidson—that gap is what Edmonton needs to close.
Will they expose him in the expansion draft? Not if Davidson repeats the season he delivered in 2015-16—he will be too famous. I have looked extensively at expansion drafts over many years, and if you approach it from the pov of your team it will not give you much perspective.
What do you mean? I know Oilers fans who are very worried about losing Laurent Brossoit. Las Vegas must select three goalies. It is extremely likely they will find three options who fit their needs better (say Andrew Hammond from Ottawa, Antti Niemi—in exchange for a handsome package from Dallas, Philipp Grubauer from Washington) than Brossoit. Now, Davidson? He would be an attractive player for Las Vegas, whether as a keeper or trade chip. When Vegas picks their goalies, they are extremely likely to draft actual NHL players, not prospects who are not yet established. LV needs plug and play from the expansion draft.
Should Oilers fans be worried about the expansion draft? No. They are not close to having the kind of depth a team requires to be genuinely worried about in this kind of draft. Edmonton's tenth best player will not be as good as Anaheim's, or Tampa Bay's. Edmonton should improve relative to the league because of the expansion draft.
Why this song? It was automatic once I decided on CanCon. It is one of the truly great songs in Canadian pop history, and the line 'don't know what the hell I got, whatever it is it's an awful lot' fits this player. I also want to publicly congratulate Pagliaro for writing a drinking love song with the line 'I'm going to lose control, from my liver to my very soul'—

that

is a man's love song, folks.