Iiro Pakarinen was signed as a free agent in June of 2014. His big break may have come the following summer, when Edmonton hired Todd McLellan as head coach. Although Pakarinen began the 2015-16 season in the minors, he made it to the NHL early enough to play in 63 games with the Oilers. Is he part of the future? (Home For a Rest)
IIRO PAKARINEN 2015-16
5×5 points per 60: 1.16 (No. 9 among regular forwards)
5×4 points per 60: 5.86 (in 20 minutes)
Corsi for 5×5 %: 46.0%
Qual Comp: 8th toughest competition among regulars (third line)
Qual Team: 12th best teammates among regulars (fourth line)
Corsi for 5×5 % REL: -8.9%
Shots on goal/percentage: 76 shots/6.6%
Boxcars: 63GP, 5-8-13
VOLLMAN SLEDGEHAMMER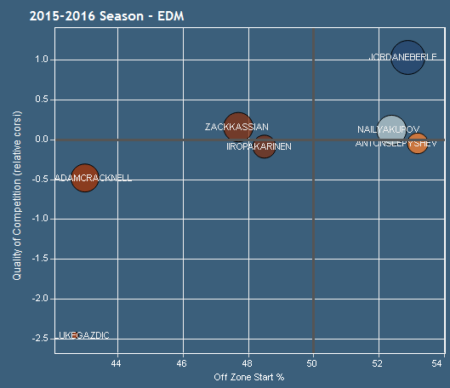 RE 16-17: 36GP, 2-2-4 .111
Ouch! Oilers have improved their roster depth since last fall. There are other players on the game board.
Why so few games projected for him? A year ago, Andrew Miller (6GP, 0-0-0) got a look but was unsatisfactory in the role. Pakarinen was injured out of camp, but when he showed well in Bakersfield he got a look. He won the job.
And then? He has good speed, has reasonable size (6.01, 215) and some skill. He played well enough to stay in the lineup most of the season.
Not a lot of skill, though.  Well, there is a pretty good story here. Playing with Anton Lander, he was 50 percent in possession and has a 1.19 5×5 per-60 scoring rate with him. Lander was not exactly an offensive dynamo and the young Finn chimed three times when on the ice with him. If he had a more substantial center for a year? Maybe. I think the addition of Jesse Puljujarvi may force him off the roster, eventually.
Will we see him in a feature role next season? My RE bet is no, but he has a puncher's chance to hang around all year.
Who is ahead of him? On RW (his best chance), I have Jordan Eberle, Leon (as required), Nail Yakupov, Jesse Puljujarvi, Zack Kassian.
Long list. Not really. He should make opening night roster based on what we know (he is probably 5R now, and that is if Puljujarvi makes the team).
Who is behind him? A-ha. That is where it gets interesting. Peter Chiarelli added Taylor Beck and Drake Caggiula, plus Tyler Pitlick returned and Anton Slepyshev won a RW job out of training camp a year ago.
Ten RWs will play this coming season? Potentially. Of course, it is cheating a little, as Leon is a center and Caggiula is listed as a LW. There are a lot of options and far less certainty than port side or center.
How many do you have playing more games than your Pakarinen RE? Eberle, Leon (also a C), Nail, Puljujarvi, Kassian.
What is the best thing about him? Pakarinen is very aggressive on a team that can be passive at times. I don't know if he can play NHL hockey successfully, but bet your bottom dollar his coach loves a lot of the aggression in his game.
Coach likes him? Oh yeah. McLellan: "We were all over the map trying to find players and trying to motivate guys, but Pak wasn't one of them. I put him right wing, left wing, power play, penalty kill. He was very effective." Source
What does he need to work on? Defensive play (this applies to all the kids).
Is he a kid? No, but he is a prospect—or more accurately, a recently-graduated one. Pakarinen has the coach's confidence—that is a big deal.
Is he talented enough? Difficult question. I think there are 50 AHL players who are as good as the bottom 50 players in the NHL. I think Puljujarvi is in that pool, a place where luck and coaching confidence are a big damned deal.
What one thing will keep him from have a productive NHL career? I'm not sure the young man can score enough to beat out the oncoming rush. He could have a significant 3line career if 15 goals were achievable each year—I just don't know if he can score 15 on a 3line. My guess would be unlikely.
You like him? Yes. I don't like him like vanilla ice cream or sex or CR or that feeling you get on the first truly chilly morning in fall, but I like him.
Good grief. Just stick to the facts. Give me an example of why you like him. Here is an LT summary from one of his games:  Iiro Pakarinen had a helluva game, scoring one, assisting on another, hitting everything in sight and moving up and down the lineup like Casey Candaele in 1987. He was (Corsi events) 8-2 with Letestu, 8-4 with Kassian, 3-6 with Lander, 3-2 with Hendricks, 0-1 with Hall, 1-4 with Eberle, 2-1 with Draisaitl, 2-0 with Purcell, 1-0 with Yakupov and 0-0 with Pouliot but did play 28 seconds with him (these are all evens Corsi events).
Wow. Impressive. Yes. And rare. That is our issue.
If you had to bet, will he make it? He has already made it. Scott Cullen's draft work tells us that Pakarinen had a 10 percent chance of playing in 100 NHL games based on his draft pedigree. He is at 80 games now, and should hit 100 during the 2016-17 season. He will be a made man by the time you go shopping for your Valentine.
How much does Kassian have to do with Pakarinen's future? Hmmm. Good question.
Do you have an answer? I think Peter Chiarelli teams have more Kassians and Todd McLellan teams have more Pakarinens. Kassian is a better Kassian than Pakarinen is a Pakarinen, so the edge goes to Kassian here.
Truly, you have a dizzying intellect. Wait till I get going!
Who is the closest comparable to Pakarinen in the system? Bah! Mahdoton! I will say this: Pakarinen has Tyler Pitlick's job. Bigly.
Why this song? I asked my brain to find the most Finnish song and this was what it said. Fun song, fun player. No matter how this turns out, it is already a great story.