The career of Zack Kassian has taken several twists and turns in the last year or so, and crossroads can have a major impact—one way or another. I will tell you the thought of Zack Kassian playing in an Oilers uniform took some getting used to, but if you believe in redemption then approaching his Oilers career with an open mind is a given. Zack Kassian has fashioned the beginning of a compelling story. (The Runner)
ZACK KASSIAN 2015-16
5×5 points per 60: 1.13 (No. 10 among regular forwards)
5×4 points per 60: 0.00 (no points in eight minutes)
Corsi for 5×5 %: 45.5
Qual Comp: No. 6 among regular forwards (2line)
Qual Team: No. 6 among regular forwards (2line)
Corsi for 5×5 % REL: -8.1
Shots on goal/percentage: 42/7.1
Boxcars: 36GP, 3-5-8 .222
VOLLMAN SLEDGEHAMMER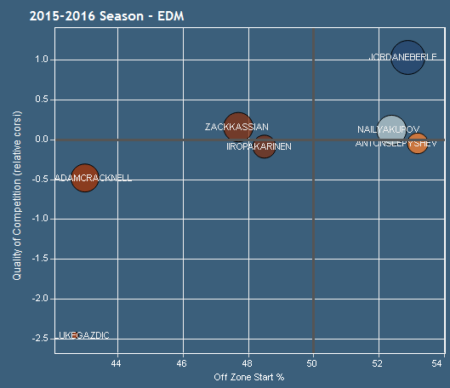 RE 16-17: 62GP, 7-7-14 .226
This seems low. It is about the same pace as a year ago, although I think Kassian will have a better season overall. I do not see him getting a big push on a skill line—thus the boxcars.
He started pretty well a year ago, right? Through the end of February, he was 18, 3-3-6. After that, Kassian finished 18gp, 0-2-2.
What kind of offense should we expect from him? If he was going to be a top 9F? In his last two seasons combined, Kassian is 78gp, 13-11-24. That would be a line in the sand that makes sense from here.
And you nicked him some because? I see Jordan Eberle, Nail Yakupov, Jesse Puljujarvi and Leon Draisaitl (who will play a lot of center, I assume) ahead of him, and do not see Kassian as a strong top 9F offensively. Could be wrong, but we are looking for reasonable.
He killed it with the Sedins, right? As a Canuck (overall), he played 338:29 with Henrik, 53.9 possession and a 5×5/60 of 1.60.
Killed it! Well, 1.60/60 would have ranked No. 2 among designated RWs on the Oilers a year ago (Eberle 1.85), so if he delivered that kind of offense (Kassian was 1.13) we might be having a different conversation.
So he could do it? If Todd McLellan placed Kassian on the McDavid line, there is little doubt in my mind his numbers would be substantially higher than a year ago. I do not think that is a reasonable projection.
What is his best number? His career 5×5 Corsi for is 50.3 and his 5×5/60 number is 1.56. If he can cobble that on the bottom 6F? Good job.
Is there any way he gets top 6F minutes? Sure. Edmonton has Eberle and then a trio of men (Leon, Yak, JP) with one question or another surrounding them.
But if Puljujarvi impresses? Well, maybe the rookie plays well at home (soft parade) but fades on the road. Kassian might be able to move up from the 4R spot in a case of that kind. Short term, probably, but there is fluidity in the roster, and if Kassian spikes, well, we will all learn to live with it.
So you don't mind him on the roster? No. I actually liked him quite a bit. Faded after 18 games, as the boxcars suggested, but he was innocent (with an explanation).
Is that a reference to Luba? Yes. I fear there are more incredible Cancons than I have room for this summer. I knew entering the process it would be tough to get everything in, but sadly it is impossible.
Will you have time for Snow White? Nope. Nor Rain-O either.
What did you like about Kassian? He can win battles and send passes that find their mark. Inside the opposition zone, that is a pretty big skill—and a remarkable one for those of us who remember the Lupul era.
Did you like him in 2009? Yes, although I was concerned Edmonton was going to take him too early.
Yeah, right. Where is this article? It is here.
What if he posts 40 points? Kassian's career high is 29 points, and he is 25. I think it is unlikely—short of 82 games with McDavid—that we see him score 40 points this year.
So, you see him as strictly depth? If Kassian is on the 2line, that means (to me) that both Nail Yakupov and Jesse Puljujarvi have either struggled or are injured—or that Eberle is hurt and one of those two is with McDavid on the 1line. That is reasonable in my opinion.
Is he a short-term option? He could be a long-term addition. Remember, Peter Chiarelli will need value contracts moving forward, and the RW will be expensive soon. Jordan Eberle will be a free agent in 2019 summer, and if Puljujarvi doesn't develop as a scorer PC may have to re-sign him. An inexpensive 35-point winger (if Kassian can fill that role) would not replace Eberle, but rather allow the team to make RW more cost effective.
Kassian would get a substantial raise after a 35-point season. Sure, that is true. That said, if you are going to have to pay him beyond a certain number, then the value is reduced heavily. Kassian's appeal to this roster comes in the combination of price versus actual value.
Could he be a value contract? This year. Yes. I think so, even with 14 points. He is a veteran and can move up the depth chart as required.
Is Pakarinen a threat to Kassian? Yes and no. Pakarinen has more speed and an equal amount of gumption, but Kassian brings a rugged style, a mean spirit and is no slouch with the puck on his stick.
Who wins the battle between the two for 4R? I have Kassian winning that contest handily. Doesn't mean a thing of course, and both men will play if Jesse Puljujarvi is not on the NHL roster.
Would you be shocked if he plays here for five years? Not at all. Kassian was acquired by Chiarelli (helluva trade) and is a good player. I find it somewhat hilarious that the fan base seems to be less offended by Kassian's penalties than Benoit Pouliot's—Pouliot being the far better player—but no reason to hold that against Kassian.
Why this song? Several reasons. First, the opening line applies to any player who has reached a crossroads:

Through the night, through the dawn

, Behind you another runner is born, don't look back you've been there. Someone is always coming up behind. Now, I don't view Pakarinen (who is a year younger) as a significant challenge—Kassian should be able to win that battle—but Anton Slepyshev may be one sooner than later.
Why this song? Ian Thomas is one of the true treasures of this country. Known by younger folks as the brother of Dave Thomas, he was a solo artist in his own right (Painted Ladies) and wrote a bunch of great songs other artists covered (Runner by Manfred Mann, Hold On by Santana, Right Before Your Eyes by America, Chains by Chicago). Like Eddie Schwartz and Christopher Ward, Thomas had a lot of influence beyond his solo career and crafted many of the songs of our youth. I can tell you this fan turned up the radio many times when an Ian Thomas song hit the airwaves. Underrated talent, and should not be forgotten.