There was a time when defensive defensemen roamed freely across North America. Valued for their selflessness, toughness and willingness to put themselves in harm's way, things like slow boots and passing inability were overlooked based on their courage alone. For today's defensive defensemen, life as they know it is over. (Lucretia MacEvil).
MARK FAYNE 15-16
5×5 points per 60: 0.36 (5th among regular D)
5×4 points per 60: nil (in two minutes)
Corsi for 5×5 %: 49.1
Qual Comp: toughest among regular D
Qual Team: 4th best available among regular D
Corsi for 5×5 % REL: -1.2
Shots on goal/percentage: 61 shots/3.3%
Boxcars: 69GP, 2-5-7
Information via Stats.HockeyAnalysis.com, behindthenet.ca and hockey-reference.
VOLLMAN SLEDGEHAMMER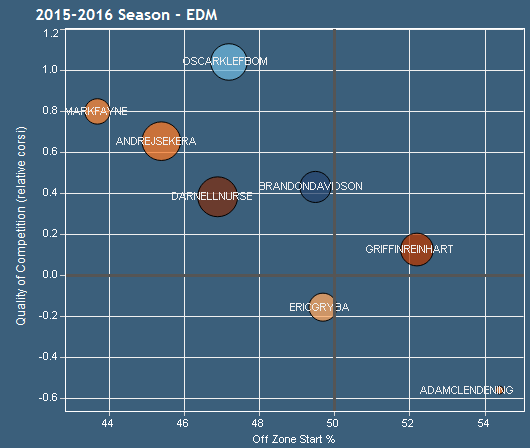 RE 16-17: 69GP, 1-4-5 .072
Not a chance Fayne plays 69 games. He is a pretty healthy and consistent blue.
Best thing about him? When placed with Andrej Sekera—and that was a tough minutes pairing to be sure—Fayne sawed off the opposition at basically 50 percent.
What is his most effective stat? Shift length.
Haha. Damn. That is funny. It's true. Fayne led the league in the category (tied with several).
Is that a thing? Well, I think you could say that Mark Fayne was rarely on the ice when he was tired. Might have missed out on a few offensive sorties, but the team probably benefited.
Would that have impacted his possession number? Maybe. It makes sense he would have missed out on a shot or two by heading to the bench for a timely change.
Is everyone around 40? Darnell Nurse led the team, 47 seconds on average.
So no big deal? I would argue that it is. Fresh troops and all that. Not in Corsi terms, but in terms of having the best and freshest on the ice. If Nurse averaged 25 shifts a night (he did) that is about three minutes a night where your rookie defenseman is burning daylight.
You will do anything to defend the stay-at-homes. You should hear me talk about the shut-ins.
What are his negatives? Fayne is not a puck moving defender and does not bring a lot of offense. He is not a grand option for an outlet pass. He does not have terrific speed.
Anything else? He seemed to have a communication breakdown with the coach last season, causing him to end up in the minors. After what looked like a power struggle—speculation, your honor!—Fayne appeared to challenge forwards at the blue line more often as the year went along.
He was cheating to get back on the dump in? I am not a defenseman, but that might be it. Fayne is a veteran and he probably knows how to cheat on the dump in better than a rookie. Suspect McLellan would notice. Now, this is me talking, mind. His demotion could have been over something unrelated.
What do you like about him? He knows his role and is a veteran. Fayne when he came over: "Andy (Greene) and I usually played against the other team's top line (in New Jersey) and they didn't expect too much from us offensively. Eating up minutes against the top guys. It's a definite challenge but it keeps you on your toes."
How much did he play at evens? Fayne was 15 minutes a night 5×5, behind (in order) Darnell Nurse, Andrej Sekera, Oscar Klefbom, Justin Schultz, Griffin Reinhart, Brandon Davidson, Eric Gryba.
He trailed the whole team? Or, maybe the whole team needs to change quicker. Based on the Vollman, I think we can be reasonably sure that Fayne played the toughest opposition among RH blue.
Will he do that again this year? Very unlikely. Adam Larsson should have that role.
Is Fayne a long-term solution for Edmonton? I don't think so, no.
Why? The Oilers will—and should—find a more mobile top 4D option on the right side, and if Fayne is third pairing he is overpaid.
Would another organization hire him? I think so, but Eric Gryba can play third pair for $2 million less so it wouldn't be the easiest sell.
Is Fayne better than Gryba? Oh lord yes. However, Fayne preventing goals on the third pairing is not as compelling as being on the top pair with Sekera. NHL teams like to spend markedly less on their support players.
Why this song? It is about evil, and Fayne's foe—the changing NHL game—is a pure demon. I think he is powerless to change what is about to happen to his career and his like—that means no future for the next Terry Harper or Bob Baun. Damn shame, I have always enjoyed this kind of player. It narrowly beat out this song by the way—I decided to run with the faster tune.
Who is the last Bob Baun? I will pick Dylan McIlrath but it might be another.
Name one thing that no longer exists that you miss? Hundreds. The Drive-in. Cuban lunch. The Oakland Seals. My youth!
Haha. Is this Fayne's last season in Edmonton? Don't know. He has a contract through 2017-18, so he will either be bought out or play somewhere.
Where would you play him next year? Second pairing, with Andrej Sekera. There is zero reason to move away from something that worked, and that tandem could be better than last year if Klefbom—Larsson can handle top pair. If they can't, McLellan can just move up the veteran duo. It makes sense on many levels.
Is Fayne the final D on the RE? Yes.
Can you publish the group's boxcars? Yes.