Connor McDavid, as a child, was touched by God—we are so lucky to have him playing in our town. Calgary weeps, and it is good. The Edmonton Oilers brought back the 80s last night and fans were treated to a wide open game. Folks, you aren't going to make the playoffs doing that every night—but it was a helluva debut for Rogers Place.
Todd McLellan: "He was Connor. He was our leader. He had fire in his eyes." 
THE DONNER PARTY, YEAR OVER YEAR
Oilers in October 2015: 4-8-0
Oilers in October 2016: 1-0-0

Edmonton wins its first home game in thrilling fashion, the hero scores twice—including a penalty shot—and the defensemen racked up points in a way I do not recall in recent Oilers history. The Corsi numbers are coming, via hockeystats.ca, and the spy vs. spy via NaturalStatTrick. Score effects were in play at times during this game.
DEFENSE, LAST NIGHT

Andrej Sekera was terrific to my eye, played a lot (20:43 total) and picked up an assist. The pairings got jumbled after the Davidson injury, but I liked Sekera's game very much. He faced Gaudreau the most (4:37) at 5×5, going 8-2 Corsi for, and that line was dominating other defensemen.
Brandon Davidson played well until an injury (looked like a slewfoot from young Tkachuk to my eye) forced him from the game. BD was solid until then, and was keeping partner Nurse hovering around the .500 mark (I believe Nurse was 9-11 with Davidson) to that point in the game. Faced Sam Bennett the most among forwards (2:54), going 4-4 in Corsi 5×5.
Kris Russell played 20:09, had two assists and finished +3. Blocked two shots, had a takeaway and played well in my opinion. He can scoot. Faced Kris Versteeg (5:36) and went 9-5, struggled against other (Bennett-Tkachuk) lines.
Adam Larsson was my defenseman of the game, despite the possession number above (remember the score effects). He was very physical, had an assist, was +2 but did have three giveaways again. I like him. He was 5-5 in 7:54 (!!!) against Johnny Gaudreau.
Darnell Nurse had a rough trip up the depth chart after the Davidson injury, but looked good until that point in the game (despite the late arrival on the first GA on a broken play). Had an assist on the empty netter. He was 5-8 in 4:42 against Sam Bennett, who had a very good game. He is not going to help this team at 5×5 if he is inside the top 4D.
Oscar Klefbom played 24:47, had an assist and two blocked shots. I love his game, not at all surprised he played just shy of 25 minutes. He was 3-8 against Versteeg (in 6:34), that line (with Monahan and Gaudreau) were a complete mitt full.
Davidson's injury is a problem, and likely means someone is coming in, wonder if it is Benning? Oilers need a PP option.
Cam Talbot posted a .963 even-strength save percentage and an .889 save percentage on the PK, both numbers look fine to me. I thought he played well, and will place the PP GA (both of them) squarely at the feet of the knuckleheads in front of him.
FORWARDS, LAST NIGHT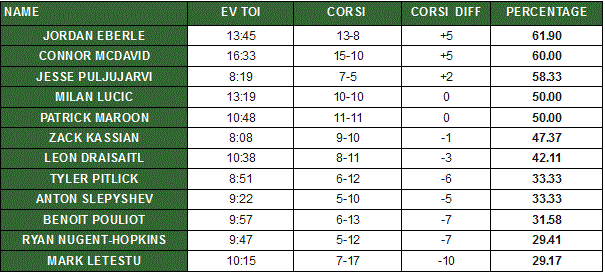 Jordan Eberle scored a goal (EN), had three shots and a lot of power-play time. He looked more engaged last night than in the preseason, fit the line better overall. Could have cashed at least one more goal on a nice play Lucic to McDavid to 14. 8:40 against Giordano, 11-4 Corsi for at 5×5.
Connor McDavid was fire. 2-1-3 boxcars, six shots, penalty shot, he was 47 percent on the dot. An amazing player, he drove the Flames crazy all night. 12-4 in 10 minutes against Giordano, and matched up well against the Monahan (12-7) when other lines were getting caved.
Jesse Puljujarvi! Scored his first NHL goal late, allowing fans to breathe a little. Very active, had a hit and a takeaway and two shots on goal. Disappeared a little during portions of the game, he is a teenager. Played 4:50 against Dougie Hamilton, going 6-2 5×5 Corsi.
Milan Lucic had two shots, six hits, multiple great passes and at least two good chances to score. I think this line is going to be effective (three goals tonight, although Lucic wasn't involved in any of the scoring) and the big man brings a nice set of skills. 8-4 in 6:40 against Giordano 5×5 Corsi.
Patrick Maroon continued his strong exhibition play with an excellent evening. Scored early, four shots on goal and played over 15 effective minutes. He was 6-5 in 5:04 against Dougie Hamilton, I felt he was one of the best forwards on the Oilers.
Zack Kassian scored a goal, had three hits and two takeaways—plus 1:29 on the PK. He looks faster this year, and he is just as rugged as in the past. He was 2-5 in 3:34 against Dennis Wideman, I thought he had a good night.
Leon Draisaitl impacted the game early on with a fabulous interception and then sent a shot that was tipped for the first goal of the game. Only 33 percent on the dot, he played over 16 minutes in the game, he was 5-5 in 5:10 at 5×5 against Dougie Hamilton.
Tyler Pitlick scored the most Pitlicky goal of his career, sending a nice shot to the back of the net before doing a Flying Wallenda into the end boards. Edmonton had a defenseman named Mathieu Roy at the turn of the century, his sorties often looked like those failed liftoffs from Cape Canaveral. Two shots on goal, I thought he performed well—he moved up to the struggling Nuge line at points in the game. 2-7 against Wideman in 4:19.
Anton Slepyshev was not effective on the 2line, losing that spot to Pitlick at times during the game. Had two shots on goal and three more attempted that did not get through. He was 1-6 in 4:58 against T.J. Brodie on the one line that needs help (Nuge) for Game 2.
Benoit Pouliot did not deliver his usual game, despite playing 16:42 overall. In terms of TOI at evens, his line was the de facto 3line last evening. 1-8 in 4:04 against T.J. Brodie, he needs to have more impact in the next game.
Ryan Nugent-Hopkins did some good things on special teams (he is Dave Keon on the PK), but not much happened at evens and he was 18 percent on the dot. He was 1-7 in 3:49 against T.J. Brodie, with 4-8 in 5:04 against Sam Bennett representing his low ebb at 5×5. Not good enough.
Mark Letestu played on a line that featured goals from both wingers, that might not happen again this season. He was 64 percent on the dot, but 1-6 in 4:39 against T.J. Brodie. He was 6-4 against Mikael Backlund in 4:28, caved against pretty much every line.
THE POWER PLAY
Milan Lucic spent 5:29 on the power play last night, despite not holding a strong resume in this area. Look, I am a Lucic fan, believe he can help this team and saw lots of good things from him last night at evens. He is new to the team and the power play is not good—did you see the goalmouth concerto in the moments before the GA?—it is time to change out some players. And maybe bring Matt Benning in as the RH shot.
LOWDOWN WITH LOWETIDE
At 10 this morning, TSN1260. Scheduled to appear:
Darcy McLeod, Because Oilers. McDavid is fire, Nuge runs cold, and the blue blue blue line of the Edmonton Oilers.
Tom Fath, FC Edmonton. Eddies are having a helluva season and we will talk about the playoffs, the long build to success and the excitement surrounding the team.
Paul Almedia, SSE. A look at Game 1 and what Edmonton has to do in order to tighten up the blue.
Jeff Veillette, Leafs Nation. Auston City Limits.
10-1260 text, @Lowetide on twitter. See you on the radio!