No matter how many times these two teams play each other, I will remember the great robbery by Curtis Joseph and the bullet train that was Todd Marchant. After what seemed like an eternity in the wilderness (in retrospect, it was nothing at all compared to the 2000s), the Edmonton Oilers were back and fan-freaking-tastic. Best.
BIRD ON THE WIRE, YEAR OVER YEAR
Oilers in October 2015: 4-8-0, goal differential -7
Oilers in October 2016: 7-2-0, goal differential +10
Oilers in November 2015: 4-7-2
Oilers in November 2016: 2-2-1 goal differential -3
Oilers after 14, 2015: 5-9-0, goal differential -6
Oilers after 14, 2016: 9-4-1, goal differential +7
Game 15 for the Oilers was a 4-2 loss to the Chicago Blackhawks, Jordan Eberle returning from injury and scoring his first of the year. I am not going to say this should be a win for Edmonton, because their history this century against the Stars must be considered a sober reminder not to enter the game with too much confidence in the result. So, you will not hear any kind of arrogance from this blog about that team. Plus Benn warmed up in Calgary last night.
TOP LINE

This is a nice card for the 1line, even considering Patrick Maroon arrived later. I wonder if Maroon gives the organization pause when considering the protected list. My LW protected list would include Milan Lucic and Benoit Pouliot, but I have a feeling Edmonton likes Maroon plenty. Jordan Eberle is finding the range and some of those scoring numbers jumped in a hurry.
This trio is 15-20-35 through 14 games. That would project to 88-117-205 for an entire season. My RE series had them (Lucic was on my 1line) at 82-127-209, so this line is in the range of expectation.
McDavid's RE (72gp, 33-54-87 1.21) is a close match for his current pace (14gp, 5-12-17 1.21).
NO. 2 LINE

This line needs a more dynamic RW and that may be Jesse Puljujarvi by the end of the season.
The Pouliot-Nuge numbers are solid, but the line needs to be more capable on the 5×5.
My RE suggested this line (I chose Puljujarvi as their winger) would produce 51-67-118 over an entire season. The current numbers for the line (using Kassian) are 7-8-15—projecting a final total of 41-47-88—off the pace and of course we can agree that the 5×5 number should be better.
I don't think this line has been a failure, and maybe the offense isn't there. If Nuge and Pouliot cannot create offense without Eberle, that is the next step for Todd McLellan.
I do think an established scoring RW on this line would turn things around handsomely.
NO. 3 LINE

This cannot stand, man. Leon and his mates have to beat up on the soft parade 5×5. Seriously. I love Leon and he had a dandy game against Detroit, but the line lacks offense and consistency. If Edmonton is going to push toward a playoff spot, the this line has to be better.
I had this trio (RE line was Maroon-Leon-Yak) going 38-53-91 this year. So far, the Lucic-Leon-JP trio are 9-11-20—projecting to 53-64-117. That is a little misleading, as Lucic spent some time up.
A lot of the offense from this trio so far is via the power play.
I like this line, even though they are not playing together at this time.
I am a little surprised at Leon's defensive zone starts, looks like he may already be helping with the lifting—and yes, that could be a reason for his lower 5×5/60.
NO. 4 LINE

The 5×5/60 numbers are fabulous and will not stay.
The shots fired number is pretty good for the wingers, possibly due to playing on other lines.
The Corsi is influenced by the zone starts, especially for Letestu.
My 4line RE (Lander-Letestu-Kassian) were expected to score 21-24-45. The current group (above) is 5-8-13, suggesting a full season total of 29-47-76. Don't even think about it.
DEFENSE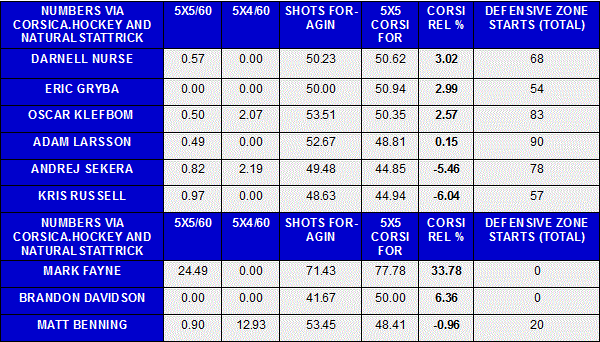 This team needs to fix the Sekera pairing, whether it be Kris Russell, Mark Fayne or a trade. I like Matt Benning, but he's just not ready. No sin there.
Klefbom—Larsson seem to be getting more Dzone starts than the others, makes sense but I think Oscar has some offense to share. Perhaps this is something that will change down the road, would be cool if Darnell Nurse could take those chores eventually.
The Sekera possession numbers are now fairly alarming, suspect the coach and general manager may be casting about looking for solutions. Will Chiarelli pull the trigger on a trade before the deadline? I think he might.
Stats.HockeyAnalysis.com has Klefbom—Larsson at 49.0 in Corsi for 5×5 percentage, Nurse—Gryba at 51.2 and Sekera—Russell is 45.6. One of these things is not like the other, one of these things just isn't the same.
IT GOES LIKE THIS, THE FOURTH, THE FIFTH, THE MINOR FALL, THE MAJOR LIFT
I'm no hero, learned about Leonard Cohen because a girl I liked talked about him all the time. WHY did this fellow have such appeal to the fairer sex? Well, the truth is Leonard Cohen's appeal was and is obvious to all who enter. There is something about an artist who can express universal feelings in a fresh and unique way that touches us all. Leonard Cohen was such a man. The passage above is not my favorite (Like a bird on the wire / Like a drunk in a midnight choir / I have tried in my way to be free) but it speaks to me, and his songs, with God and religion and sex and honesty in clever rhyme for the modern world, can only have come from him.
I mentioned last night that my first recollection of Cohen was CBC, where he would read poetry to a gathered crowd, cigarettes blazing, he the Jesus of Cool. There have been thousands of artists who have written the same themes, but somehow Cohen captured those feelings with more grace and beauty.
His gift of melody (Suzanne remains a favorite, subtle and powerful) and his turn of phrase were a deadly combination for the listener. He came from a place in our country so rich and diverse in music (Oscar Peterson, Kate & Anna McGarrigle, Michel Pagliaro) it would take a lifetime to enjoy it all.
If you are a younger person, I guarantee at least one Cohen song is known to you without your knowledge. Long ago I decided there would always be two favorites (for me) for each of his songs: a cover and the original. The original just left town, and we are less and we are blessed to have his music still with us. Leonard Cohen chronicled his time, in music and rhyme. He was an original.
LEST WE FORGET
The memories my father chose to share with me about the war were purely anecdotal, but I do know it took things from him—most of his hearing, a brother—and he never shared the tough stuff. I know Germany is breathtakingly beautiful, that his trip to New York was maybe the best detour he ever took and that he regretted trading his binoculars for a 303 British rifle (the Brit soldier begged him, and so he made the trade).
The men and women who protected us—then and now—are vital to our way of life but rarely recognized for it. My neighbors are military, and they never talk about it (guess that hasn't changed), but today I will extend my hand and thank them for their service, as it is (as always) long overdue. I will also remember my father and his generation and the generation before him. Recent world events remind us of the power and iron in the words lest we forget. Godspeed to the women and men in our military, you are the best of us.
LOWDOWN WITH LOWETIDE
At 10 this morning, TSN 1260. We will pay our respects to our military and those who were lost at 11, and we have a full boat of guests:
Steve Lansky, BigMouthSports. Talking Canadian teams who will be in a playoff spot for American thanksgiving, and the Jays.
Guy Flaming, Pipeline Show. He called the Canada-Russia game at Rogers Place, and Tyler Benson had a good game. We will chat.
Matt Iwanyk, TSN1260. Why are Oilers fans hesitant to embrace the winning? Plus a call on the Eastern semi this weekend.
Ryan Holt, Bakersfield Condors broadcaster/PR. We will talk about the Condors start, impact of the injuries at the NHL level, and who is looking good?
10-1260 text, @Lowetide on twitter. Friday!