The Edmonton Oilers hit the ice at Rogers Place tonight staring at the possibility of a three-game losing streak—and facing a formidable foe. The NY Rangers are fast, strong, big and deep—and the goaltending is a giant wall. With a trip to California and Texas ahead, an extended losing streak is possible, giving this version of the Oilers their first real test of the season. I don't think the town team wins tonight, unless The Gift goes off in a big way.
NEW YORK, NEW YORK, YEAR OVER YEAR
Oilers in October 2015: 4-8-0, goal differential -7
Oilers in October 2016: 7-2-0, goal differential +10
Oilers in November 2015: 4-7-2
Oilers in November 2016: 2-3-1 goal differential -4
Oilers after 15, 2015: 5-10-0, goal differential -8
Oilers after 15, 2016: 9-5-1, goal differential +6
A year ago G16, Edmonton won 4-3 in OT over the Anaheim Ducks on a Teddy Purcell goal. The Nuge had a good game and Horcoff scored on us. Tonight, the slow players on the home side are going to have to cheat for defense and odd-man rushes for the blueshirts may be the new normal. They are fast, Edmonton is not as fast across the roster.
DEFENSE, 2016-17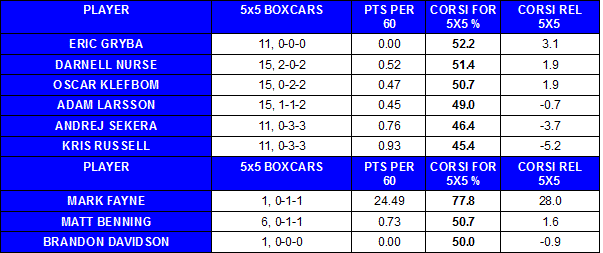 This is courtesy Stats.HockeyAnalysis.com.
I am a CorsiRel man, and using that metric the first and third pairings are doing good work, while Sekera's number is slowly improving without Kris Russell. Sekera is now at 47.9 without Russell, but is also only 43.7 with rookie Benning—that is in very little ice time. I do think the club needs to find him a better partner.
The Edmonton Oilers – just your average NHL hockey team. pic.twitter.com/CltToSzFw4

— Sean Tierney (@ChartingHockey) November 12, 2016
I RTd this on twitter yesterday and got all kinds of reactions, but this is a very good graph for the Oilers. The PDO is now in a normal range, meaning luck is no longer a major story. Possession is solid, scoring is reflective of a contending team, the overall looks average or a hair better. This team could contend for a playoff spot—and for Oilers fans that is a positive, that is progress.
FORWARDS, 2016-17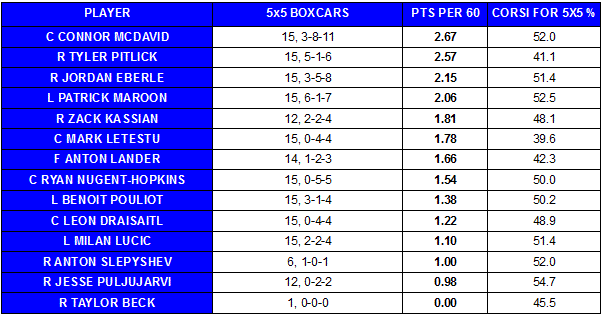 A quality player should bring a Corsi for 5×5 of 50 percent or better and a 5×5/60 of 2.00 or better.
Maroon—McDavid—Eberle is running fine, these are good numbers across the board. One of the things I am hearing from people is that the boxcars should be better for this trio—but if you take the time to look there is so much good here. There are 12 EV goals on the line in 15 games, this is a terrific total for the line.
I worry for Oilers fans now, because many are focused on the wrong things. Experience tells us luck has a profound impact on things, and that blaming this player or that while not identifying all sorties gives one a skewed view of the world. Famous sports decisions that have developed from this kind of thinking are 'We only won 78 games with Gary Carter, he must be the problem' and 'that blasted Miro Satan refuses to back check' in our own time. Folks, please don't focus on things that are important and mistake them for the whole truth, the absolute truth. It's possible to have good numbers and get noticed for negative things—single moments and events can have super importance while being exactly single moments and events.
Lander—Letestu—Pitlick are not a strong possession unit but the group has been extremely effective offensively—and shown an ability to move up and down the lineup. I seriously wonder how Matt Hendricks slides in here, possibly replacing Anton Lander but that may not improve the club.
Pouliot—Nuge—Kassian have been shy offensively but solid in possession. I am of a mind to let this group figure it out (Poo and Nuge have had success) but a trade PC could make today in an effort to improve the team is a fast, veteran RW with hands. The return of Kassian may mean a boost for this group, they had nice chem when he was hurt.
Lucic—Draisaitl—Puljujarvi  cannot piss a drop at 5×5 and I am officially concerned with this line. Leon and Lucic are 45.9 in possession, Leon has four assists in about 200 EV minutes, which is putrid—although LD does have two assists in about 60 minutes with Lucic. With the addition of Kassian, I think JP slides in here tonight and this line needs to score about three goals. We have to remember these are still early days, but for me there is enough track to worry about a talented line that cannot get things going.
WHO IS LEAVING HOME?
It is miles too early and I doubt the expansion rules are finalized (seriously) but there is a little window of opportunity here to have a chat. I have a few hockey people who will give me answers in exchange for anonymity, and have found their answers on expansion questions to be eye popping.
Here is my protected list:
Goal—Cam Talbot [Nick Ellis]
Defense—Oscar Klefbom, Andrej Sekera [Darnell Nurse]
Defense—Adam Larsson, [Matt Benning]
Center—[Connor McDavid], Ryan Nugent-Hopkins, Leon Draisaitl
Left Wing—Milan Lucic, Patrick Maroon, Benoit Pouliot, [Drake Caggiula]
Right Wing—Jordan Eberle, [Jesse Puljujarvi], Tyler Pitlick [Anton Slepyshev]
Now, I have exposed Brandon Davidson, and that is a real issue. Peter Chiarelli might try to make some kind of deal with Las Vegas, and based on conversations I have had, Griffin Reinhart might be the player chosen no matter Davidson's availability (GRs back injury may impact that decision). If we add the players who do not need to be protected (in brackets above), this could be the best route for the Oilers. Agree? Or do you protect Davidson and expose Benoit Pouliot, et cetera?
BLAME
I want to talk to you about blame. There is a blame game that follows almost all Oilers losses these days, fans choose one player out of the group and pick him apart for sins real and imagined. As much as single events do impact every game, I encourage you to look at the wider part of the game, and understand that luck can impact a single moment or period  (or game). It is important to understand that every player fails, every player has a bad moment, but just like you at your job the overall quality of work is the more important factor.
I am genuinely concerned you are counting errors, laying blame, and missing the point. If you are after Jordan Eberle today like a dog with a bone, I beg you to reconsider. You are missing the big picture and you are focusing on things that are going to occur until the end of time—while assuming your team's players are the only ones that make these mistakes, and then only on goals against. That is a narrow view, actually it is so narrow it misses the point.
How foolish will you look a month from now when you are counting errors and shaking your fist at Nuge or Pouliot or Patrick Maroon? Please, I beg of you, take a more mature view of the game and give the rest of us a break. Jordan Eberle does not deserve your vitriol because of your view of a single GA. If you took even a few minutes to examine what he brings, and the real value, the conversation would have a completely different tone.
If you are counting errors strictly on goals against, and forming opinions based on that, you are doing it wrong. Seriously.