Settle down, we are just talking here. With the Top 20 wrapped, it is time to move on to the 2017 entry draft—something we will do beginning in January. I wanted to spend a few minutes here talking about what a different kind of draft we may be heading for in 2017. First, the actual spot in the order where these picks will be taken. As it stands now, Edmonton is going to be waiting a long damned time to select—Friday night and Saturday morning.
OILERS PROJECTED 2017 DRAFT SPOTS (PENDING EVERYTHING)
First Round: No. 21 overall
Second Round:

No. 52 overall

(TO BOSTON—this is payment for Peter Chiarelli)
Third Round: No. 82 overall (FROM ST. LOUIS—this is payment for Nail Yakupov)
Third Round: No. 83 overall
Fourth Round: No. 114 overall
Fifth Round: No. 141 overall (FROM Vancouver—this is payment for Phil Larsen)
Fifth Round: No. 145 overall
Sixth Round: No. 176 overall
Seventh Round: No. 207 overall
I believe that is correct as of this evening. Edmonton will (pending everything) make eight selections, including three inside the top 90 overall. I believe Peter Chiarelli may be tempted to trade that first-round selection, but the lack of a second rounder hurts—and the UFA group is unlikely to fetch such a prize at the deadline market.
We talked about specific areas of need in the system (LW, RW, G, RHD) and areas of strength (C if you include the young NHLers, Leftorium) in the Top 20. In the coming weeks, we will drill down on the 2017 draft. The experts I have spoken to about it (Corey Pronman, Steve Kournianos, Kirk Luedeke, Guy Flaming, Brock Otten) have given me the general impression that this is a pretty good draft—without the impact players at the top end. For Edmonton, that could be less important this year than in past seasons.
That's about all I have to say, beyond providing you with a quick look at what I am working on. By early January, I will post the first round run through the Christian Roatis system (I have used for some time now). It is a moving target of course, and I have to figure out if someone named Elias Pettersson is really the impact player his Allsvenskan numbers are implying (I have him No. 16 with an asterisk):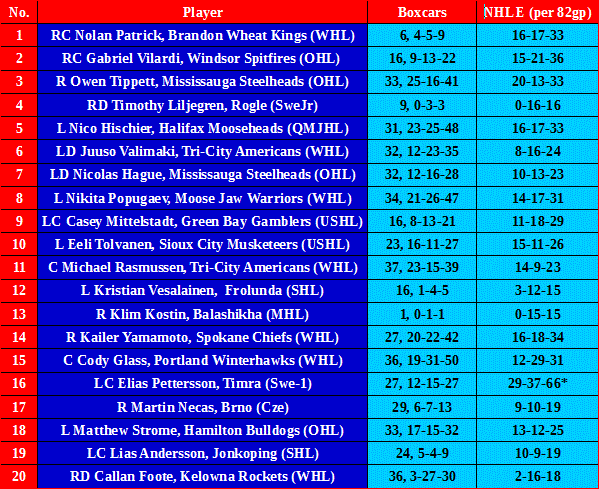 If that NHLE is real, Pettersson will rank way higher when we get rolling in January. Santa is already flying, and we should be too! All the best to you and your family, enjoy the evening and we will chat tomorrow.