Finding out about a draft class is a little like climbing Johnston Canyon. Have you ever been? You can do it with the whole family, and it isn't like you need specialized equipment or there is a high degree of danger. You do have to commit to it, however, because it is going to take all day. Such is the case with the annual entry draft.
We don't have to scout these players, or really see them (in fact, many players will not be seen by most NHL fans by their draft day), but stats, NHLE and a thumbnail sketch will give us some idea about who might end up in our town. Are you ready? Pack a lunch, this will take all day.
This list likes offense.
This list also likes prospects who can make the NHL in more than one way.
This list punishes lack of speed.
This list fades defensemen and goalies.
THE OILERS IN THE 2017 DRAFT
First Round: No. 23 overall
Third Round: No. 80 overall (FROM ST. LOUIS—this is payment for Nail Yakupov)
Third Round: No. 85 overall
Fourth Round: No. 116 overall
Fifth Round: No. 133 overall (FROM Vancouver—this is payment for Phil Larsen)
Fifth Round: No. 147 overall
Sixth Round: No. 178 overall
Seventh Round: No. 209 overall
This is based on current standings, and of course can change a lot between now and April. I expect Peter Chiarelli will try to add a second round selection, there is still much work to be done in the amateur procurement department. Let's go.
THE FIRST ROUND, 2017—NO. 1 THROUGH NO. 5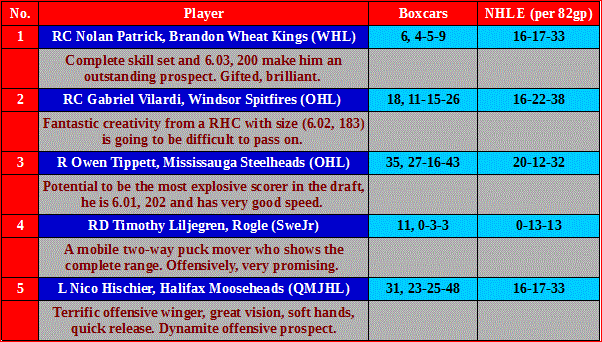 As is always the case with my list, offense and forwards are given a push. I have Nolan Patrick No. 1, but his injury means his handle on the top spot is not solid and we could see a lot of change between now and June.
The top NHLEs this year are mid-to-late 30s, and that is the first indication we are not dealing with a Connor McDavid (NHLE: 67) or Auston Matthews (NHLE: 42) this time.
Gabriel Vilardi may be the best player in this year's draft. I have him at No. 2, but his size, skills and range of abilities are compelling.
Owen Tippett appears to be the best sniper in this year's draft, and an NHLE that produces the expectation of a 20-goal NHL season is fairly rare. Added to his playing in the world's best junior league and we have a race to the top in this year's draft.
I have Timothy Liljegren No. 4, but that doesn't mean he will be drafted that late. You may recall I had Aaron Ekblad at No. 4 in his draft year and the big defender was chosen first overall.
Nico Hischier is drawing a lot of attention at the WJs, but his ranking at No. 5 is on merit. I don't give any extra value for short tournaments. Impressive performance at the WJs, though.
THE FIRST ROUND, 2017—NO. 6 THROUGH NO. 10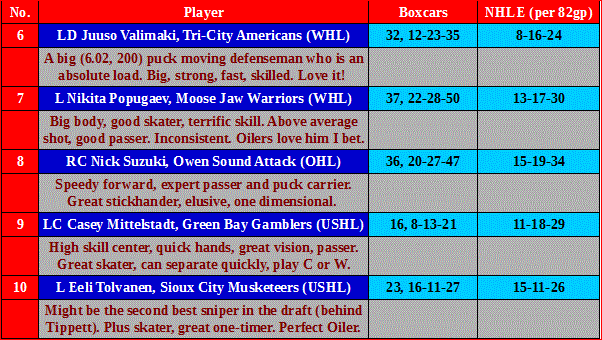 I think Juuso Vilimaki could easily end up inside the top five overall based on his impressive skills. I love his scouting report and watching him play. No one I have seen has him this high, although Steve Kournianos has him No. 8 in his latest list.
Nikita Popugaev ranks next, I have him there because he is fast, big, skilled and a hockey player. He is 6.06, fast and shoots right. Lots to like here.
Nick Suzuki is my No. 8 player so far this season, no one has him close to this number on rankings I have seen. His offense is just too much, and he is fast and smart. I get that you want size in the lineup, and players with dimension, but this fellow has all kinds of offense.
Casey Mittelstadt has a lot of people raving about him, and skilled 6.01, 201 centers don't last a long time in the draft. Curious about his choice to leave the USHL and go back to high school hockey, that may impact his draft number. The USHL stats suggest he belongs in this range.
Eeli Tolvanen is the strongest competition for Tippett for best pure scorer in the draft, and he has been posting strong numbers since he was 14. He could go much higher than this, but his scoring numbers have him here.
THE FIRST ROUND, 2017—NO. 11 THROUGH NO. 15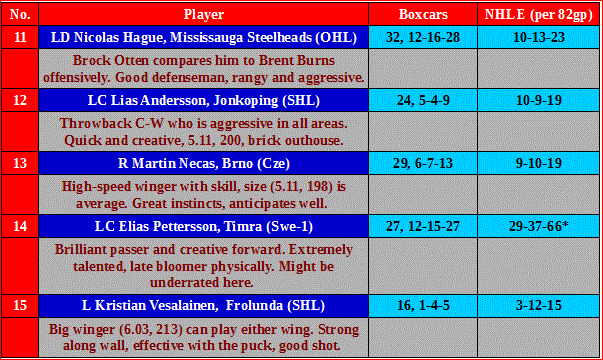 All five men listed 11-15 could easily land in my final top 10.
Nicholas Hague is a bull in a china shop, a team like Edmonton would certainly be interested if he dropped (but he will not drop).
Lias Andersson is a player I like because of his range of skills. The bet in having him here is that the offense is substantial enough to use a pick on him inside the top dozen overall.
Martin Necas is a difficult player to mark because of his presence in a pro league. We know he likely gets less playing time, so how do we estimate his offense? Pure skill player.
Elias Pettersson has me flummoxed. Running his Swedish numbers through the Roatis (which is fueled by the Vollman) we arrive at Connor McDavid's NHLE. Now, I am unstupid, so know that isn't realistic. That said, what is reasonable for this player? I chickened out and put him in a range with other rankings. I can say with authority that he is one of the top 100 players in the draft, but after that? We will work it out.
Kristian Vesalainen gets punished on my list because of the offense, but again we have troubles with estimating playing time. Pronman loves him, and I trust him with these things. Could be low with current ranking.
I don't think any of the 15 names listed will be available when Edmonton drafts (should they pick in the 20s) save for Pettersson who is a wild card. Starting now, we can begin to discuss prospects as possible Oilers.
THE FIRST ROUND, 2017—NO. 16 THROUGH NO. 20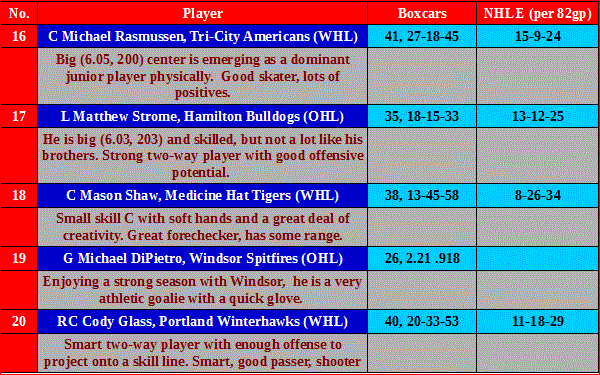 Michael Rasmussen is ranked very high on some lists, I like him fine but the offense isn't certain to get him an NHL skill job (should he continue to progress). I expect he is a safe pick.
Matthew Strome does not appear to be obviously similar to his brothers, but does have some range of skills. I don't think the offensive potential is there compared to Ryan and Dylan Strome, so he is here.
Mason Shaw should be higher based on the math, I am uncertain enough about his speed to keep him here. His scouting report is glowing about puck skills and suggests some range.
Michael DePietro is one of two goalies on my current top 30, he is first because of the league he plays in and the scouting report. Appears to be a throwback athletic goalie, my bet here is that scouts will be looking for better athletes at this position beginning in the 2016 draft.
Cody Glass rounds out the top 20, he ranks ahead of a few players with more skill due to his range and height (6.02, although only 170). Projectable body, improved year over year by plenty, there are a few good arrows for Glass.
THE FIRST ROUND, 2017—NO. 21 THROUGH NO. 25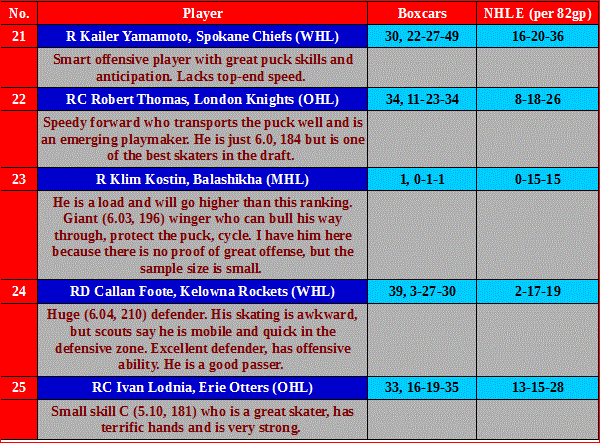 Most or all of these players should be available when Edmonton picks—with two exceptions. I have Kostin and Foote well lower than some rankings, and they could both go inside the top 15 overall.
Kailer Yamamoto will probably be available when Edmonton picks, but I don't think the Oilers will take him. On merit, he might be the third best scoring winger in the draft (Tippett, Tolvanen), but his size (5.08, 159) is going to hurt him. I think he might even slide to the second round, where Las Vegas would be wise to grab him. Fun player to watch.
Robert Thomas is a player the Oilers are no doubt scouting, Brock Otten of OHL Prospects recently called him a fast riser. Range of skills, is now passing point-per-game status and we will see how things roll out.
Klim Kostin will go much higher than my ranking (Corey Pronman had him No. 3 in an earlier ranking) but for me the offense has not been there in abundance. We will see, hopefully he fills the net in the second half for Dynamo.
Cal Foote is absolutely a lock to go earlier than my ranking, but I don't see him as being a major offensive contributor at the NHL level. He can move the puck, and reports have him as a mobile player, but I am comfortable ranking him as the No. 4 defenseman available in this draft.
Ivan Lodnia has size issues, but after that there is a lot to like. He has a lot of skill and all he has ever done—at every level—is post offense. He could climb my list by the end of the year.
THE FIRST ROUND, 2017—NO. 26 THROUGH NO. 30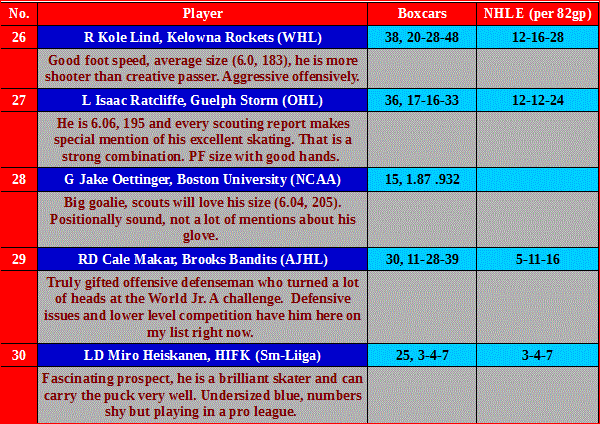 Kole Lind is a scoring winger in the WHL whose offense has him here. He is a tall, thin player and his scoring ability has made itself known at every level.
Isaac Ratcliffe has an excellent chance of being selected by the Oilers based on his size and skill. A 6.06 PF who will probably score 35 goals in the OHL this year.
Jake Oettinger from Boston University is having a fabulous year, and I think he should be considered for the first round.
Cale Makar is going to be a fascinating draft prospect, I think he could go anywhere after No. 12 overall. I have him low for two reasons: We don't know if he has any dimensions beyond offense, and the NHLE suggests he may not bring enough of it to make the defense worthwhile. I bet the Oilers do like him though, he would scratch an organizational itch.
Miro Heiskelainen is a fantastic skater and transporter of the puck. He has size as an issue but that skating is captivating and he can move the puck very well.
Among players who are not on the list but did receive consideration are: Henri Jokiharju, Shane Bowers, Maxime Comtois, Ryan Poehling, Erik Brannstrom.
FIVE FOR THE OILERS
I am going to assume that the top 20, plus Kostin and Foote are off the board when Edmonton drafts at No. 23 overall. If that is the case, Yamamoto would be the top available player, but I expect the Oilers would be more likely to select Robert Thomas or Isaac Ratcliffe. Although he is neither a giant not fierce, I do think the AJHL defender Cale Maker is somewhere on their list, and Erik Brannstrom is emerging as a legit first-round talent (although not ranked). I will probably re-visit end of January. Thanks for reading!