The Edmonton Oilers followed their New Jersey script again last night—dominate the possession numbers, play a physical game, get lots of chances but play a nail-biter on the scoreboard and win in overtime. The Oilers should have won both NJD games by a pair of goals or more, but none of that matters at all. Winning is key, and if you cannot win get that Bettman point. We can talk style and balance in the spring, right now good health and the playoffs are the only things that matter. Happy birthday to the boy King.
FREE BIRD, YEAR OVER YEAR
Oilers in October 2015: 4-8-0, goal differential -7
Oilers in October 2016: 7-2-0, goal differential +10
Oilers in November 2015: 4-7-2, goal differential -6

Oilers in November 2016: 5-8-2 goal differential -3

Oilers in December 2015: 7-6-1, goal differential -9
Oilers in December 2016: 7-2-5, goal differential +3

Oilers in January 2016: 4-5-2, goal differential -5
Oilers in January 2017: 3-3-0, goal differential -3

Oilers after 44, 2015-16: 17-23-4, goal differential -26
Oilers after 44, 2016-17: 22-15-7, goal differential +7
That felt good, gotta say. Taylor Hall, warrior for his team, elbowed and hacked and skated like a man, and fell short only because his team, again, doesn't have the horses. I felt for Taylor Hall last night, that is a long, long road he is facing. On the other hand, I have to say it felt good to see an awful line change, a jail break, a sweet pass, and a dagger—combining to dash the other side. There is beauty and pain in all things, the trick is to experience all of it in real time, and to hold on to that moment in our mind's eye, in our memories forever. Sail on, noble warrior, we wish you well. Nice butt end, jerk. 🙂
DEFENSE, LAST NIGHT

Sekera—Russell went 14-5 together in 13:31, Sekera was 8-2 against Henrique (Hall-Parenteau) and 3-3 against Zajac (Cammalleri-Palmieri). Remember, this is the pairing I hoped would come through last night, allowing the other two (promising) pairings could gel and perform at a high level. Clearly, this duo did their job, together and apart. Russell has a nice re-set move, where he fades the forechecker, does a Savardian spinarama, and starts again. Sekera is an incredible overtime player, he thinks the game at a fantastic level.
Klefbom—Benning went 10-12 (I think), NaturalStatTrick didn't post the Benning numbers so I subtracted the other pairs (Oscar did play without a D partner in OT). I like this pairing, very mobile and OK got a point, too. Klefbom went 4-2 against Henrique line and 6-9 against the Zajac trio. I would like to see them again. I am a fan of both players.
Davidson—Larsson went 7-6 together, but Davidson didn't play a lot. It could be performance, he didn't cover his man at all on the first goal and got another minus on that loose play on the second GA. So, that could be it. Larsson went 4-0 with Russell, 2-2 with Sekera and 4-1 with Klefbom. He had an assist, blocked shots, and I wonder if that wrist/hand is going to give him some trouble in the immediate future. Larsson is a fine defender. Mr. Davidson is not all the way back yet, and we should (I should) note it until our view improves.
Cam Talbot stopped 16 of 18, .889. I don't think he was at fault on either goal, but you may wish to argue that assessment.
Stats via NHL.com, HockeyStats.ca and NaturalStatTrick.
FORWARDS, LAST NIGHT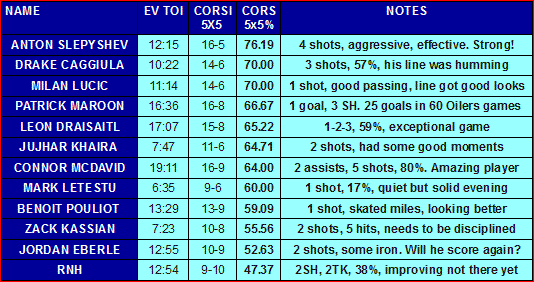 Lucic—Caggiula—Slepyshev had a very strong evening, the line combined for eight shots on goal and had some reasonable chances. I wish Slepy had a better shot, but other than that it was his strongest game as an Oiler in my opinion. Lucic had another evening of making some effective passes, still seems between the play a lot, needs to get more involved. Caggiula needs to hit the blasted net! 4-0 against the Henrique line, 1-2 against Zajac.
Maroon—McDavid—Draisaitl are actual fire. The line scored 2-4-6 in total and manhandled the Devils in a flurry of sorties each period. Just 3-2 against Henrique, 5-7 against Zajac, I think this means this line can pounce even on a night they are being somewhat contained. How bad is New Jersey? Blake Coleman and his line went 0-6 against 97. I don't know Blake Coleman, but he should not be on the ice with this line.
Khaira—Letestu—Kassian didn't score, but the line was effective in bringing quiet time to the game. Five shots for the trio, Kassian took a butt end from old teammate Taylor Hall, I am suspicious enough to suspect things happen for a reason. Kassian is lucky he didn't take a larger penalty than the one handed out. 4-2 against Henrique, 2-1 against Zajac.
Pouliot—Nuge—Eberle had five shots, some iron and probably wonder if they will ever score again. I know Todd McLellan doesn't read this blog, but if he did, I would encourage him to stay with this line. BP has been poor, I know, and the other two are worthy of a damned dim view. That said, McLellan needs them badly, and they can find redemption in this northern town between this day and the first bloom of spring.
STANDINGS, JANUARY 13, 2017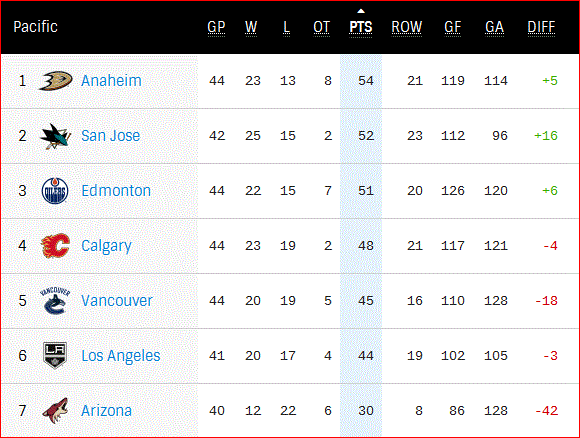 The win last night was important, both because the Flames are kept at bay and because the Oilers are still in touch with the top of the standings. We are late enough in the season to know this is the good stuff, while also knowing we are laying down markers for next season. As good as today might look, Edmonton should be clear of more teams this time next season. That is a fact.
THE RW PROCUREMENT LIST
Jordan Eberle will eventually score again, and Leon looks set on RW for the rest of this season. Even with those two men, the starboard side could use a little help. Zack Kassian and Anton Slepyshev played there last night, and Jesse Puljujarvi will be back at some point in time.
I have looked at what might be available before, and no NHL team beyond Colorado and Arizona appears to be a sure seller. This time, I looked for players who fit the Patrick Maroon profile—good players, with term, who are perhaps underperforming at this time. This doesn't mean Edmonton isn't in on Radim Vrbata, but my list may include some names of interest to Peter Chiarelli. A reminder, Patrick Maroon was 56gp, 4-9-13 when traded to Edmonton at the 2016 deadline.
R Cal Clutterbuck, NY Islanders. Currently 38gp, 3-12-15 and in the final year of a $2.75 million deal that sends him to free agency. Likely shy offensively, he is a Chiarelli type.
C-R Ryan Strome, NY Islanders. He shouldn't be on this list, but NY Islanders are a funny organization. He is 36gp, 6-8-14 and has one more year at $2.5 million.
R Matt Read, Philadelphia Flyers. He is 33gp, 6-5-11 this year, his $3.625 million cap hit has one more year to go after this one. He has scoring talent.
R Drew Stafford, Winnipeg Jets. Well off established levels (29gp, 3-7-10) and in the final year of a $4.35 million deal, fits the Maroon buy low scheme although he is a costly addition.
R Jimmy Hayes, Boston Bruins. Well off last season's totals (36gp, 2-1-3 after seasons of 16 and 19 goals), he has one more year on a $2.3 million deal.
R Teddy Purcell, Los Angeles Kings. He is in the minors currently, his $1.6 million deal expires this summer. When he was in the NHL this season (12gp, 0-2-2) things weren't going well, but he is (as one would expect) playing well in the AHL (13gp, 4-10-14). Unlikely add due to foot speed, he is a player who has had success in Edmonton recently.
C-R Nick Bjugstad, Florida Panthers. He has been socked by injury and ineffective play, on the way to a 21gp, 1-1-2 season. He posted three effective seasons previous to this one, cap hit is $4.1 million on a contract that runs through 2021. Lots of risk.
I mentioned Rene Bourque on the Lowdown yesterday, folks did not like that name. However, he is a RW (shoots left), and has nine goals on the year and costs very little. I will build on the list above as we approach the deadline, not certain we need to build a defense list this season. Music!
HEY CONNOR!
Happy birthday to Connor McDavid, and a sincere thanks for the entertainment provided to hockey fans across Oilers Nation. If he hadn't come along, we would have had to invent him. McDavid sits atop the scoring charts this morning (5o points in 44 games) and he is just 20, today. I hope and pray God gives me another 20 years (at least!) to enjoy what this young man can do on the NHL ice. We will not see his kind again, and watching him from the start is a gift from the Gods.
LOWDOWN WITH LOWETIDE
A fun Friday, TSN1260, beginning at 10 this morning. Scheduled to appear:
Steve Lansky, BigMouthSports. McDavid at 20, how high can he fly? Plus, five Canadian teams in the playoffs?
Derek Taylor, TSN. Darian Durant is an Montreal Alouette. Wait, what?
Matt Iwanyk, TSN1260. We run through the NFL games this weekend.
Paul Almeida, SSE. What should the Oilers do at the deadline?
10-1260 text, @Lowetide on twitter.