Over the 45-year history of the Edmonton Oilers, there have been relatively few major turns. It's funny, we can look back to 2006 and talk about how different things were, but in reality 2009 and 2014 were about the same. If I described the Oilers history like this:
1972-1978—the Bill Hunter years in the WHA, great idea without an on-ice personality
1979-1991—Boys on the Bus, Gretzky and Messier bring glory to the brand
1992-2004—Boys on the Bus Coda, Weight-Marchant-Guerin far better than remembered
2005-2006—One shining moment
2007-2014—Nadir's Raiders, mind numbing, endless acid rain
2015+—The McDavid Era
How much tweaking would you need before agreeing? That is six (really five) eras in 45 years, or about seven years per stanza (with the McDavid Era to come). So, if we assume the McDavid era is seven years long (pray baby Jesus it is double and double again), then can we agree that each season is a very important sortie?
DOWN TO THE LINE, YEAR OVER YEAR
Oilers in October 2015: 4-8-0, goal differential -7
Oilers in October 2016: 7-2-0, goal differential +10
Oilers in November 2015: 4-7-2, goal differential -6

Oilers in November 2016: 5-8-2 goal differential -3

Oilers in December 2015: 7-6-1, goal differential -9
Oilers in December 2016: 7-2-5, goal differential +3

Oilers in January 2016: 4-5-2, goal differential -5
Oilers in January 2017: 6-3-0, goal differential 0

Oilers after 47, 2015-16: 19-23-5, goal differential -25
Oilers after 47, 2016-17: 25-15-7, goal differential +10
G48 a year ago was a 6-4 loss to the Tampa Bay Lightning, as Zack Kassian scored his first goal as an Oilers player. A win tonight would be another big step for the Edmonton Oilers in their efforts to make the playoffs. Many feel the spot in the postseason is secure, I would encourage you to have a long look at the February schedule. It looks good today, but this is not over.
FINDING THE PERFECT FIT
The last couple of days we have been talking about trading for Kevin Shattenkirk and or Martin Hanzal, but that isn't really the storyline this blog has been touting all year. The Keep Your Powder Dry mission statement involves keeping all young players who can contribute, finding value for those who are not going to make it, and filling in with free agents/trade acquisitions. I would like to discuss those three tree branches today.
DEFENSE 2016-17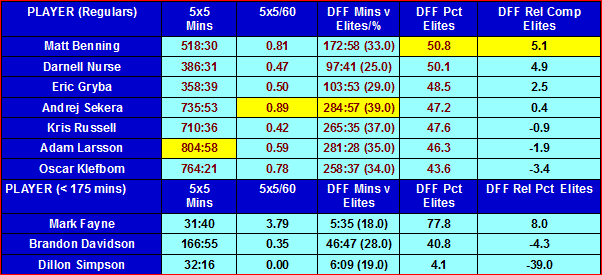 Keeping All Young Players Who Can Contribute: I think Oscar Klefbom, Darnell Nurse, Brandon Davidson and Matt Benning all qualify under this umbrella. It is a fairly strong list of emerging talents, in my opinion.
Filling in with Free Agents/Trade Acquisition: Andrej Sekera and Adam Larsson are the two major additions under the Chiarelli plan, I think Kris Russell might be in the plans depending on how things develop.
Finding Value for Those Who Aren't Going to make it: I honestly believe Mark Fayne should be in the second group, but the Oilers clearly have no long-term plans for him. Eric Gryba probably doesn't return, and Dillon Simpson may or may not make it, and is joined by a plethora of AHL players in the same boat.
We often tie ourselves in knots arguing about this thing or that, and we get stubborn on our points of view. The truth is that there is more than one way to make the trains run on time. I prefer the procurement path, the slow build, the scouts and being smart about what to keep and throw away. I think Peter Chiarelli really helped this team with the Matt Benning addition, and believe Oscar Klefbom could be a strong contributor for ages.
When I was young, the Leafs had a bunch of young defensemen growing up together, kind of like the crew above (and we could include Adam Larsson if so desired). Toronto had Jim Dorey, Jim McKenny, Rick Ley, Mike Pelyk, Brad Selwood, Brian Glennie and others, all kids. Those kids, and Howie Meeker's telestrator, taught me about young defensemen. Meeker would be featured between periods and say things like "KIDS, DON'T PLAY LIKE THE LEAFS!" in his excited voice. He would then painstakingly teach me about the game, why kids on defense could not be trusted, and what it meant to the results of the game. Meeker taught me how many games are lost to playing too many young blue and having them develop at the same time. Can Edmonton progress with so many young defensemen? I honestly think they are (all) good enough to have substantial careers.
FORWARDS, 2016-17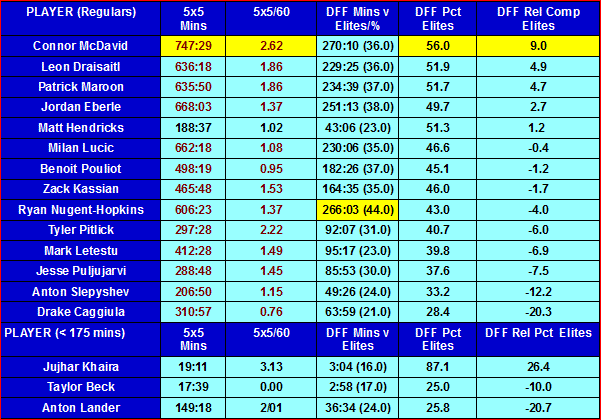 Keeping All Young Players Who Can Contribute: Connor McDavid is the best player of his generation, so he goes on the highest list available. After that, young forwards who can safely counted as part of a quality future include Leon Draisaitl, Ryan Nugent-Hopkins, Jordan Eberle (a little old for this list, but still), Jesse Puljujarvi.
Filling in with Free Agents/Trade Acquisition: Patrick Maroon, Milan Lucic, Mark Letestu, Zack Kassian all seem to be valuable enough to hang around and contribute for the immediate future.
Finding Value for Those Who Aren't Going to make it: We have to be realistic about all of the prospects, and if we are betting on success for many of these names (depending on what success looks like to you), a lot of these players won't be making the trip to the good times. I think Anton Lander, Jujhar Khaira, Drake Caggiula, Anton Slepyshev, Tyler Pitlick all have a chance, but we cannot say with any authority they will be here two years from now. This is a fact.
HOW MANY TOM ROULSTONS?
Do you know about Tom Roulston? He was a pretty good offensive center back about 1980, and had a shot with the Oilers over several seasons. Roulston came over during the haze of moves in 1979 after the expansion draft (part of a trade with St. Louis involving Risto Siltanen). He had a monster season in 1979-80 for Edmonton's top minor league team, and went 11gp, 1-1-2 in 1980-81 in his first NHL cup of coffee. The following year, he split time between minors and majors, scoring 11-3-14 in 35 games with Edmonton. For Roulston, his best year came in 1982-83, going 67, 19-21-40 with the Oilers. At that point, on the edge of a dream (Edmonton would win the Stanley Cup in 1984), things had to look good for Tom Roulston. Edmonton traded him the following year, he did not succeed with Pittsburgh and played only five games in the NHL after the Oilers won their first Stanley Cup. He was traded to Edmonton in August, 1979, just months before this city's first NHL game. He was dealt to Pittsburgh on December 5, 1983, in a deal with Pittsburgh for Kevin McClelland. Tom Roulston had more natural talent, but it was McLelland who scored one of the most important goals in franchise history.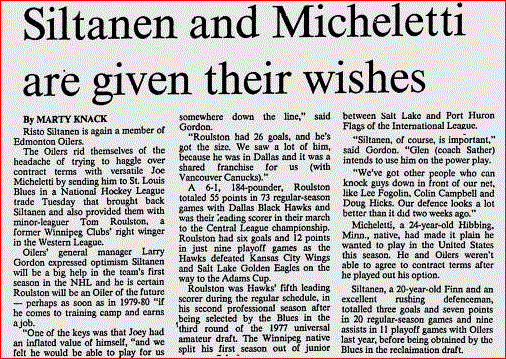 -via the Edmonton Journal, August 1979-
The point in all of this? We don't know what we don't know. We should not get attached to Jujhar Khaira or Anton Slepyshev or Drake Caggiula, because they may not be along for the entire journey. That is the lesson in all of this, and the reason why arguing about players not named Connor McDavid as pivotal to the future is unwise. Taylor Hall may be the biggest name dealt away in the next seven years, but he won't be the only one.
Tom Roulston played in only 195 NHL games, I think he got short changed to be honest. The problem is, every time has guys like him, so trading for this kind of player and inserting him into the lineup (over your guy) means there has to be something unique about him. I could have done the same exercise with Marc Habscheid, Gord Sherven or any number of players from the before time, and the results would be the same. Promising second tier player, NHL audition, success or sent away. I would venture almost all of us have a favorite in the group below (mine is Jujhar Khaira) and have projected said prospect far past his outer marker.
MAKING THE CALL ON THIS YEAR'S ROOKIES
The Oilers have six rookie skaters according to NHL.com, here is the list and my opinion about each of them moving forward.
Matt Benning, RHD: He is 34gp, 2-7-9 as a rookie and is Edmonton's top rookie this season. What's more, he plays a position of enormous need and has been a plug-and-play from the start. Benning is a college man, so a little older (22) than most rookies. That means there is less development and improvement in his game, but if Benning can play at his current level, the Oilers will have stolen one from the Bruins. My call: A successful NHL career, perhaps in the same range as Tom Gilbert's career total of 654 games.
Drake Caggiula, LC: He is 29gp, 3-5-8 and I am still having a hard time getting a gauge on his offense. Caggiula missed lots of time early and I don't know that he ever caught up. He can play, but is it on a skill line? Edmonton badly needs his speed in the lineup, but production must be better. My call: I don't see enough offense to suggest he will exceed Marc Habscheid's 345 NHL games.
Jesse Puljujarvi, R: He is 28gp, 1-7-8, and like Caggiula, I still don't have his offense surrounded. I once thought he might score 35-35-70 in peak seasons, but did so with the knowledge there was little evidence of same in the boxcars. We are midway through his first pro season in North America, and peak seasons may be 25-25-50 based on early evidence. My call: He may end up being a fine two-way winger who scores 50 points a year, as opposed to being a gigantic offensive force. Either way, expect a long NHL career of some quality.
Anton Slepyshev, R: He is 19gp, 2-2-4 at this time. Slepyshev is exactly the kind of player I think we all get behind, because he looks like a real player. Big, strong, speedy. The numbers are good not great, and I think we have to temper our enthusiasm. If he is to play a long time in the NHL, offense must be a part of his game. My call: I think he lands somewhere between Roulston and Habscheid, but don't see him as a major part of the next seven seasons.
Jujhar Khaira, L: He is 3gp, 1-0-1 at this time. As mentioned, he is a favorite, so I will refrain from making a call on this player. He is big, strong, skates well enough and has shown some offense in the last two seasons of his entry-level deal. What's more, there is gainful employment available at the NHL level for him.
Dillon Simpson, LD: He is 3gp, 0-0-0. I am going to say too soon to know, but will tell you the young man showed some real ability when playing at the NHL level. Too small a sample, but for me another look is the next step.
LOWDOWN WITH LOWETIDE
At 10 this morning, TSN1260. A fun Friday, lots of big items on the agenda this weekend:
Steve Lansky, BigMouthSports. Raines to the Hall, Bautista back in Toronto and Canada's NHL teams are rocking the standings.
Jeff Hauser, Radio Hauser. NFL playoff weekend preview.
Matt Iwanyk, TSN1260. NFL weekend picks, Oilers at the deadline, should Brossoit play tonight?
Paul Almeida, SSE. Paul predicted a week of wins for Edmonton and so far he is right!
10-1260 text, @Lowetide on twitter. Talk soon!